The bitter gourd or karela is a summer vegetable mainly found in the tropical areas.  It first originated in India and then by the 14th century began to be widely cultivated in Asian countries, Africa and the Caribbean islands.  The edible fruit of this vine is extremely bitter but is a storehouse of iron.  There are different varieties of the bitter gourd, and they vary in size and colour. The medicinal value and antiseptic qualities of this humble vegetable cannot be underestimated. Its juice is often recommended for controlling diabetes, healing stomach ailments and as a natural way to good health.
The bitter gourd vine is herbaceous and has tendrils which help it to hold on to supports.  The leaves have rugged edges and grow alternatively on the tender stem.  The bright yellow flowers, both male and female are seen on the same plant.  After flowering in June the fruits usually start forming within a few months.  The fruit is oblong in shape, with a spiky outer surface which is bright green in colour.  Flat seeds are found inside the fleshy outer cover.  This vegetable has a watery texture, and is very bitter.  The skin is tender and edible and is eaten green.  When the fruit ripens, the skin becomes tough and bitter to taste and cannot be eaten raw.  On the other hand the pith which becomes dark red in colour is used raw in some salads.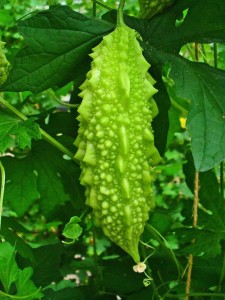 The different varieties of bitter gourd carry the same properties although they vary in colour, size and appearance.  The white or light green variety is longer in size with less tapering ends and a moderately less spiky exterior.  The smaller, dark green variety with sharp spiky exterior is used as a stuffed vegetable and is popular in Pakistan, Nepal, India and the Asian sub-continent.  This green vegetable is generally eaten in a cooked state, while the young shoots and leaves can be eaten as greens.  The bitter flavour of the bitter gourd makes it an important ingredient in stir fries, soups and in the making of herbal teas and beers.
In India bitter gourd is cooked differently in the south and north.  The people in north India sometimes cook it as a stuffed vegetable in oil, or cook it separately with tomatoes and potatoes as a subzi and eat it along with roti and curd.  In south India it is cooked using coconut oil, with lots of grated coconut as a thoran, or with fried coconut as a theeyal or pachhadi and is consumed with steaming brown rice.  In Tamil Nadu, the bitter gourd is made as a special dish using onions, lentil and coconut along with tamarind juice.  This is a very popular preparation and is called 'kattu pagarkkai'. In most of the dishes, a lot of onions are used along with rich spices and tomatoes, which help to lessen the bitterness of the vegetable. The green vegetable is cooked in different forms. In many households, bitter gourd is cooked with meat, eggs, beef, pork or shrimps and use coconut milk for added flavour.  Pickles, soups, curries, stews, chutneys and stir-fries made using this wonderful vegetable are popular delicacies all around the world.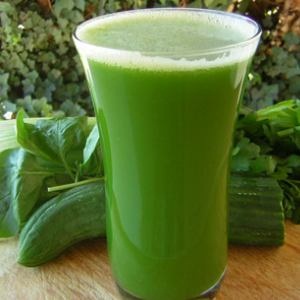 Bitter gourd is well known for its medicinal values also.  Since time immemorial it has been used in herbal medicine systems.  It is largely used as sure cure for various ailments, especially complaints of the gut stomach and intestines.  Research has proved that the concentrated extracts of the bitter gourd has hypoglycemic and hypolipidemic effects which make it popular as a widely used remedy for diabetes. The extract of the bitter gourd is also used as a dietary supplement for breast cancer patients because it exerts a significant effect against the growth of breast cancer cells.
If we have leisure time and interest in cooking we can experiment and bring forth innumerable attractive and mouth watering delicacies. For example:
Fried karela Boat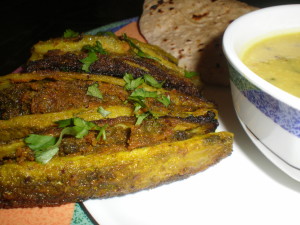 Directions:
Slit open  8 long, slender karelas and clean out the inside
Half cook the karelas in salted water with a pinch of turmeric
Grind 5 green chillies and 100gms of roasted channa
Mix well with salt, garam masala and coriander powder
Add chopped coriander and stuff into the slit karela
Tie each karela ( boat) with a thin thread
Use a shallow pan and heat the oil well
Fry the karela on a slow flame and carefully keep turning them over till they turn into a golden brown colour.
The dish can be served hot with tomato sauce or pudina chutney. This appetizing and spicy dish can be enjoyed with rice, parathas or rotis.
Hot Karela Achar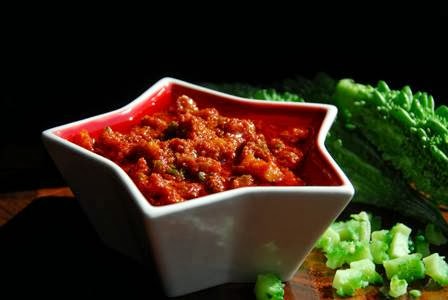 The bitter gourd can also be used to make a very tangy, sour pickle with many spices and condiments.  This "Hot Karela Achar" goes very well with rice or rotis and can be carefully preserved for some time.
Directions:
Wash and dry karelas well
Cut the karelas and De-seed.
Chop karelas and few green chillies into very thin slices
Rub salt well, squeeze out water and sun dry for one day
 Heat one cup of oil, splutter mustard and lightly fry a few methi seeds.
Add the dried karela and green chillies, curry leaves and fry till crispy
Mix thoroughly with a pinch of asafetida powder and salt to taste
Store in dry glass jars when cool and fill oil till top
Keep for two days, mix oil well and then serve.