Salads the natural way of having nutrients with raw flavours. Salads can be simple easily from easily available veggies , nuts , pulses , cereals , fruits etc.Packed full of goodness, salads bring flavour to your diet plan each day. Eating salads is an easy way to eat your daily serving of vegetables and it is not so difficult. You can prepare a salad and take it to work with you or to an outing with family and friends. Why is it so important to have salads with each of your meal ? You can only answer this question once you have had addicted yourself to have salads each meal or each day . Its simple to prepare , easy to consume , jam-packed with nutrients , Highly fibrous which is another valid reason to addict yourself to salad. We often emphasis on fibre content in food and the reason being simple, eating a high-fibre diet can help lower cholesterol levels
and prevent constipation, eating more fibre can help you feel fuller, eat less, and ultimately lose weight. Salads are full of fruits and vegetables , which increases your intake of nutrients and lowers your risk of getting ill fatally. Diabetes ,High Blood pressure, Low Blood pressure, Nausea , Weakness, Malnourishment these are fatal diseases you can avoid and prevent yourself from by consuming salads with your meals.If losing weight is your goal, you may want to start your meals with a green salad. That's the best trick for a girl to move happily from XL to XS ( Why should I spare the boys from this joy ). Even if you team up your salad with a slice of fat its still okay rather than having a full fat mealand suffer the rest of your day as fat makes you lazy and dull ( Ugly too If I am being honest ). Raw vegetables and fruits are good source of water specially tropical fruits which help you get feel fuller and also charged up . If we talk more about goodness of fruits and vegetables so they are delicious, so mixing them in different combinations to create a salad ensures exciting meals.First, you eat food with your eyes. Salads have varied textures, shapes, sizes and colours which make them visually appealing and satisfying. We enjoy foods that are entice our eyes and also eat more of them.Eating a variety of textures keeps mealtime interesting. Salad ingredients can add a nice crunch which is much better for you than munching on cookies or potato chips.So by far I have given you enough of reasons to check out your diet plan and indulge yourself to healthy meals. It will not only give you reason to eat more also you can commit sin guilt-free by having junk sometimes. And moreover our gyms are running quiet well so admit yourself to a healthy regime.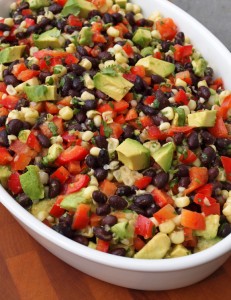 Black Bean , Corn , Potato and Pepper Salad :
Ingredients :
For Salad: 1/2 cup kidney beans soaked overnight , 1/2 teaspoon dried thyme , 1/2 teaspoon dried oregano , 1/2 teaspoon salt , 1/2 cup boiled corn kernels , 1 onion finely chopped , 1 tomato finely chopped , 1/2 cup red pepper (red capsicum ) cubes , 1/2 cup green pepper(green capsicum )cubes , 100 g baby potatoes boiled and peeled , 100 g baby onions boiled and peeled .
For dressing :1 tablespoon lemon juice , 1 teaspoon vinegar, 1 teaspoon crushed garlic , 1 teaspoon grated lemon rind ( the outer surface of lemon ), 1 teaspoon salt , 1/2 teaspoon roasted cumin powder, 1/2 teaspoon red chilly flakes , 1/2 teaspoon pepper , 1 tablespoon finely chopped mint , 1 tablespoon finely chopped coriander, 1 tablespoon chopped green chillies ,5 to 6 tablespoon olive oil .To garnish you may use mint and coriander sprigs.
Servings :  2
Method : Boil the kidney beans with thyme , oregano and salt until soft but firm . drain the beans and set aside .Mix the remaining ingredients in the bowl.To prepare the dressing you need to blend all the ingredients listed above for it in a small bender jar .Toss the prepared veggies mixture in the dressing and lastly add the beans .Adjust the salt if you feel it doesn't  suits your taste.Garnish it with mint or coriander sprigs and serve it at room temperature.
Tip : Prepare this dish just before serving it else the nutrient value gets reduced and flavours do get mingled giving it a very liquid texture due to addition of salt before hand.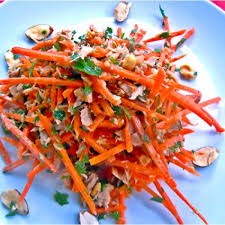 Carrot and almond Salad :
Carrot being my favourite I always try and make different recipes which eventually turns out to be very tasty and nutrients. There is natural sweetness in carrots and we do get best of it during winter season . To sum up I would implement the richness of carrot in this recipe which is tasty , different and worth a try .
Ingredients :
For Salad :1/2 kg carrots peeled and coarsely grated, 2 small cucumber thinly sliced , 1/4 cup raisins soaked in water for 10 minutes , 1/2 cup sliced almonds without the skin ( to remove the skin just soak it overnight skin is peeled of easily ).
For Dressing :
I tablespoon lemon juice , 1 tablespoon honey,1 teaspoon dried ginger powder, 1 teaspoon cinnamon powder, 1/3 cup olive oil , salt to taste , Pepper to taste .To garnish finely chopped parsley. ( You may use dry parsley too)
Servings : 4
Method : Place carrots and cucumber in a glass bowl. Add raisins and toss to mix .
For dressing :
Add lemon juice , honey , ginger , cinnamon , olive oil , salt and pepper in a screw top jar . shake well to combine.Toast the almonds on a flat pan until they are golden brown in colour.Pour the dressing over the salad , and toss well .Sprinkle with almonds and garnish with parsley. Serve at room temperature.
Yes ! I am slowly turning you all to health freaks which is why I am posting this article so that we all realise that health is a factor to be taken seriously . Today we all undergo a lot of stress and distress . Which gives us mental and physical fatigue. To avoid the same we all need to maintain a balanced diet , eat on time , and maintain a healthy lifestyle . It takes 15 minutes of our time to prepare such good recipes which are healthy and much better to eat than just plain oatmeal bowl. So do try them and Live Love Louder !!!