Indians are known for their eating habits and their love for food . In India there is a wide range of cuisines and varieties with every 100 km you stretch . We live to eat that's proven and we are the most natural host when comes to throw a party . If you sit and think Why I am claiming that Indians are such big foodies and party lovers , you just need to visit an Indian family for lunch or dinner (Even breakfast is not spared ) and see how they treat you as God ( We truly believe in Atithi Devobhavah….its not just for a commercial ). If I have mentioned about lunch and dinners I am talking about full rich 5 course meals (Yes! we eat that daily …at least I do) .Not only do we cook great curries and starters we have wide  variety in flat breads too.We do have in offer variety in flat breads with every changing season.
All have great value addition to their taste , be it fluffy, rich in taste, soft, their fillings , sweet , salty , spicy , rich in proteins and minerals . You name it and we have it. India is diversified in its customs , culture , tradition and each part of India has their specific preferred  breads be it chapati , Fulkas, Naan, Kulchas, rumali rotis , parathas, various flavoured pancakes, tandoori roti etc  that too with different kind of cereals. Our flat bread preparation largely depends on what kind of crop is grown in that region .For example : Western part of India eats a lot of Bajra , Ragi, Northen India eats Maize or Wheat , Eastern eats a lot of Rice flour  or refined flour and if we consider Southern India they eat mostly rice flour in fermented form .Breads are staple food for any country, city or tradition.
We actually consider breads to be very important for a wholesome 5 course meal. Its practically not possible to avoid a meal without adding bread to it . we don't feel yummy tummy  until we eat bread. Today its very simple and convenient to barge into a supermarket and get frozen breads ,which my generation people gladly do , But if asked to me I would prefer preparing it at home as any dish has to be fresh to consume and for that packed food is totally a "No No" for me.When I started cooking after my marriage making rotis or chapatis was my biggest challenge (many do agree with me- its a common syndrome )but tummy wants food , so slowly I learned how to get the perfect shaped chapatis to not impress anyone …but to satisfy my own hunger. With every occasion we have specific choices in food and we do set our happy menu accordingly, so today my attempt is to bring a variety in your life .If you are done with frozen parathas or frozen chapatis try out few of my simple recipes of very commonly eaten Indian breads .Today I have tried to assemble few regional breads for you variety and taste change. Some of it is widely eaten but Do you really want to eat frizen or try these simple recipes with much nutrition and  taste.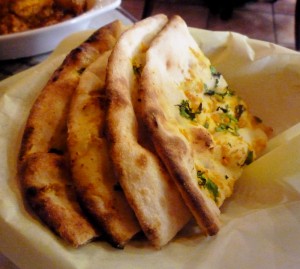 Garlic Naan :
Ingredients :2 cup Plain refined flour, 1 cup yoghurt, 1 teaspoon baking powder, 1/2 teaspoon sodium bicarbonate, 1 teaspoon onion seeds, 1 tablespoon garlic finely chopped, 1 tablespoon butter to glaze the naans.
Servings : 3 to 4
Method : mix plain refined flour, baking powder, sodium bicarbonate and sieve it well to add up air . (this process makes fluffy & soft naans). Kneed the flour mixture with yoghurt into a fine soft dough , if you feel yoghurt is little less then u may add some Luke warm milk to make a softer dough. wrap the dough with a damp cloth and keep it for minimum two hours ( You may keep it overnight if you have preparation time ). This gives the dough time to ferment well , more the fermentation more fluffy and softer naan you would get. Once the dough is fermented you can make naans of your desired size with the help of a rolling pin . Once you get the desired shape top it with garlic and few onions seeds and with the help of your hands elongate it from two ends to get a longitudinal naans. Now the way you cook chapatis you just have to repeat it for these naans (No tandoor required , just simply toss it both sides on a hot tava ) the naans themselves will blow u beautifully. Once done glaze it with butter on top and serve hot .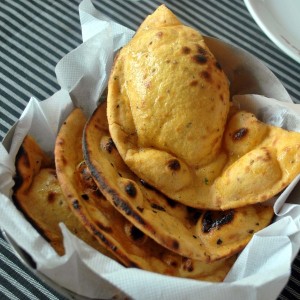 Makke di roti :
Ingredients : 2 cup Maize( Makka /makai ) flour , Luke warm water to kneed , 1/2 cup wheat flour , ghee or unsalted butter to cook and for glazing .
Servings : 3 to 4
Method : Its simple recipe but you need to be very careful while making it as it has a tendency to crack up from sides and eventually break. To avoid that its important to kneed the dough just before serving it. Its easy to make a dough so its not a very difficult thing to maintain
Mix maize flour , wheat flour with the help of a siever  and kneed it with Luke warm water. Make a soft dough as hard dough may crumble up easily. slowly with the help of your palms flatten it and increase its size. Try to maintain the shape the sides will crack its something which is obvious , so do not worry. Once you have flattened the bread , bake it in a hot tava from both sides and glaze it with ghee . Serve it with Spinach curry, or simply with jaggery it will taste awesome . Its very commonly eaten in Punjab (North India) on a day to day basis during winters. It has natural warming ability so it keeps warm from within.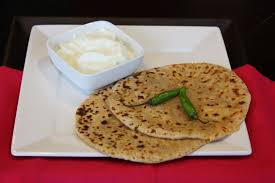 Paneer Paratha :
Ingredients:
For Dough :
2 cups whole wheat flour , 1/2 cup refined flour , 1 tablespoon cooking oil( Oil helps the bread to get moistened crusty look ), Luke warm water to kneed , pinch of salt, 1 teaspoon Ajwain ( carom seeds ).
For stuffing :
1 cup grated cottage cheese or Paneer , 1/2 cup coriander leaves chopped , 1 tablespoon finely crushed pomegranate seeds , salt to taste ,1 teaspoon red chilly powder, 1 teaspoon Aamchur ( dry mango powder), 1 teaspoon finely chopped green chillies.
Oil for glazing the parathas.
Servings : 4 to 5 parathas
Method : Sieve whole wheat flour and and refined flour and add cooking oil , salt ,ajwain & Luke warm water to make a soft dough out of it . Keep it for 30 minutes and prepare the stuffing .For the stuffing mix all the ingredients mentioned above for stuffing purpose.
Once you are done preparing both take equal portions from the dough and stuff the paneer mixture into each portions and flatten it with the help of a rolling pin . Bake it on a hot tava from both sides once its crusty glaze it with oil ( you may use butter ) . Serve hot with your choice of curry or you can simply serve it with yoghurt . Enjoy the flavours of these great Indian breads and see your family smiling.