Dandiya is basically a dance form which was originated by Lord Krishna in Vrindavan. It was a symbol of Raas Lila between Krishna and Radha. But now it has become a popular folk dance of Gujarat. It is a custom followed during Navaratri evenings in various parts of Western India. During this season people gather together and perform Dandiya Raas.
Dandiya Raas has become a substantial part of Navaratri festival. This festival is celebrated throughout India to pay tribute to the incarnations of Mata Ambe. It continues for nine days and people tend to visit temples and then open their fasts. While the days are passed in worshipping, the nights are energetic and vivacious. The excitement of this festive season is at its peak. In every part of the country special events are organized and arrangements are made for Dandiya especially in Gujarat.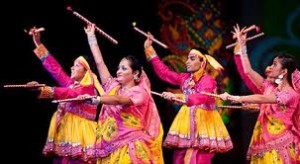 There are various forms of this dance form like Dang Lila in Rajasthan. In this people used to perform dance with only one large stick in their hands. But in Dandiya Raas people carry sticks in their hands and form two large circles. Stick is the only prop used in this dance form and it is fully decorated. The sticks are made of bamboo and to give an attractive look they are usually painted with different colors. In the ancient times Dhol was enough to make them dance, but today various tracks are in the market, which makes their feet dance according to its beat. The people from both the circles make pairs and dance accordingly. Their sticks hit together and create a nice sound. One circle tends to move clockwise and another anticlockwise. And if they are short of sticks, then they just hold one stick in their right hands and dance. In some parts of the state it is also known as Stick Dance.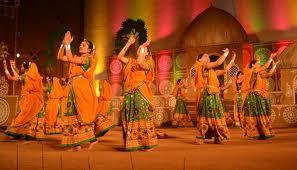 Dandiya Raas generally includes a large number of people so to make it a successful event sometimes dancer are supplemented by an instrumentalist which is a master in playing drums. This man stands in the center of these two circles and hundreds of people gather around to see the live performances. The sound of these sticks produces a rhythm of musical waves. It is the highlight and focus of attraction during the festive season of Navratra.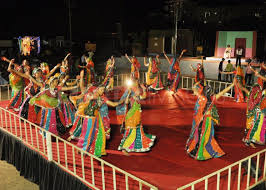 Raas Dandiya is performed to display a fight between the Goddess and the demon-king Mahishasura. The sticks used in the dance are a symbol of swords of Durga. In this dance the dancers energetically move their feet and sticks to tune themselves to the rhythm and set according to the beats. This dance does not require many skills and can be easily co-ordinated. Dancers perform in a very rhythmic and elegant manner and it appears like they are rotating around 'Mandvi'.
Dandiya is not all about how we dance instead the most attractive part is how we are dressed up. In this dance form both men and women participate. The women are generally dressed up in traditional colorful dresses or in general, we can say three-piece like embroidered choli and ghagra with bandhani dupattas. They adore themselves with attire consisting of mirror work and jewelry. Women adorn themselves with silver jewelry on their heads, silver bangles in their hands, etc. The men are seen in colorful turbans and traditional dhoti and kurtas. The dresses they wear not only make them appear charming rather it also make their moves appear flexible. These events are organized in a large garden or grounds. So to give a plasma effect the whole area is covered with lanterns and candles.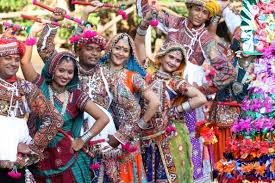 People generally use Garba and Dandiya as each other synonym but in reality they are not similar and there lies a major difference between them. Garba is a dance form which consist of feet and hand movements without using any props like sticks. Women are the only ones included in this dance form and coordinate their steps. Dandiya Raas is another style which colorfully decorated and lucrative sticks in it. In Dandiya various steps require an even number of participants while in a Garba random number of people can participate. You can need to be careful and attractive while you are playing with Dandiya but Garba is a freestyle form of dancing that requires no coordination. Musical Instruments such as table, drums, and harmoniums are required for Garba dance. Garbage is always performed before Aarti while Dandiya is performed after Aarti.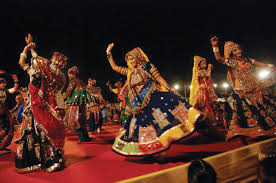 Generally Dandiya Raas and Garba dance is reflected during the Navaratri festival, but in some parts of our country, it has become a culture in wedding ceremonies. Raas is very complex when it has to be performed on stage with some particular music and steps. Initially, when Raas entered into our culture, all the songs were related to Lord Krishna, but as soon as it was expanded songs about love, Goddess Durga came into the scene.
.