Happy meal is believed to make you feel good and tummy full. It goes without any doubt that we consider happy meal to be rich in calorie content , very oily , full of fried stuff. But the reality is that I am not going to discuss combine happy meal with full of calorie and fried stuff instead i will make it healthier and as tasty as French fries. Yes this is not some magical recipe its just getting correct ingredients with correct flavours and proportions. Lets consider this to be a truth and possible to achieve . Happy is a very general term where we really get attached to things which makes us happy. Similar is the situation with food. We often neglect substituting healthy options with calorie containing ingredients. Its best to eat healthy substitutes with same flavours but less in cholesterol or calorie. Lets discuss few magic recipes which are tasty and healthy .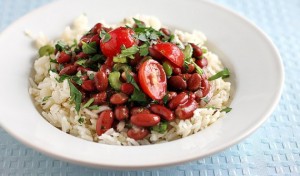 Cajun seasoned Red Bean and Rice Salad :
Its a very popular Jamaican recipe which is kind of staple food for Jamaican people . You will get to eat a lot of these if you happen to visit Jamaica. If not try this at your own home and get the feel of this international recipe.
Ingredients :
For Cajun mix : 1 tablespoon of  garlic powder(available in markets), i tablespoon of onion powder, 2 teaspoon of black and white pepper powder, 1 tablespoon of dried thyme, 1/2 teaspoon dried oregano, 1 & 1/2 teaspoons chilly powder. Mix it all to get Cajun mix.
For Salad : 3/4 cup long grain rice , salt to taste, 1 tablespoon thyme sprigs , 200 gm red kidney beans soaked, boiled and drained. Do not throw this kidney bean boiled stalk it has  a nice colour and full of protein .1 cup chopped red capsicum or bell pepper, 1 cup sliced spring onions , 1 tablespoon olive oil (Another healthy substitute for cooking stuff), 3 tablespoon white wine vinegar, 2 tablespoon Cajun seasoning mix , Pepper to taste.
Servings : 4
Method : Bring 1 cup of Luke warm water  along with the kidney bean stock which was  drained out of boiled kidney beans to boil in a pan .Stir in rice , 1/2 teaspoon of salt , and sprig of thyme, return to boil .Reduce the heat, cover and cook until liquid is absorbed and rice is tender to be eaten. This process takes about 15 to 20 minutes .Avoid overcooking the rice as it will spoil the texture of the salad. Transfer cooked rice to a larger bowl , remove the thyme sprigs and keep it aside for few minutes to cool.Mix in boiled beans , red capsicum and spring onions into rice . Add olive oil, white wine vinegar, Cajun seasoning and rest of the  chopped thyme. Mix it gently but thoroughly. Season it with salt and pepper . Garnish it with thyme and spring onions. Serve with love.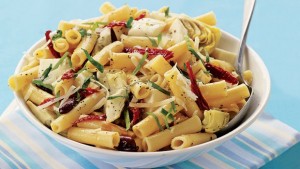 Pasta Salad:
Ingredients : 2 cups of boiled Penne pasta, 1/2 cup of flat noodles, 4 to 5 iceberg lettuce, 1 cup boiled corn kernels, 1 Cup sliced onions, 1/2 cup grated cabbage, 1/2 cup boiled and diced carrots, 1/2 cup boiled and diced potatoes, 1/2 cup shredded cucumber, 1 tablespoon black olives sliced, 1 cup thinly cut capsicum slices, 1 cup boiled chickpeas, 1 cup sprouts, 1 tablespoon mayonnaise, 1 tablespoon mustard sauce, 1 tablespoon tomato chilly sauce, salt and pepper to taste.
Servings : 6
Method : Take a salad bowl and roughly chop iceberg lettuce  with hands, mix all the ingredients well in that bowl and season it with salt and pepper. Serve it with hot garlic breads .It simply pleasures your appetite and you come out more hungry after eating it as its the perfect appetiser for a hungry stomach.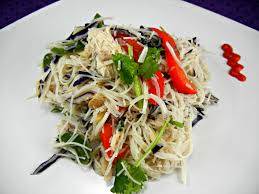 Thai Noodle Salad :
Ingredients : 200 g rice noodles, 1 cup shredded cabbage washed and drained, 1/2 medium thinly sliced red and yellow colour bell peppers , I medium carrot thinly cut , 1 cup sliced spring onions, 1/2 cup roasted and coarsely ground peanuts, 1 tablespoon finely chopped green chilly, 1/4 cup vegetable stock , 2 tablespoon rice vinegar, 1 tablespoon brown sugar, 1 tablespoon lemon juice, 1 tablespoon dark soya sauce, 1/2 teaspoon pepper, Salt to taste. For dressing 2 tablespoon sesame oil, 1 tablespoon finely chopped garlic .To garnish Finely chopped , fresh red chillies and celery leaves.
Servings : 6
Method : Boil the noodles in water and once breakable drain it out from hot water and wash it in ice cold water . This will prevent further cooking of noodles. Mix well all the ingredients and vegetables with in a large bowl and chill until ready to serve.
While serving it heat a pan and add sesame oil ,chopped garlic , green chilly and fry for fee seconds. Stir in the stock and the rest of the ingredients , remove from the heat and set aside to cool.Sprinkle peanuts and drizzle the dressing over the chilled salad. Garnish with coriander, chillies and celery leaves.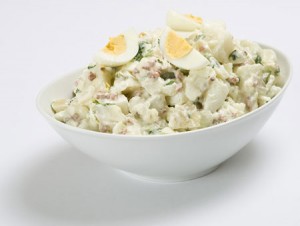 Potato and Egg Salad :
Simple to make quick to present and easily finished on a platter …..great way to begin a party.
Ingredients : 1 cup mayonnaise, 1/4 cup finely chopped spring onion, 6 boiled eggs roughly cut into cubes, 2 cloves garlic crushed, 2 tablespoon finely chopped parsley, 1 tablespoon wine vinegar, salt to taste, pepper powder to taste, 1 tablespoon mustard paste, 500 g potatoes boiled and cut into cubes, 2 to 3 lettuce leaves cut into fine shreds. To garnish chopped parsley.
Servings : 6
Method : In a small bowl , mix together mayonnaise, eggs, springs onion, garlic, parsley, wine vinegar, salt, pepper and mustard. Toss the potatoes with this dressing .Chill. Before serving , toss lettuce leaves with salt and pepper and spread them on a serving platter. Pile chilled egg and potato salad on top and garnish with parsley. Serve immediately.
With these chilled salads you may serve Hot soups, Garlic breads, French toasts, baked beans and toasts, butter toasts, tacos, chips, Lemonades, fruit juices. These variation of serving combinations will heat up your appetite and make you Happy to have Happy meal. Colourful dishes not only attract young ones but also older generations. It makes you hungry and you just eat the right quantity of happiness. You may have this in breakfast , lunch or dinner purpose is always the same to make you happy and content.