Fat makes you fat. It is as simple as that. So if you want to be fit, exercise regularly and maintain a balanced healthy diet.
It's true that maintaining a diet is tough and requires a lot of determination, but if you put your heart to it, you will manage. You will succeed. Fight your unhealthy cravings. Even if you slip, don't give up the diet all together. A slip here and there is Okay (but this does not mean you will make a habit of it). Exercising regularly is a must!
Do not stress about being fat. Stressing about anything is never a good thing. In order to help yourself to stick to the diet, try and make your meals attractive and appetizing. Make smart food choices. If you can put down the 'ghee ka ladoo' and munch on a juicy fruit instead, congratulate yourself. It is the baby steps that count.
Jump-start your day with a healthy breakfast. Never skip your breakfast. Remember, breakfast is the most important meal of the day. Do not starve yourself. Fill in the gaps with bite-size healthy snacks. Eat at frequent intervals but keep your portion in mind. Hydrate yourself throughout the day- drink 8 glasses of water. Have a light lunch. End your day with a low calorie yet filling dinner – so that your tummy doesn't start rumbling in the dead of night.
*Healthy Breakfast*
Dalia Upma with Vegetables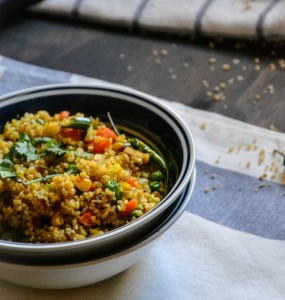 Time taken: 16 minutes
Serves: 4
Ingredients: 3 cups broken wheat dalia, 1 medium onion (chopped), 2 carrots (diced), 1 small capsicum (diced), ½ cup corn kernels, ½ inch piece grated ginger, 3 slit green chillis, a pinch of asafoetida,a pinch of turmeric powder, ½ tsp mustard seeds, a handful of curry leaves, 2 tsp oil, 2 cups water, chopped coriander (for garnish), 2 tbsp lime juice, salt (to taste)
Method: Roast dalia in a pan on low flame until light brown in colour. Remove from pan and keep aside. Heat the oil in a pan. Add mustard seeds, asafetida and curry leaves. When mustard seeds splutter, add grated ginger and slit green chillis. Add chopped onion. Stir. Then add other diced vegetables. Stir for about 5 minutes and add dalia. Season with salt and turmeric. Add 2 cups water and put in pressure cooker till dalia is soft and crumbly. Blend in the lime juice and top with chopped coriander leaves. Serve hot.
*Healthy Lunch*
Tomato Fish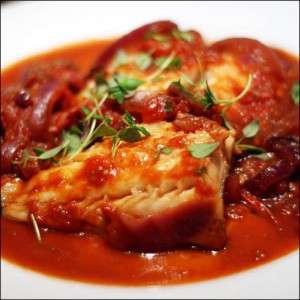 Time taken: 30 minutes
Serves: 4
Ingredients:
For the main prep- 4 medium-sized pieces fish fillet (any firm fish fillet), 2 onions (finely chopped), 1 green capsicum (cut into julienne strips), 2 green chillis (slit vertically), 2 inch piece of ginger (cut into julienne strips), handful of mint leaves (chopped), salt (to taste)
For the sauce- 1 onion (chopped fine), 4 tomatoes (chopped fine), 4 cloves garlic (crushed), 1 tsp chilli powder, 1 tbsp arrowroot powder, ½ cup water, 2 tbsp wine vinegar, a pinch of salt, 1 tsp oil, salt (to taste)
Method:
For the sauce- To make the sauce, simmer the tomatoes, onion, garlic, salt and chilli powder together for 20 minutes. Sieve the sauce and discard the tomato skins, then return the sauce to a clean pan. Heat the pan again, stir the sauce. Mix the arrowroot powder and water to a smooth paste. Add it to the tomato sauce, along with the wine vinegar and sugar, stirring continuously till the sauce thickens.
For the fish- Heat the oil and fry the chopped onions until soft. Remove onions from the pan and set aside. Add the fish and salt to the same oil and brown the fish gently on both sides. Add the previously fried onions to the pan along with the slit green chillies, ginger and capsicum. Pour the tomato sauce over the fish pieces. Cook the fish for about 5 minutes then take the pan off the fire. Garnish with mint leaves. Serve hot with jeera rice.
*Healthy Snack*
Chicken Shake 'N' Bake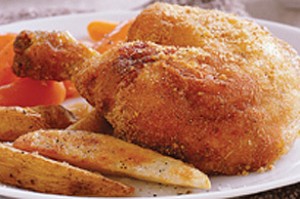 Time taken: 1 hour 10 minutes (including preparation time)
Serves: 4
Ingredients: 2 medium sized chicken breasts (boneless and skinless), 1 tsp soya sauce, 1 tsp prepared mustard, 2 tsp teriyaki sauce, 2 tsp Worcestershire sauce, salt (to taste)
Method: Cut the two chicken breasts into four pieces and pound each one to an even flatness. Place the chicken pieces into a large zip lock pouch. Add all the sauces into the pouch and seal it up properly. Shake the bag, allowing all the sauces to blend together. Keep the pouch in the fridge for half an hour. Heat your oven to 350 degree Celsius. Get the bag out of the fridge and once again, shake it vigorously. Then place the chicken pieces in a foil tray and bake for about ½ an hour, or until the chicken is thoroughly cooked. You can flip the pieces over once, for even browning. Your Chicken Shake 'N' Bake is ready.
*Healthy Dinner*
Grilled Sandwich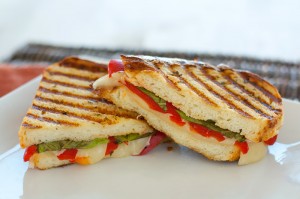 Time taken: 15 minutes
Serves: 4
Ingredients: 4 large slices whole wheat bread, 1 medium onion (chopped fine), 2 medium tomatoes (chopped fine), 1 capsicum (chopped fine), ½ tsp jeera-dhania Masala, ¼ tsp ground pepper, 16 pieces low-fat paneer cubes (1 inch x 1 inch, crumbled), 1 tsp oil, 1 tsp butter, salt (to taste)
Method: Heat 1 tsp oil in a non- stick pan. Add onion and tomato. Cook them to a pulpy consistency. Add the powder masala and salt. Blend well. Then add the crumbled paneer. Stir. Adjust seasoning to taste. Lightly butter the bread slices and place them buttered side down on a plate. Then, heap the paneer mixture evenly on 2 of the open slices (buttered side remains down). Use the remaining 2 slices to cover the lower slices, like a sandwich, making sure the buttered side is on the outer side facing up. This sandwich can be toasted in a sandwich toaster, or simply put onto a hot pan to brown. On a pan, toast the slices to a crisp golden brown on one side, then flip over, to brown on other side. If you are using a pan, you may need to seal the inner edges by lining the inner side with a few drops of water before it goes onto the pan. In a sandwich toaster, remove from toaster when golden brown. Cut each sandwich into two triangles.
Stay Fit. Stay Healthy.