DIABETES. What is Diabetes?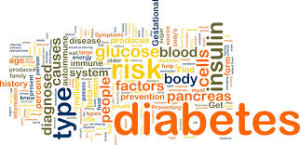 When one has diabetes, the amount of glucose (sugar) in his/her blood is very high. This is mainly because the body is unable to use the glucose properly.
For Diabetic people, maintaining blood glucose levels is the essential aim for treatment and this can be done by leading a healthy lifestyle. My grandmother and my mother are both prey to the disease diabetes mellitus. It is one horrible disease. The things to do and not to do. To eat or not to eat. The regular checkups. The huge doses of a dozen pills on a regular basis. The daily insulin intake through injections. It is a nightmare.
To be healthy, to lead a normal lifestyle, one has to follow a balanced diet among other remedies.
Breakfast, lunch and dinner are the three main meals of one's day. The following recipes are very healthy and cooked as par the diet of a diabetic patient.
BREAKFAST is the most important meal of your day.
Besan Methi Frankie (Stuffed gram flour roti)
Ingredients –
For the dough- 90g gram flour (besan), 70g whole-wheat flour (atta) plus extra for dusting, 160g fresh fenugreek leaves (methi ) chopped, 4 green chillies (chopped), ¼ tsp ground turmeric, ¼ tsp carom seeds ( ajwain), 1 tbsp natural low-fat yogurt,½ tsp salt, green chutney ( as required), 1 medium sized onion ( chopped)
For the stuffing – 1 tsp olive oil, 2 medium sized onions (chopped), 2 medium sized tomatoes ( seeded and chopped), 2 green chillies ( chopped), 160g bean sprouts ( blanched), ¼ tsp ground turmeric, ¼ tsp red chilli powder, ½ tsp chaat masala, ½ tsp salt, 1 tsp lemon juice, 1 tbsp chopped fresh coriander leaves
Method – Mix together the two flours, fenugreek leaves, chillies, turmeric, carom seeds, yogurt and salt. Add enough water to knead into a semi- soft dough. Cover the dough with a damp cloth and rest for about 15 minutes.
To make the stuffing, heat the oil in a pan, add the onions and tomatoes and sauté for 2 minutes. Add the chillies and bean sprouts and continue to sauté for 30 seconds. Stir in the turmeric, chilli powder, chaat masala, salt, lemon juice and coriander, and sauté for 1 minute. Remove from the heat and set aside.
Divide the dough into 8 equal size portions and form into balls. Dust these with a little whole-wheat flour, and then roll out into rotis, roughly 15 cm in diameter. Heat a non-stick tawa and cook the rotis on both sides, until evenly done. To prepare a Frankie, place a roti on a flat work surface and spread a tsp of green chutney all over. Spoon some of the stuffing on one side of the roti, sprinkle on some onions, then simply roll up. Prepare the rest of the frankies in the same way, wrapping them in foil as you go to keep them warm and make them easier to handle. Serve immediately.
LUNCH – eat a light lunch and have a snack later if you are hungry
Dahi Idli ( Steamed Rice Cakes in Yogurt)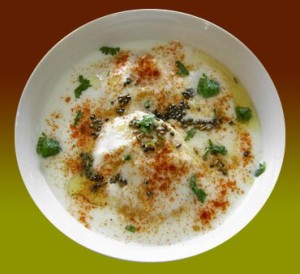 Ingredients – 220g parboiled rice, 100g split black gram, 500g natural low-fat yogurt ( whisked), 2 tbsp green chutney, 2 tbsp tamarind chutney, ¼ tsp red chilli powder, ¼ tsp ground cumin, 2 tbsp chopped fresh coriander leaves
Method – Wash the rice and then soak in 600ml fresh water for at least 2 to 3 hours. Wash the dal and then soak in 400 ml water for a similar period of time. Drain the rice and grind to a slightly coarse texture. Mix in as much water as required to make a batter of dropping consistency. Drain and grind the dal, then mix to a smooth and spongy batter, again using as much water as required. Mix both the batters together and pour into a large vessel with a lid. Close the lid tightly and then leave the batter to rest, and ferment, in a warm place overnight. The following day, heat sufficient water in a steamer. Place a muslin cloth on the idli stand. Pour a spoonful of the fermented batter into each dent. Place the idli stand in the steamer and cook for 8 to 10 minutes, or until the idlis are done. Place the idlis in a serving bowl and drizzle over the yogurt and chutneys, followed by the chilli powder and ground cumin. Garnish with the chopped coriander leaves and serve.
DINNER is the last meal of your day. Try having your dinner at least 3 to 4 hours before you sleep. If convenient, walk a little after your dinner. This helps in giving your body the time to digest the meal and use up the calories from the food before your metabolism rate lowers for the rest of the night.
Prawn Rice
Ingredients – 190g brown rice, 10 medium prawns ( shelled and deveined), 1 tsp lemon juice, 1 tsp salt, 30g fresh coriander leaves (chopped), 2 tbsp grated fresh coconut, 3 green chillies (chopped), 2.5 cm piece root ginger (finely chopped), 4 garlic cloves (finely chopped), 12 to 15 fresh mint leaves, ¾ tbsp olive oil, 1cm piece cinnamon stick, 3 black cardamom pods (split), 1 star anise, 3 cloves, 1 tsp cumin seeds, 1 large onion (chopped), 1 ½ tsp low-fat coconut milk
Method – Soak the brown rice in 500 ml water for 2 hours. Drain and set aside. Marinate the prawns in the lemon juice and salt. Set aside 1 tbsp each of the coriander and grated fresh coconut for the garnish. Grind the remaining coriander and coconut with the green chillies, ginger, garlic and mint to a fine paste. Heat the oil in a thick-bottomed handi and add the cinnamon stick, cardamom, star anise, cloves and cumin seeds. Sauté for 1 minute. Add the chopped onions and sauté for 3 to 4 minutes, or until it turns golden brown in colour. Add the masala paste and stir-fry for a further 30 seconds. Add the soaked rice and stir gently for 1 minute. Stir in the coconut milk and 1 litre water. Bring to the boil, stirring once or twice, and then cook on a medium heat until the water has almost disappeared – about 30 to 35 minutes. Add the prawns, reduce the heat and cook, covered, until the rice is tender. Remove the pan from the heat and served garnished with the reserved coriander leaves and grated coconut.
HAVING DIABETES DOES NOT MEAN YOU CANNOT HAVE SWEETS. Small amount mixed with a balanced diet is fine.
You can try making this healthy yummy pudding whenever you are craving for some sweet meats.
Pineapple Yogurt Fool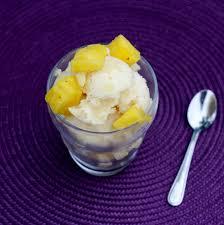 Ingredients – ½ medium pineapple (cut into small pieces), 2.5cm stick cinnamon, 135g hung natural low-fat yogurt
Method – Place the pineapple and cinnamon in a non-stick pan and stew over a low heat for 30 minutes. Set aside to cool. Remove the pineapple pieces from the pan and mix them with the yogurt. Blend together in a mixer. Chill in the fridge. Serve chilled.
Recipe Courtesy – sanjeevkapoor.com
Image Courtesy – lchdhealthcare.org, rediff.com, 4remedy.com