I am talking sense when I put party and health together. Yes we can have healthy menu for a party without compromising the taste. Its no robot science to achieve that . Simply having healthy food prepared in a tasty way can make you feel detoxified even when you are partying full on. Grabbing a few healthy ingredients blending it with complimenting substitutes can easily make your party fun and healthy . It would be great for a change to not hit the gym immediately you had attended a party instead you can just chill out more an stop worrying about weight gain. Isn't it a idea of generation next to have a blast with a sigh of relief. I have few secret recipes for the much hot topic of the parties" DRINKS". Yes! No matter how hard you try to not eat food in a party you often binge on drinks (hich by the way carry a lot of calories) thinking that fluid will be no harm . Not eating fat through solid dishes is not the way out . You often avoid eating tikkas , fried balls, naans, butter chicken in a party but you never forget to grab a glass of drink with 300 kcal per glass. So back to square one your tummy feels empty but you still gain weight wondering where did I go wrong ?Specially chicks conscious about eating often attend to much more calorie stuff than those who controlled over for few dishes but at least had tummy full evening. You must be thinking what a waste ! Yes its a waste , really you need to organise a party now with few delicious party drink recipes and create a aura of comfort for diet conscious people and prove them that party can be so fun without gaining weight (New concept be prepared for critics ).
Healthy drink is not an alien concept .Its  simply blending few healthy ingredients with a twisting flavour and get a tasty healthy drink ready for hitting the floor. With much applause I now present the wonder party drinks which can bring to you a great punch of flavours and obvious smile on your face.
Mint and Cucumber refresher :
Ingredients : Few sprig of mint leaves, 1 teaspoon caster sugar, Juice of Lime, Thinly slices Cucumber for dressing up the drink (You may not be very professional in slicing the cucumber ), Your favourite sparkling water (Lime , Cranberry , Strawberry but avoid a too much of it ).
Servings : 1
Method : Chop a few mint leaves and mix it with the caster sugar. Rub a little Lime around the rim of a pretty glass and dip it in the minted sugar. Leave it to dry and settle on the rim. Mix rest of the Lime juice ,cucumber, and mint- some chopped ans some whole – in a jug and chill. To serve , pour the Lime and cucumber into the prepared glass and top up to taste with chilled sparkling water and Ice cubes. A perfect blend of taste and health will sparkle up your party .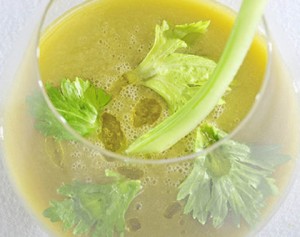 Apple and Celery Revitaliser:
Ingredients : 1 Edible apple (not very Sour) peeled, cored and diced. 100g of celery chopped , 600 ml Milk, Pinch of Sugar (Its Optional), Salt (Optional), Strips of celery to decorate.
Servings : 2
Method : Put the apple , celery , milk into a blender or food processor and mix until it combines with each other smoothly and thoroughly. Stir in a pinch of sugar and some salt, if using. Pour into chilled glasses , decorate with strips of celery and serve.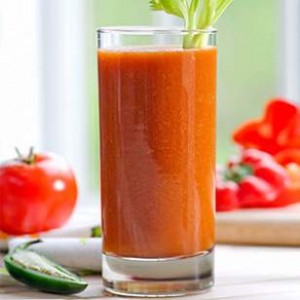 Red Pepper Reactor :
Turn your party hot with this specific drink . It will sizzle up the X factor quotient in your party.
Ingredients :  250 ml carrot juice freshly strained from a blender, 250 ml Tomato juice freshly strained from a blender, 2 large red peppers (Very commonly available in markets ) de seeded and roughly chopped, 1 tablespoon lemon juice, freshly ground black pepper, strips of shredded carrot , to decorate.
Servings : 2
Method : Pour the carrot juice and tomato juice into a food processor or blender and process gently until combined. Add the red peppers and lemon juice. Season with plenty of freshly ground black pepper and process until it smooth. Pour the mixture into glasses, decorate with the strips of shredded carrot and serve.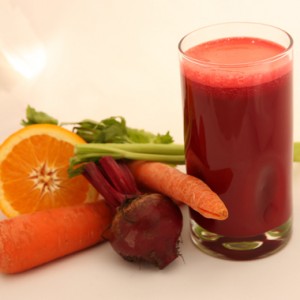 On the beat :
Ingredients :200 g cooked beetroot, chopped. 125 ml of Orange Juice freshly strained or (you may use canned juice too ) chilled, 5 tablespoon natural yoghurt, chilled. Salt , Slices of Orange to decorate.
Serving : 2
Method : Put the beetroot, orange Juice ,yoghurt and water into the food processor or blender and season to taste with salt.  Process until smooth , then pour into the chilled glasses and serve , decorate with slices of orange .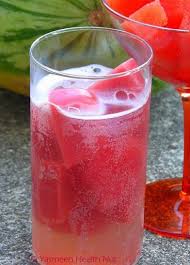 Watermelon Whiz:
A watermelon is perfect ingredient for classic mock tails and cocktails . A variety of drinks and be prepared out of it . But the fun would be not to try anything fancy and simply serve a juice with loads of ice . The icy cool effect will create a aura of wonders and you will chill without doing much.
Ingredients : Wedges of watermelon, weighing about 400 g, Ice cubes, Slices of watermelon to decorate.
Servings : 2
Method : Put the Watermelon and ice cubes in a blender or food processor and blend well until smooth and then pour in the drink to a glass and decorate it with watermelon pieces.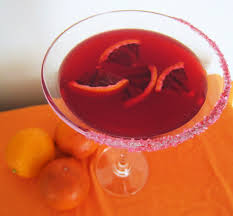 Passionate Juice Fizz :
The name suggest it would be tough to prepare but if you actually view the recipe its the simplest of the drinks served to you ever and that might click the idea to you of throwing a surprise party at home.
Ingredients : 1 Pomegranate, 1/2 orange, 4 passion fruit (Easily available in markets ), 100 ml of sparkling water/ Plain Soda water.
Servings : 2
Method : Peel the rind from the pomegranate and peel the orange, leaving on the with pith. Scoop the flesh from the passion fruits. Process or blend the pomegranate with the orange and pulp of  three passion fruits. Pour into the glasses and stir in the remaining passion fruit pulp . Top up with the sparkling soda water and serve .