What is that one thing which everyone is complaining about these days? It is the Heat! Also, what is that one type of food that everyone loves to avoid? Of course it is Healthy food! So, what if we have combination of recipes that will help you beat the summer heat along with being low on calories and keeping you in good health?
The youngsters nowadays barely get any time from their school/college and extra-curricular activities and hardly do they pursue hobbies like cooking or baking anymore. Except for making Maggi I do not hear any of my friends attempting to try out a new dish. Cooking is a very creative and stress relieving hobby and it is also very satisfying. Personally I used to think that cooking is a very difficult task in which a hundred of spices have to be made use of. I used to look up recipes but never ended up following them. When I shifted to Delhi for my college, I had to learn to make a few dishes and those were the first rumblings of my new-found love for cooking.To avoid eating Aloo Parantha for breakfast and dinner every second day, I tried to make a few new dishes. I looked up easy to make recipes which were healthy and delicious.
In the kind of world we live in, our lives are totally rushed. A lot of us are dependent on eating out every single day. Eating out on a regular basis obviously has negative implications on one's body along with permanently damaging it from inside. What some of us don't understand is that we can have a healthy lavish and tasty meal at home and avoid dining out. So this way we don't compromise on our taste or health.
So for people who want to have an extravagant feast at home, I present to you a three-course healthy meal which you will not be able to refuse.
What compromises a three-course meal?
Spinach Soup Recipe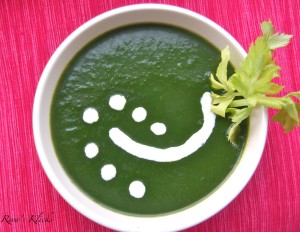 Preparation Time: 15 minutes
Cooking Time: 25 minutes
Servings: 4
Ingredients:
• Olive oil: 2 tablespoons
• garlic cloves: 2
• Onion: 1 medium-sized, finely chopped
• Potato: 1/2 medium-sized, peeled and cubed
• Fat-free vegetable broth: 2 cups, should be low-sodium
• Small spinach: 1 bunch
• Fat-free milk
• Freshly ground black pepper: to taste
• Salt: to taste
Method:
1. The oil has to be heated in a saucepan. The ingredients like garlic cloves, chopped onion, and peeled and cubed potato have to be sautéed for 5 minutes in the pan.
2. The vegetable broth has to be added along with fat-free milk. It has to be brought to boil, covered and simmered for 10 minutes.
3. Half the spinach has to be stirred in, and repeat the process of covering and simmering it for 10 more minutes.
4. Allow it to cool slightly and then transfer the soup into a blender. It can be divided into two parts if need be.
5. Add remaining spinach and blend.
6. Keep blending until it is smooth.
7. Add salt and pepper according to personal taste and mix them well.
8. Serve hot.
Nutritive Value approximately for 1 Serving:-
Calories – 60 kcal, Fat -2.5 gm, Protein – 0.8 gm
Sweet Corn Salad Recipe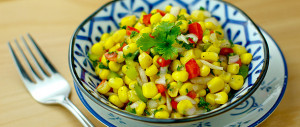 Preparation Time: 10 minutes
Cooking Time: 5 minutes
Servings: 3
Ingredients:
• Boiled Sweet corn: about 3 cups,
• Chopped Spring onions: 1/3 cup,
• Chopped Capsicum: 1/3 cup,
• Chopped Tomato: 1/3 cup,
• Salt: to taste
• Freshly grounded black pepper powder: to taste
Method:
1. Mix the Sweet corn, chopped spring onions, chopped capsicum and tomato.
2. Sprinkle salt and black pepper on top of it.
3. Serve with a low fat dressing of your choice and sprinkle on top of it.- Optional
Nutritive Value for 1 Serving:-
Calories – 250 kcal, Protein – 2.10 gm, Fat -negligible
Sautéed Vegetables Recipe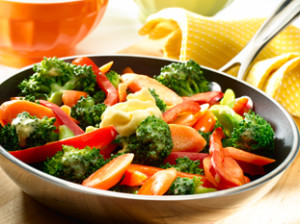 Preparation Time: 15 minutes
Cooking Time: 15 minutes
Serves: 2
Ingredients:
• Diced Carrots: 2,
• Quartered Onion: 1 medium,
• Red bell pepper: 1 big, cut into 1 inch squares
• Cauliflower: 1/2 cup, cut finely
• Stalk celery: 1 cut 1/2 inch long
• Yellow squash: 1 cut to equal size as celery
• Salt: 2 tea spoons, add if needed
• Garlic-Ginger paste: 1-2 tsp
• Olive oil: 1 tsp
Method:
1. One tablespoon olive oil has to be heated in a non-stick pan over medium-high flame until the oil starts shimmering.
2. Add all the ingredients like the ginger-garlic paste, the vegetables, and salt to the pan and start stirring.
3. Keep stirring frequently until the ingredients are light brown in colour. Approximately the vegetables take 10-15 minutes to turn into their golden-brown colour.
4. While serving sprinkle with fresh herbs. Optional.
Nutritive Value per Serving:-
Calories – 120 kcal
Protein – 0.5 gm
Fat -2.5 gm
I also came across this refreshing drink which is sure to leave you satisfied. It is perfect for a hot summer day!
Coconut Bliss Recipe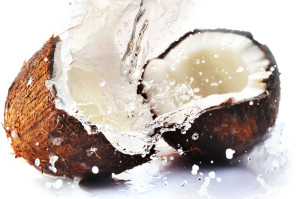 Preparation time: 5 minutes
Serving: One glass
Ingredients:
• Honey: One teaspoon
• Lime juice: one teaspoon
• Ginger juice: ½ teaspoon
• Fresh Coconut water – one glass
Method:
1. Take one coconut and take the coconut water out.
2. Add the ingredients and mix well.
3. Add ice cubes if you want.
To serve, you can use the same coconut skin. It will add flavour and aesthetic beauty to your drink and if you want to serve it, the presentation will look attractive.