Delhi is almost home. I have been living here for long now: first as an undergrad at St. Stephen's College between 2010 and 2013, and then as a graduate student at JNU since. I love the buzz of the capital. And I absolutely love the freedom of life in a hostel. I can stay up till 5 in the morning – reading, watching a movie, or simply trolling about on the web. And of course, I love my friends: they are like family. But every few months, there comes a time when I pack my bags, say goodbye to my friends and the unchecked (and often irresponsible) routine of hostel living, and leave the almost-home for home.
The moment the plane lands, I'm expected to switch on my phone and call mum. She gets anxious otherwise. Ever noticed how parents trust their kids (20-something year olds included, unless married – that's a whole different story) to be responsible and keep safe when in another city, but worry themselves sick when those same kids are out with friends while in the home-city? In any case, the moment I emerge from the exit at Lokapriya Gopinath Bordoloi Airport, I am greeted by the much-familiar ring of Assamese words in the air. Once home with mum, it's like I'd never left. The relaxed conversations, the very vernacular jokes, and the comfort of my bed (seriously, why are beds in hostel rooms never like the ones at home??) – all make the time away dissolve into nothingness. It's only when mum brings in my lunch that I realise how much I had missed home!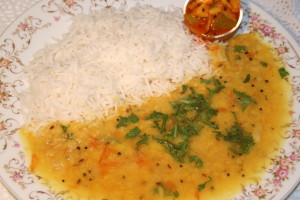 When I'm in Delhi, lunch is a casual affair. More often than not, "lunch" is a quick samosa and a glass of nimbu paani at the canteen between classes. On days off, I have to drag myself to the hostel mess to feed on the less than palatable dal–chawal–sabzi served. The seemingly-harmless decision to take a catnap at noon and the subsequent failure to respond to the alarm may cost me a whole day of hunger-pangs. Home now, mum is religious about a good, hearty, no-nonsense lunch. The plate she brings in is laden with a generous serving with aromatic Basmati rice, dal, sabzi tailored to my taste, healthy home-made chicken stew, and papad. The first spoonful feels like a mouthful of health – the smell, the taste, the unparalleled delight of food prepared with love and care.
The one thing that never fails to make me feel blessed when home is the sheer abundance and easy availability of food. In order to truly appreciate this, you need to understand how the mess system in my hostel works. Breakfast is served between 8:00 and 9:30 in the morning, lunch between 12:30 and 2:00 in the afternoon, and dinner between 7:30 and 9:00 in the evening. Heavens forbid you feel hungry in the hours in between (and you often do between lunch and dinner), satiation would cost you some amount of money, and a walk in the sun to the dhaba or general store. One way around might be to stock up on fruits. But fruits aren't easily available and don't stay fresh for long in summer, the luxury of refrigeration not being available. Another option might be crackers and snack-cakes. But there's only so much compromise your health and conscience can take. Besides, there are those days when your taste buds throw a tantrum: they need to be pampered with cooked food. How I've craved mum's poha on those long, hungry evenings when I'm rushing to finish an assignment or am simply, utterly broke (yes, people in hostels go broke sometimes when they are careless in the first weeks of the month)! At home, any time that I feel hungry even in the slightest, I need look no further than the refrigerator or the kitchen shelf for some snack more wholesome than the deep fried pakoras or Masala Maggi available at the dhaba a good 10 minutes' walk away from my hostel.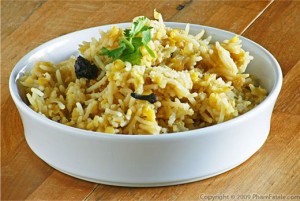 Besides, meal-time at home does not involve the stress of weighing your options. If the breakfast table has macaroni and cornflakes on it, I do not have to choose between the two – I can have a bit of both. At lunch or dinner, I do not have to decide whether foregoing my chicken curry in favour of the gulaab jamun that only comes with the paneer is a good idea. If there's Roohafza on offer, mum does not deny me a glassful because I chose the egg curry instead of the sabzi.
I understand that every hostel mess offers choices so as to better accommodate diverse tastes and food-related beliefs of the students, and restrictions in choices of food are exercised so as to make the system economically viable. No complaints about that. But it's an absolute pleasure to be liberated from these rules every once in a while – and by providing that opportunity, home just feels that much homelier. Every single time I come home for the holidays, I realise how real the connection between "home" and "food" is in my mind. Home is where the food feels right. You have to give it to George Bernard Shaw: there really is no love sincerer than the love for food.