Do you remember the old Bollywood number "Ande ka Funda" ? the song shows us the true value of a egg. Those who have stayed in hostels or PG's you will definitely agree with me. Without Egg and Maggie we cannot survive hostel days. They are the only source of maternal love we get outside our homes. To cook Egg Bhurji on a slow flame electric heater without hostel wardens permission is super duper fun.Gone are those days of anticipation, friendship, fun, notorious activities, late night addas, smoking for the first time with roomies, having a pajama party organised to tease the boys , going on dates and getting decked up for fresher party in college. We all miss those fun reckless carefree days where we could achieve world in a snap. Today there is Old boring meetings, Hitting deadlines, Getting KRA's listed, appraisals, promotions, pink slips, recession …..every evil on this planet. Are we done with life ? Are we done with all those carefree fun reckless days spend in hostels ? Are we done with the bunking? Are we too old to fool around with friends ? For me answer is NO!
Yes we can dress up like teens , full around , date, go out on midnight binge on , Can plan a late night bike ride with friends .We can do that its just the way we plan stuff. If you feel like 40 you will behave like 50. So stop cribbing about today and missing old days ….we can create memories today as well. Go and make those tasty recipes which you guys use to make with your hostel mates and invite them and grab a bite in memory of those days to re create that magic again and make fresh super fun memories again.
Anda Bhurji With Paav :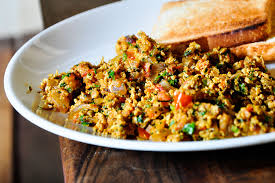 Ingredients : 10 eggs , 2 large onions finely chopped, 2 to 3 green chillies finely chopped, 2 to 3 tomatoes finely chopped, 2 teaspoon cumin seeds, 1 tablespoon paav bhaji masala, 1 /2 cup chopped coriander, 1 tablespoon tomato ketchup, salt to taste, 1 teaspoon turmeric powder, 1 teaspoon red chilly powder, Oil for cooking, 10 Paav's cut into two halves, 1 Tablespoon butter for grilling the paav.
Serving : 5
Method : Its the easiest recipe in the world ….the only reason of being popular in hostels.Heat a pan after adding oil and once the oil heats up add Cumin seeds,green chillies, onions, Sauté it for 2 minutes and  then add tomatoes and all the dry spices along with salt. Cook it for good odd 5 minutes .Once the tomatoes separate oil add ketchup and chopped coriander and Bhurji is ready. Now take a neat shallow pan, heat it  and grease all the Paav's and grill it on the heated pan. Eat generously and carefree.
Sabji Wali Masala maggie: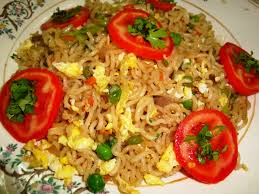 Ingredients : 5 packs of Maggie instant noodle, 2 Large onions roughly chopped, 3 to 4 green chillies , `two large tomatoes chopped finely, 1 cup boiled green peas, 1 cup French beans roughly chopped, 1/2 cup capsicum finely chopped, Oil to cook, Salt to taste, a pinch of turmeric powder,1 teaspoon of red chilly powder, 1 teaspoon black peppercorns freshly crushed.
Servings : 5
Method : Heat a deep pan and add oil in it. Once the oil gets hot stir in green chillies, onions and French beans, sauté it for 2 minutes, Now tomatoes, salt dry spices green peas, capsicum, and Maggie masala (all the five pouches). Cook it till tomatoes separate oil and add all the Maggie noodles simply  by breaking into two halves. Add 5 cups of water and cook it till maggie soaks up all the water and becomes dry. Sprinkle crushed black peppercorns and tomato ketchup and eat it before someone else comes ….:).
Kheera Sandwich :
I survived bad hostel lunch days all because of kheera sandwich made by my roomie. I hope many relate to me as they must have compromised some day without a good food day in hostel and someone came as a saviour and brought you out of the suffering.
Ingredients : 2 large cucumbers cut into thin slices, ten pieces of brown /white breads (Whichever you prefer but host-elites use to get plain white bread only), two tablespoon butter, 5 Cheese slices, 1 teaspoon black salt, two tablespoon tomato ketchup.
Servings : 5
Method :  Spread butter on five slices and spread ketchup in rest of the five. Now place cucumber/ kheera slices on the breads having butter, sprinkle a pinch of black salt on each slice of butter and kheera and then top it up with cheese slice. Sandwich it with the ketchup slice ,cut the edges of the bread from all the four corners and diagonally make two pieces out of each sandwich. You are ready to eat heavenly food.
Teekhe Murmure / Jhal Muri :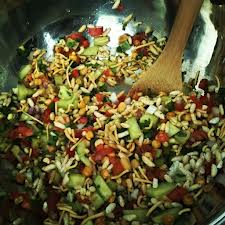 Ingredients : One large bowl full of puffed Rice/ Murmure/ Muri, 1 large onion finely chopped, 2 to 3 green chillies, 1 teaspoon roasted cumin powder, 1 teaspoon black salt, 1 tespoon red chilly powder, 1 cup bhujia , 1 cup Green moong Sprouts, a bit of mustard oil, 1 teaspoon chaat masala, 1 large cucumber very finely chopped, 1 tablespoon chopped coriander.
Servings : 4
Method : Mix all the ingredients very evenly and check the amount of chaat masala and salt and adjust the taste accordingly. Make a paper cone can serve it immediately.
Masala Papad: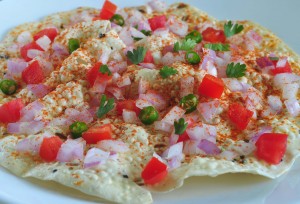 Ingredients : 5 papads, 1 cup finely chopped cucumber, 1/2 cup finely chopped onions, 1 cup coriander chopped, 1/2 cup tomatoes de-seeded and chopped finely, 1 teaspoon green chilly powder, 1 teaspoon chaat masala, 1 taespoon black salt, 1 teaspoon red chilly powder, 1 Fresh lemon .
Servings : 5
Method : Deep fry the papad(optional) or you can simply roast the papad. Spread evenly onions , green chillies, coriander, cucumber and tomatoes. Then sprinkle chaat masala, black salt and squeeze in few drops of lemon juice on it. Dont keep it for long as it might soggy the roasted papad.
A sheer dedication to my four Roomies whom I have lived happy two years outside home. They were my friends , my sisters my only source of entertainment. We were the famous five in our Hostel.