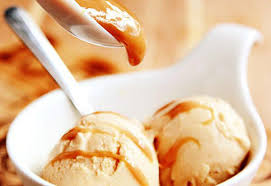 While ice cream isn't typically eaten for its nutritional value, there are several health benefits associated with this frozen treat. Since ice cream is a dairy product like milk or yogurt, it contains some of the same vitamins and nutritional content. Summer is the best time for Ice creams. You can make extremely delicious Ice creams at your home by following the given procedures.
DULCE DE LECHE ICE CREAM-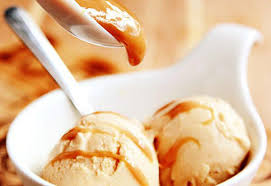 Ingredients-
1 tablespoon butter
1 cup chopped pecans
2 tablespoons packed brown sugar
1 can (about 13.4 ounces) Dulce de leche
8 ounces fat-free whipped topping, defrosted
1 teaspoon vanilla
Recipe- Melt butter and brown sugar together in a small pan over low heat. Cook until butter is melted, then add the pecans. Cook over low heat for about 1 minute, stirring constantly. Remove from heat and place on a cookie sheet lined with parchment paper to cool.
Place Dulce de leche in a large bowl. Stir to break it up a little. Add vanilla and whipped topping and fold gently until almost combined (there will still be a few swirls of Dulce de leche showing). You don't want to over-stir or it won't set up in the freezer. Fold in pecans.
Place in an airtight container and freeze until semi-firm (it won't be as firm as regular ice cream), at least 4 hours or overnight.
Try sprinkling it with a little sea or kosher salt before serving. It's amazing!
COOL BRITANNIA COPYCAT ICE CREAM-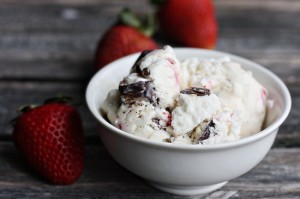 Ingredients-
2 cups heavy whipping cream, cold
1 cup of strawberries, chopped
4 shortbread finger cookies (i.e. Walkers)
1 cup semi-sweet chocolate chips
Granulated sugar
14 ounces sweetened condensed milk
Recipe- Melt chocolate chips in the microwave according to package directions. Dip shortbread fingers into chocolate until completely covered. Place on parchment paper lined baking sheet. Wait until chocolate is firm before moving on to next step (you may place the sheet in the fridge to quicken hardening).
Chop cookies into bite-sized pieces. Set aside.
Place chopped strawberries in a shallow bowl. Sprinkle with a little granulated sugar. Mash with a fork until it has the consistency of a chunky, liquid jam. Set aside.
In a medium bowl, beat the heavy whipping cream until stiff peaks form. Set aside.
In a large bowl, mix together the sweetened condensed milk and cookie pieces fold in the whipped cream until no white streaks remain. Add the strawberries and fold in gently (only fold in a couple times for more of a swirl effect, fold in several times if you want a red-tinged ice cream).
Place in a covered container and freeze overnight (or at least 6 hours).
HUCKLEBERRY ICE CREAM-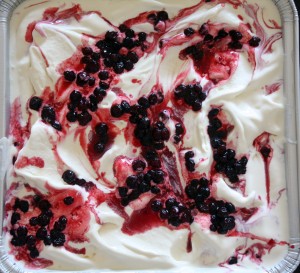 Ingredients-
2 cup(s) half-and-half
1/2 cup(s) sugar
1 cup(s) whipping cream
1 teaspoon(s) vanilla extract
2 cup(s) huckleberries, or blueberries, blended with 3/4 cup sugar
4 eggs
1/4 teaspoon(s) salt
Recipe- In a medium saucepan, whisk together half-and-half, eggs, sugar, and salt. Place pan over medium- high heat and whisk mixture until bubbly. Strain into a large bowl and cool; then whisk in cream, vanilla, and berries. Cover with plastic wrap and refrigerate until chilled, about 2 hours.
Pour mixture into ice-cream maker; process according to manufacturer instructions.
BANANA ICE CREAM-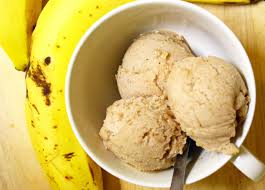 Ingredients-
4 very ripe bananas, peeled, cut into chunks
1/4 tsp vanilla essence
3-4 tbsps sugar, honey or sweetener, to taste
150ml buttermilk Greek-style yoghurt
Recipe- Spread the banana chunks out on a tray and transfer to the freezer. Leave the banana in the freezer until frozen all the way through (about one hour).
Place the frozen banana chunks into a food processor. Add the vanilla, sugar, honey or sweetener and half of the buttermilk (or yoghurt). Turn on the processor and blend for a few moments. Then, while the processor is still running, pour in the remaining buttermilk in a thin, steady stream (if you are using yoghurt, just tip it all in and blend).
Blend until the mixture is smooth and creamy. Serve at once.
CHOCOLATE ICE CREAM-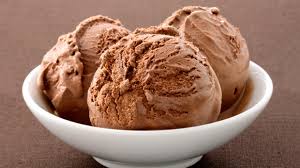 Ingredients-
250g strong plain chocolate
100g unsalted butter
150g caster sugar
150ml water
4 large eggs, yolks only
500ml double cream
Recipe- Break up the chocolate and place with the unsalted butter in a warm-ish oven for about 15 minutes. Remove and stir until melted and blended together.
Over a low heat dissolve the sugar in the water then turn up the heat and boil rapidly for a few minutes to get a light syrup. It's ready before the syrup takes any colour, when a little dropped on to a cold plate forms a thread when stretched between finger and thumb. Leave the mixture to cool for just a minute.
Place the egg yolks in a basin and begin whisking (ideally with an electric whisk), trickling in the hot syrup as you go. Continue whisking until the mixture is thick and mousse-like. Whisk in the cream. Then fold in the melted chocolate and butter until thoroughly blended. Then pour the mixture into an ice cream machine and churn until frozen.