Indians prefer more of Chinese than Indian (I am including myself ). Chinese food is having all flavours in one bowl spicy ,tangy, oily, saucy, full of veggies, juicy, with gravy , without gravy , full of colours , sometime bland in taste, sweet & sour etc etc. I am not wrong if I say there is no one on earth who doesn't like Chinese. I have had the opportunity to taste all sorts of Chinese food ….from a classy Chinese restaurant to roadside Chinese junk I have had all. But trust me I liked it all. Its easy to prepare and easy to make , the only task is to assemble  the right ingredients , cut the vegetables in right shape and your dish is done in 5 minutes. Yes! its that simple. From wedding Hi-Tea to birthday party at home we always include a Chinese dish in the menu. B'coz ….its simple tasty and every ones favourite.  Its funny but a trur fact that we Indians have totally customised the Chinese dishes and made it oily spicy "tadka marke" dishes .
Originally the Chinese recipes our full of veggies & sea food , little bland , more of stock content and sweet & sour in flavour. But we have totally customised it in our homes as per our own taste. You wont believe but I have had egg plant sautéed Hakka noodle once and I loved it (I was being crazy …never mind). My hostel cook use to add curry leaves in chicken Manchurian as he was a South Indian cook and only knew curry leaves as his key ingredient ….so whether it be dosa or noodles curry leaves was must (Its true story ….!!!). But if you our really Chinese food crazy you must eat anything which comes to you in form of noodles and I am being very honest in admitting that I love Chinese and can survive years n years eating only noodle and chilly chicken.
Chinese dishes originally are non- vegetarian dishes but we being Chinese food crazy and not compromising the taste created loads of veg substitutes of the main menu and made it more popular than the original recipes…classic example would be chilly Paneer/ cottage cheese. Even china would wonder how we managed to create that. But its possible only in India. We kill the original recipe and yet make it tasty and popular…(Aren't we crazy enough to be dared for anything ). So lets have a mix bag of Chinese starter recipes customised the Indian way.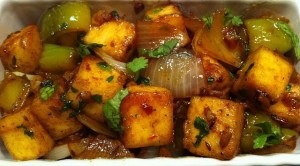 Chilly Paneer :
Ingredients : 500 g of cottage cheese / Paneer cut in cubes, 1& 1/2 tablespoon corn starch , 1 tablespoon green chilly diagonally thinly sliced,1 tablespoon celery finely chopped,  2 medium onions diced roughly, 2 medium bell peppers (Red, green & yellow in colour), 1 tablespoon garlic finely chopped, 1 tablespoon ginger juliennes, 1 /2 tablespoon dark soy sauce, 1 tablespoon tomato ketchup, 1/2 tablespoon green chilly sauce, 1 tablespoon olive oil to cook ,salt to taste,1/2 cup water for moistening .
Servings : 4
Method : Take a zip lock bag and pour in 1/2 cut of corn starch in it . Add in paneer cubes in the bag and shake it well closing the zip so that starch coats all the cubes evenly from all sides. Now heat a shallow pan and add half of olive oil in it. Slightly toss the paneer cubes in the till it turns golden brown evenly from all sides. Take it out and keep it separate. Now add in the rest of the olive oil heat it on high flame and stir in celery , green chillies, garlic and ginger and sauté it for 1 minutes . Now stir in Onions and diced bell peppers and sauté it again for another 2 to 3 minutes. Add in little salt , tomato ketchup , dark soy sauce , green chilly sauce and mix well for 30 seconds. Add in the shallow fried golden brown paneer cubes in it , mix it well and add water to it. simmer it for 2 minutes and add rest of corn starch in paste (add few drops of water to corn starch )  form to thicken the water and get a glaze on this Paneer dish. Serve it in a flat dish with toothpicks on side . Serve it hot.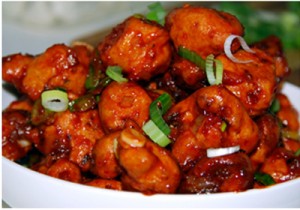 Gobi Manchurian Dry :
Ingredients : 1 big cauliflower roughly cut into small pieces, 2 tablespoon corn starch , 1 tablespoon green chilly diagonally thinly sliced,1 tablespoon celery finely chopped,1 tablespoon garlic finely chopped, 1 tablespoon ginger juliennes, 1 /2 tablespoon dark soy sauce, 1 tablespoon tomato ketchup, 1/2 tablespoon green chilly sauce,  olive oil for deep frying & cook ,salt to taste,1 tablespoon chopped spring onions for garnishing.
Serving: 4
Method : Firstly we need to slightly blanch in salted water, the cauliflower and then dry it. Once it dried we need to put it in a zip lock pouch with all the corn starch in it and shake it well to coat the cauliflower pieces evenly with corn starch . You may also avoid this process and directly mix the corn starch with blanched cauliflowers and keep it with  for 30 minutes so that it coats well . Now deep fry  the cauliflowers kernels till golden brown . It will be quiet crusty as it was coated with corn starch and its taste is already salty as so addition of extra salt is not required. Now heat a shallow pan , add olive oil in it and on high flame toss, celery , green chilly slices , ginger and garlic. Sauté it for a minute and then add all the sauces …tomato ketchup ,green chilly sauce, and dark soy sauce along with deep fried cauliflower kernels . Stir fry all of this on high flame for 3 to 4 minutes and serve till cauliflower /Gobi absorbs all the sauces. To get a glaze you may pour corn starch solution( a teaspoon only) it is Optional .To get a gravy of this particular dish you just need to add 1 cup of water and a tablespoon of corn starch solution and your side gravy dish is ready. Serve it hot garnishing it with spring onions to enjoy the crispiness of the tempting cauliflower kernels This is a  Indo -Chinese recipe and a very popular dish in India's Chinese menu.
There are several such customised Chinese recipes which I want to list down for you guys …will surely write those recipes too till then try out these ones and have a rocking day in kitchen.