Behold!Here comes IndiJoe !Another page int he foodie diaries is about to be filled!A true foodie heaven(figuratively)has been uncovered from under folds and folds places and cities.Situated at the  Ambiance mall,Gurgaon,this food joint comes across as an actual foodie dream with an 'all you can 'eat buffet.You name it and they have it.Indian,Chinese,Thai,Continental,Italian,American,Mediterranean,Mongolian ,and so on and so forth.The list goes on and on.Where some other restaurants may claim to provide similar variety,they cannot maintain a very consistent quality in every dish that they serve.Yet at IndiJoe ,the persistence and consistency is near perfect.From the most simple to the most complex of dishes,they tend to create each dish with equivalent finesse.As you enter,you would see elegant and private looking tables and cubicles that are set to provide for a one to one experience between you and your food. The walls speaking volumes of the craziness with Bollywood and Hollywood stars adorning it,Marilyn Monroe in her much loved smile and grace,urban art and figures surround you.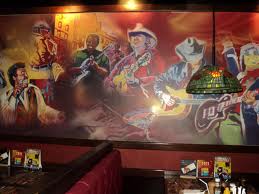 And from between the sections provided for the tables lies your path to the foodie salvation.At the end of the dining section lies a humongous array of food ,arranged in a buffet.Each pan,each casserole,each vessel brimming with hot ,mouth watering food that is ready to be served.All you have to do is pay for one plate and then you may please your appetite and taste buds as much as you can.The only labor being that of self service.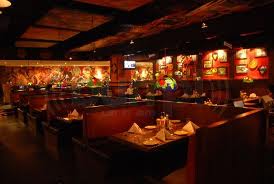 It is but obvious that as you come to the position of deciding 'where to star't and 'what to eat',you shall be confronted with a dilemma.The only sure shot way out of it being that you must  quickly shortlist a few dishes according to your personal preference and take small portions of each of those shortlisted dishes.Take your own sweet time,indulge in the flavors,relish the aroma and tingle your taste buds with each savory bite,though keeping in mind the awesome taste of each dish I cannot fully assure you that you will be able to zero down on a dish or two,though you will surely learn the skill of rotating the dishes in turn to eat.Confronted by the same dilemma,I found myself stuck between the Mongolian chicken,Garlic noodles,cheese,mushroom and capsicum pizza and prawn curry with rice.Yes that is some variety on a single plate!The Mongolian chicken harbored a soft oriental tinge balanced with the flavor of spices,indeed a much relished form of chicken,the garlic noodles were absolutely remarkable for having maintained a subtle tinge of the strong flavor of garlic without overdoing it,the noodles being non greasy and well seasoned with the requisite ingredients added to the pleasant experience.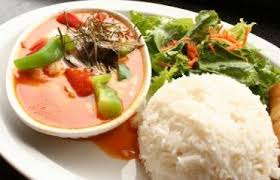 An all time favorite pizza,it was hard to resist this temptation,a thin crust well layered with cheese ,capsicum and mushroom chopped finely,a scrumptious treat indeed.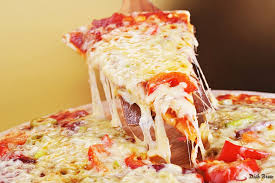 Coming to the prawn curry,maintaining the spicey tag with a tangy taste of tomatoes,the beautiful pinkish brown shade of prawns made it one hell of a delectable dish.An honorary mention to the regular Indian dishes such as Arahar ki daal and aloo ki sabzi that were totally worth eating and paying for.The crispy Kachoris and the burgers with juicy patties were also much enjoyed.Their menu is subject to rotation each day,though each dish is worth eating,absolutely delicious and unforgettable.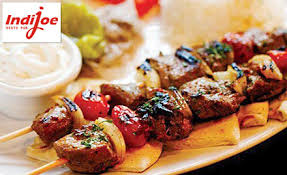 There is more out here!For those with a major sweet tooth,here lies more to your ultimate frenzy !They have a fountain that is brimming with molten chocolate,and its really hard not to go and dip one of these soft spongy plain vanilla or chocolate chip cakes in it!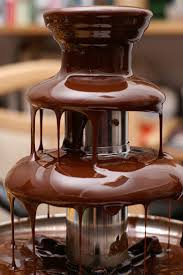 A beatific blueberry cake,so light on the tongue that each bite melts in your mouth leaving the most delectable of all tastes on your palate.The lemon tart with an amazing balance between the sweet and sour taste was indeed well made.Hot walnut brownie with vanilla ice cream,the 'melt in your mouth' mal- pua and gulab jamun,and the list goes on and on.You shall definitely end up eating more than the usual.Getting up and serving rounds after rounds,to get some more of their scrumptious food.Every possible way of satiating one's hunger lies in your plate! Simple or complex,Indian to international,sweet and sour,spicey to subtle,crazy yet gracious,that is how IndiJoe is.Keeping their consistency and quality intact in each dish that they serve,a friendly staff,delectable food,amazing urban yet cozy decor and ambiance,this place is sure to add to some really good memories.You might as well have a full stomach yet you just cannot help eating a few servings more than your actual capacity,and seeing the menu for the desert ,well the stomach itself shall crave for more!The entire world's cuisines are in your plate,served at a single place,none other than at IndiJoe,what more could you ask for!Foodie dream come true!!Indulge as much as you wish to,a total Paisa Vasool food. BON APPETITE!!