Growing up in India "Acchars" or the Indian pickle has been a substantial part of my childhood experience. I would see my Mom and Aunts spending considerable time in preparing the vegetables, gathering the spices and making arrangements for their storage for days on end. A very tedious affair indeed!! But the end product makes up for all the trouble caused. Pickles are tangy and immediately add savor to anything they are consumed with, be it- paratha, burger or pancakes.
Pickles are formed by the anaerobic fermentation of vegetables and unripe vegetables in the presence of brine (salt-water) or vinegar. This caused them to dehydrate and thus, discourages the growth of microbes. Moreover, their pH is less than 4.6 which further kills most bacteria. Thus, they can be preserved for months and depending on the recipe, even years!!  The vegetables pickled in brine as opposed to vinegar, are known to contain Lactobacillus and are thus, probiotic.
Like mentioned above, making "Acchars" can be a pretty tiring job especially if you are a student or working a 24×7 job. Not anymore. Here are 5 instant Pickle recipes anyone can make. They can be stored for lesser duration as compared to the traditional pickles, but the tang it brings to our food is so worth it!!
 CARROT PICKLE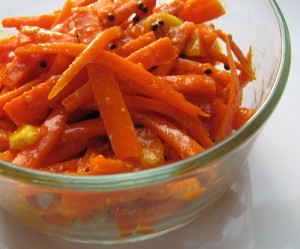 Ingredients
10 carrots
1 ½ tbsp crushed mustard
1 ½ tbsp lemon juice
1 ½ tbsp oil
Cumin powder
Turmeric powder
Method
Wash the carrots and peel them to remove a thin layer of outer covering. Cut the carrots into desired shapes, preferably rectangular. Gather all the ingredients in a bowl and mix them thoroughly. And you are good to go!! Finish this preparation within 2-3 days.
GREEN CHILLI  PICKLE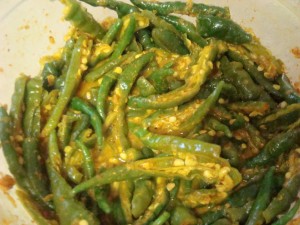 Ingredients
1 cup green chilies
¼  tbsp fenugreek seeds
¼  tbsp cumin seeds
1/8 tbsp turmeric powder
1/8 tbsp grounded asafetida
1 tbsp lemon juice
2 tbsp oil
½ tbsp sugar
½ tbsp salt
¼ tbsp amchoor or dried mango powder
Method
Wash green chilies and give them a longitudinal cut right in the middle such that they still remain joined at the end. Put oil in a pan and allow it to heat it till it is ready enough to fry. Add cumin and fenugreek seeds and keep whisking them lightly till they begin to crackle. Add amchoor, asafetida, turmeric powder, salt and chilies and mix them for a few minutes. Finally, add sugar and lemon juice. Mix them properly and turn off the heat.
LEMON PICKLE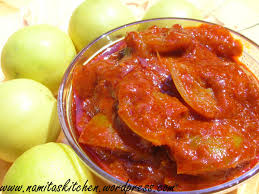 Ingredients
10 lemons
6 tbsp salt
2 tbsp red chili powder
½ tbsp turmeric
Method
It takes a little longer to prepare this pickle. But it can be stored for months and is extremely easy to make. Cut the lemons into half or make 4 pieces. Gather the lemons in a large bowl and pour all the other ingredients i.e. salt, turmeric and chili powder. Mix the constituents properly. Remember, depending on the climate and temperature of the place, the amount of ingredients has to be adjusted. Put the mixture in a glass-jar and put it daily under sunlight for a week or so. The pickle is considered ready when the lemon loses water and becomes soft. To store it for longer duration, add oil.
   4. MANGO PICKLE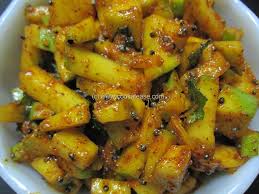 Ingredients
1 cup sliced unripe mango
1 tbsp chili powder
½ tbsp salt
1 ½ tbsp mustard oil
1 tbsp cumin seeds roasted
¼ tbsp grounded asafetida
½ tbsp turmeric powder
Method
Mango pickle is arguably the most famous and mouth-tickling pickle there is. Traditionally, it requires a long for the mango "acchar" to get ready. But you need not compromise with taste in your hectic life. So let's get started. Firstly, take the mango strips in a bowl and add salt. Mix these two ingredients properly and leave them aside for one and a half hour. Once the mangoes lose water, drain the water and collect the mango strips. Put these strips in a large bowl and add all the other ingredients. Mix these thoroughly and your delicious pickle is ready to be served. It can be stored up to 3-4 days when refrigerated.
    5. AMLA OR INDIAN GOOSEBERRY PICKLE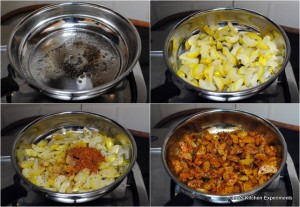 Ingredients
10 Amlas
1/8 tbsp Red chili powder
1/8 tbsp asafetida
1/8 tsp fenugreek powder
A pinch of turmeric powder
Salt-to taste
1 tbsp oil
1/8 tbsp yellow mustard seeds
Method
Boil water in a pan with a pinch of salt. Slowly add Amlas to this boiling mix and let it heat for 5 to 6 minutes. Drain water from the Amlas and allow them to cool for some time. Once they cool down, separate them into their natural wedge shape by cutting and remove the seed in the middle. Heat oil in a pan and add asafetida and mustard seeds. When the seeds begin to crackle, add amla wedges followed by the rest of the ingredients and cook them for 3-4 minutes. Turn off the flame and allow it to cool. Refrigerate for prolonged storage.
Pickles add flavor to your life, they make your food come alive and dance. In our hectic lives, we often compromise with our meals. So the next time, you decide to half-heartedly swallow bread and a sad not-so-tasty vegetable that you prepared, think again!! Just few minutes of your precious time and you can add soul to your snack. so, come on- PICK YOUR PICKLE!!