This one's on an inspiration from a friend who, much to his gastronomic tragedy, is leading an independent life with zero cooking skills in Bangalore. To worsen things for him, he has a staunch dislike for Kannada cuisine. Eating out is obviously an option, and my earlier article which was on the best eating-out places in Bangalore, did seem to help him lot, but that on a regular basis is not a healthy option I suppose.
So, this friend of mine who, prior to his relocation, was a gluttonic persona, when it came to gulping in plethoric amounts of food, beyond the realms of simplicity and home. Expecting his mother to impersonate a chef, this man now broods at the thought of eating out, after having been seriously down with food poisoning for almost a week.
Therefore, the dilemmic situation where nor his pocket or his health allowed regular meals from restaurants or fast-food centres, he had to take to take it upon himself to start cooking. Instant noodles the only prospective saviour, but that too would be extremely monotonous for every day. So, to start off with we found out a few recipes (some that I had invented out of my love for noodles) that are super easy, simple and divinely delicious. So treat yourself these quick tasty ventures as soon as possible!
Maggi (Veg or Non-veg) Omelette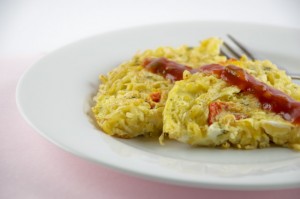 INGREDIENTS
Maggi Noodles (of course!) – 1 small packet
Semolina (rava) – 1 cup
Green chillies – 2-3
Onion (medium) – 2
Besan (Bengal gram flour) – 1 cup
Dhania or Coriander leaves
Sprouted moong (whole green gram )- ½ cup
Grated coconut- ¼ cup
Grated carrot- ¼ cup
Olive oil- ½ cup
Ginger-garlic paste- 1 teaspoon
Egg (optional) – 1
Grated Cheese
Pinch of salt
METHOD
Boil the maggi in 2 cups of water. Drain and set aside. Drizzle a few drops of olive oil to prevent the noodles from sticking to one another.
In a bowl, mix besan, rava, and ginger-garlic paste, salt and keep aside.
Beat the egg,and put in the noodles,maggi masala, chopped onions,grated carrot and coconut,coriander leaves, green chillies, and mix it with the basen mixture,thouroughly,to make a batter with some water.
Take a non-stick dosa pan, and brush some oil onto it and heat it.
Pour and spread out the batter, on the pan, to make an omelette.
Sprinkle some moong sprouts over the omelette
Cover the lid and let it simmer on low heat.
Remove after 2 minutes,and garnish with cheese and coriander leaves! Voila!
Noodles Upma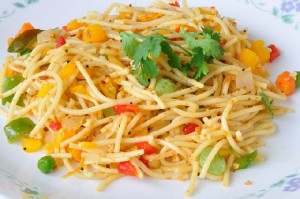 INGREDIENTS
Maggi Noodles- 1 packet
Finely chopped veggies (carrots, capsicum, beans, etc.)- 1 cup
Chopped onions – ¼ cup
Chopped green chillies- ½ cup
Chopped coriander for garnishing
Mustard seeds (rai/sarson) – ¼ teaspoon
Olive oil or vegetable oil- 1 tablespoon
Curry leaves (Kadi patta) – 5-6
Asafoetida (hing) – ¼ teaspoon
Salt to taste
METHOD
Put 2-3 drops of oil in a small vessel of water and bring it to boil.
Add in the noodles into it and allow it to cook for 2 minutes
Remove from heat and drain the excess water
In a pan, heat oil and add the mustard seeds, curry leaves and asafoetida.
Once the seeds crackle, pop in the onions, and sauté for a minute
Add in the green chillies and the veggies. Mix well and sprinkle salt and let it cook for some 5 minutes, till the vegetables have softened.
Add the cooked noodles into it and mix.
Sprinkle the coriander leaves and serve with cheese (optional)
Maggi Masala Tikka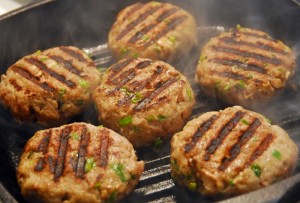 Now, so much of Maggi, might result in some plates of leftovers. For that too, we have a solution. The sticky heap of noodles can be transformed into a quirky evening snack in just 10 minutes.
INGREDIENTS
Maggi noodles – leftover, of almost 1 packet amount
Boiled potatoes -2
Boiled carrot- 1
Chopped onions- 2
Chopped coriander leaves
Ginger-garlic paste- 3 tsp.
Olive oil or vegetable oil- 5 tbsps.
Chat masala- 1 tsp.
Bread crumbs (optional)
Biscuit(powdered)
Salt to taste
METHOD
Boil a packet of Maggi in 2 cups of water, or simply use the leftover Maggi
Take a medium bowl and grate in boiled potatoes and carrots and bread crumbs into the boiled noodles and mix well. Don't worry about breaking the noodles, that doesn't really matter.
Add into it, the ginger-garlic paste, chat masala, Maggi masala (optional), salt and coriander, and mix.
Once the mixture is done properly, shape them into small flat balls, like tikkas.
Dip the tikkas in the biscuit powder for a crispy texture and deep fry or shallow fry them. Soak them in tissue paper to get rid of the excess oil ,sprinkle some more chat masala or Maggi masala and serve with tamarind or dhania chutney. I suggest garlic sauce or tarator sauce(recipe given in my another article)
Baked Corn and Cheese Maggi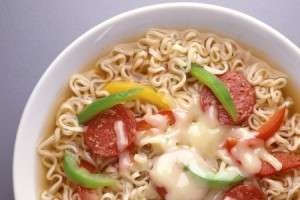 An inspired version of classic baked Macaroni and cheese, this is one of my favourites. Planning to dip into a silky, gooey and smooth delicacy while flipping through the pages of your favourite book, or while enjoying a film, this is the perfect Friday-evening companion!
INGREDIENTS
Maggi Noodles- 2 packets
Shredded mozzarella cheese- 2 ½ cup
Water- 1 ½ cup
Butter- 2 tbsps.
Semi boiled corns- ½ cup
Salt to taste
METHOD
In a vessel, pour 2 ½ cups of water and bring it to boil.
Add the Maggi noodles into it along with the masala.
Pop in the corns and sprinkle the Maggi masala and let it cook. Don't overcook the noodles, or even leave it too watery.
Take a flat baking tray and grease it with few stokes of butter
As you see the noodles half cooked, pour it all into the baking tray
Level it all and cover the top surface with shredded cheese
Sprinkle some fresh herbs (coriander, rosemary or parsley) onto it.
Now, slide in the baking tray in a preheated oven and let it bake for some 4- 5 minutes.
Once the cheese starts melting, and you can glimpse a light brown crust on top, it's time to take the take tray out. Serve and dig!
Bon appetite!