Kashmiri pundits, also known as Kashmir Brahmins are the oldest inhabitants of the state of Jammu and Kashmir. They are the only Hindu community native to Kashmir. Through the years, many Hindus have migrated from different parts of the country. The history of the Kashmiri pundits is the history of Kashmir valley itself.
CUISINE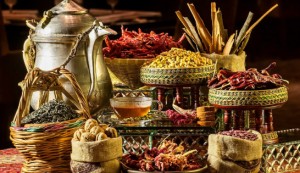 They have their own exquisite culture as well as food habits. They introduced the use of yoghurt, asafetida and turmeric powder to Indian cuisine. There is a heavy use of mutton in Kashmiri cuisine. Its use was prevalent throughout the history of Kashmir. There are about 30 different varieties of mutton in the cuisine. Normally pundits do not use meat but it has a prominent place in the cuisine of Kashmiri pandits. The use of beef is strictly prohibited in the cuisine of Kashmir.
Meat is cooked in the households of Kashmiri pundits during festivals and it is part of their identity.
NOTED DISHES
1)      ROGAN JOSH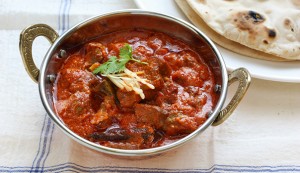 It is a lamb based dish which is seasoned with Kashmiri chilies, ginger, asafetida and bay leaves. Asafetida is used by Pandits in place of garlic. Yoghurt is used instead of onions to make the dish thicker. It is a favourite dish in Kashmir and is cooked during special occasions. It is originated in Persia and is aromatic in nature. It is one of the signature dishes of Kashmiri cuisine. The word Rogan Josh means, "Cooked in oil at intense heat." This dish was brought to Kashmir by Mughals. It is one of the main dishes in the multi- course dish of Kashmir known as 'Wazwan.'
There are many adaptations of this dish where different varieties of sauce are used.
PREPARATION
INGREDIENTS
1)      1 kg  lamb mutton cut in 70gm. Pieces
2)    ½ cup mustard oil
3)    1 tbs ghee
4)    ½ cup curd
5)    ¼ tsp asafetida
6)    ½ tsp cumin
7)    6-8 pieces of half crushed cloves
8)    2 bay leaves
9)    2 tbs Kashmiri chili powder
10)2 tbs fennel powder
11)1 tsp dried ginger powder
12)1 tbs salt
13)1 tbs garam masala
14)4 cardamom
15)2 pieces of cinnamon
16)3 pieces of big cardamom
17)1 tbs ghee
METHOD
1)    Wash the mutton and drain off extra water.
2)    Put mustard oil in a frying pan and keep it in a full flame till the smoke comes out. Remove it from the flame for 2-3 minutes.
3)    Mix mutton with the curd and heat the pan on a full flame for frying.
4)    Stir the mixture so that it won't stick to the bottom of the pan and also the liquid produced by the pan dries up.
5)    Now add asafetida, cumin, salt and cloves to it and heat it on a low flame till it becomes brown.
6)    Now add chili powder to it and stir till deep red color appears.
7)    Now add 2 glasses of water and bay leaves, fennel powder, ginger powder, cinnamon pieces, crushed cardamom and stir so that that the ingredients mix properly. Cover the pan with a lid and then heat the mixture on a low flame.
8)    Add garam masala and ghee and boil it for two minutes.
9)    Garnish the dish with coriander and serve it with boiled rice.
2)      YAKHNI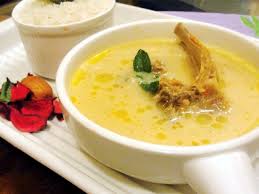 This is another mutton dish from the lands of Kashmir. It is a yoghurt based mutton curry and it excludes the use of turmeric and chili powder. Other ingredients include bay leaves, cloves and cardamom leaves. It is often served with rice along with another spicy side dish.
PREPARATION
INGREDIENTS
1.       1 kg mutton (chest pieces)
2.       3 ladles of mustard oil.
3.       2 table spoons of fennel powder
4.       1 table spoon cumin
5.       2 bay leaves.
6.       ½ tea spoon asafetida
7.       5 half crushed cloves
8.       3 black cardamom
9.       1 inch cinnamon
10.   1 kg whipped curd.
11.   1 spoon pure ghee
METHOD
1)      First wash the mutton and drain off excess water.
2)      Heat oil in a pressure cooker and then add mutton, salt and asafetida to it. Start frying for five minutes in full flame.
3)      Put ½ glass of water, fennel powder, crushed black cardamom, cinnamon and bay leaves and pressure cook it up to 3 whistles.
4)      Put oil in a frying pan and heat it. Then cool it for three minutes and put cumin to it.
5)      Put it on a low flame and stir the cumin for three minutes. Then add curd to it and put the pan on a high flame. Stir the mixture continuously so that it won't curdle till it boils.
6)      Add the boiling curd and pure ghee in the mutton and keep it on a low flame for five minutes.
7)      Serve the dish with hot boiled rice.
3)      WOZIJ CHAAMAN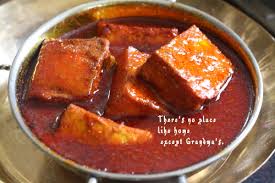 It is an important vegetarian dish prepared in Kashmir during special occasions.
INGREDIENTS
1) 1 kg cheese
2) 1 table spoon salt
3) 2 table spoon red chili powder.
4) 2 table spoon fennel powder
5) 1 tea spoon ginger powder
6) 1 tea spoon cumin
7) 1/2 tea spoon black cumin.
8) 1/4 tea spoon asafetida
9)  4 crushed black cardamom
10) 4 half cloves
11) 2 bay leaves
12) 2 small pieces of cinnamon
13) 3 crushed cardamom
14)  3-4 ladles mustard oil.
METHOD
1)    Cut the cheese into big pieces.
2)    Put oil in a pan and fry the cheese in oil till they turn into brown color. Then add the cheese into a boiler.
3)    Add 3 glasses of water and then salt to it. Also add fennel powder, bay leaves and cinnamon pieces in the boiler.
4)    Turn the stove to low flame and add black cumin, cloves, asafetida, and red chili powder to it.
5)    Add ½ glass of water in the pan containing rest of the oil and heat till the red color appears and water evaporates.
6)    Empty the contents of the pan in boiler and cook it in low flame till some water evaporates.
7)    Add cardamom and cumin to it and cook for 1 min.
Now the dish is ready and can be served with chapatti or hot boiling rice.