Kebab is a Middle Eastern dish where pieces of meat or vegetables are grilled or roasted. They can be both vegetarian and non vegetarian. The traditional meat used for the preparation of kebabs was lamb however depending upon local tastes and preferences of the consumers, other options such as beef, chicken and pork also started being used. The kebab was so famous in the Mediterranean and Southeast Asia that it became a part of the everyday cuisine. From the Middle East it travelled to Central Asia and then slowly became a worldwide favourite with time. During the earlier days, the Greeks used portable trays made up of ceramic to grill pieces of meat and vegetables while Persian soldiers used their swords to grill meat over open flames.
Kebabs can be prepared at home as well. One of the methods for the preparation of chicken kebab is given below. Similar way can be used to make other non veg and vegetarian kebabs by just substituting chicken with any other meat or vegetable.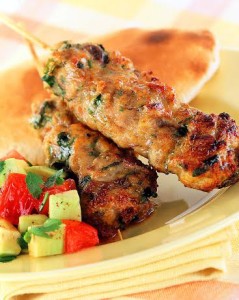 Chicken  kebab
Directions:
Dilute 2 tablespoon of cornflour in 1 cup of water
Clean the chicken and chop the meat in medium size pieces
Marinate the chicken with salt, vinegar and black pepper and place it for 15 minutes
Add to chicken the cornflour mixture with curd, ginger green chillies and garlic with 1 tablespoon of ghee and mix well
 Cover and refrigerate it for about 8-10hours
Melt ghee in a pan and slowly add the pieces of chicken on high flame
Fry till the piece turn golden brown
Once all the pieces are fried, serve with chutney and salad.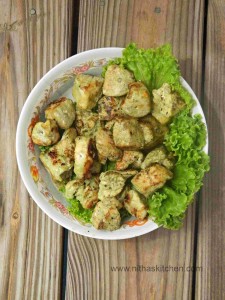 Green chicken kebab
This is another recipe for the preparation of chicken kebabs which uses coriander leaves, mint leaves, methi leaves and spinach as well.
Directions:
Wash about 400 grams of chicken and chop them in medium sized pieces
Apply salt, lemon, ½ teaspoon chilli powder on the pieces and keep it aside for 10-15 minutes.
While the chicken is marinating, chop the methi leaves into thin slices and grind it with mint, coriander, spinach leaves, ginger, garlic and green chillies to form a paste.
Now add curd and spices in the paste and mix well.
Coat the chicken pieces with the paste and cover it and place it aside for 20 minutes. During this time span the chicken will suck in the smell and flavour of the green paste.
After soaking the skewers in normal water for, apply oil and arrange the pieces of chicken onto it. Spread oil over the chicken pieces.
Preheat the oven at about 350F for 5 minutes and after that place the skewers in the oven and leave it to grill for 18 minutes.
A check has to be kept to see that all the sides of the skewer sticks cook evenly.
Once the kebab is ready, remove it from the skewer and arrange it on a serving plate and serve with lemon wedges and spicy green chutney.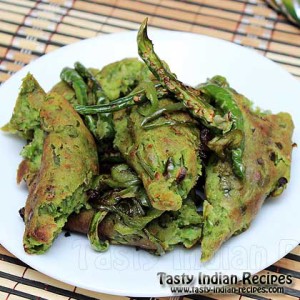 Veg Chilli Milli Kebab recipe
This is a vegetarian kebab recipe for the vegetarians out there
Mash 4 potatoes in a bowl and at the same time boil spinach for some time then drain and blend the spinach to form a puree.
Combine 1tsp of ginger and garlic each with 4 green chillies and capsicum and chop them finely.
 Now mix all the items together. The boiled potatoes, the spinach puree and chopped mixture of ginger garlic with chilli and capsicum.
To this add red chilli powder, turmeric powder, black pepper, coriander and garam masala powder (1/2 teaspoons each)
Also add 2 tablespoon of breadcrumbs and salt to taste.
Wash and clean the skewers and then apply oil over them.
Preheat the oven at about 350F and arrange the kebabs onto the skewers and then again apply oil over the kebabs.
Grill the kebabs for about 20 minutes till they are golden brown and have a crispy crust.
Once the kebabs look nice and golden, remove them from the skewer and place it on a serving plate and garnish it with some fried chillies.
Your vegetarian kebab is ready to be served.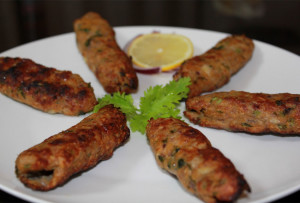 Vegetable Seekh Kebab
This is another vegetarian dish of Hyderabadi cuisine. This dish can be eaten both as a snack as well as a starter. The main ingredients used in this dish are French beans and cabbage and the special fact about this dish is that it is prepared on a stone.
Directions for cooking:
In a pan heat 2 tablespoon of oil and then add chopped french beans, carrot and cabbage on one side of the pan and on the other side add about ¾ cups of green peas and mash them nicely.
Mix everything and cook for about 3-4 minutes.
In another pan roast gram flour (3 1/2 tablespoon) and caraway seeds for about 2 minutes.
Now mix the flour with the vegetables along with ginger garlic paste and green chillies and mix well for half a minute.
Add salt, chat masala and cashewnut powder with the flour and mix everything well.
Take portions of this mixture and cover it on the skewer and press it around the stick till it's evenly layered.
Put oil on the grill stone and heat.
Now place the kebabs on the hot stone for about 3 minutes till all the sides are slightly coloured.
Serve the dish by sprinkling it with some chaat masala.
There are many more of such tasty kebab dishes which can be prepared at home. Earlier kebabs used to be consumed only by the royals but with time it became a favourite of all.
Georgie Rajan