Kentucky Fried Chicken which is most commonly known as KFC is an international fast food restaurant which currently has presence in about 118 countries. This fast food chain is specialized in preparing and serving delicious fried chickens to their customers. Currently there are approximately 19,000 outlets of KFC in different parts of the world and this shows the enormous name and success this fast food chain has achieved since it opened its first outlet in the year 1952 in Salt Lake City, Utah. After United States, KFC opened its first international food store in United Kingdom and then in various parts of the world. Today it is the second largest food chain in the whole world and is only behind the McDonalds.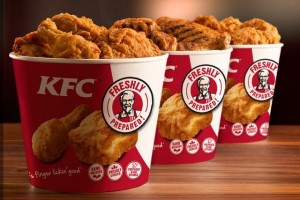 The main product of this food chain is fried chickens which are prepared using 11 secret herbs and spices. The recipe is a secret which has not been disclosed till date. Today they also offer chicken burgers, French fries, salads, desserts, wraps and soft drinks. People are just crazy about their trade mark bucket fired chicken which is simply luscious in taste. If you have not visited KFC yet then this is one such place where you should surely visit and for sure you will feel like eating fried chicken sold here again and again. "finger lickin' good" is the official slogan of KFC which can be seen with its logo. Yum Brands now owns this brand and has a clear cut motive to expand this internationally acclaimed food chain to each and every corner of the world. The total revenue of KFC is 23 billion US dollars for the year 2013.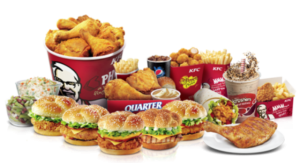 One of the reasons why KFC fried chickens are so popular among the masses is that they are served fresh to the customers. If the prepared chicken is not sold within 90 minutes then according to the company's policy, it is simply discarded. People love to eat here as the chickens sold here are exquisite and appetizing. You will simply love the crispy chicken legs, chicken nuggets, hot wings, zinger burgers and other dishes here as they taste succulent and luscious. KFC has simply redefined the way the chicken is prepared and eaten in different parts of the world.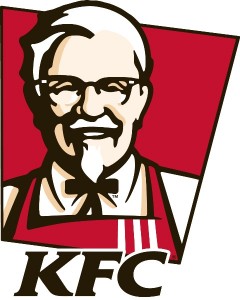 Harland Sanders is the person who started this business. He is commonly called as Colonel Sanders by his lovers. Initially he used to sell fried chickens in his restaurants at Corbin, Kentucky. His restaurant was named as Sanders Court & Café. Harland Sanders used to cook the fired chickens with the help of his secret recipes which his mother taught him and people used to love his cooked chickens. His success story is simply amazing and we should learn from his life and struggles. Harland Sanders had a dream to expand his empire and sell his delicious chickens in different parts of the country. The struggle that he went through and still where this food chain stands today is unbelievable. It shows that if you are determined to work hard and chase our dream then nothing can stop you from attaining success. He was determined to use the franchising concept in his fried chicken business.

Before opening his first commercial outlet he had to travel to almost all the parts of the United States where he tried to convince the restaurant and business owners to use his recipe and start selling fried chickens. In return he asked for a small amount of share from the profits made. The restaurants and the business owners thought the Harland Sanders idea's to be a flop one and he was rejected by almost everyone. It is said that he faced over 1000 rejections. Just imagine his will to taste success. His strong will power made him a known figure in the whole world. By the year 1963, Harland Sanders managed to open a whopping 600 franchise of KFC in the United States alone but his growing age forced him to stop indulging into business any further and so he sold the KFC Empire to the group of business enthusiastic people in the year 1964. The reigns of the empire has been many shifted a times since then but the picture of Colonel Sanders still lies in its logo. He is synonym to the brand KFC.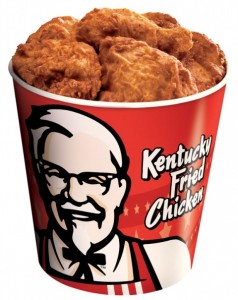 KFC entered into the Indian environment by opening its first outlet in Bangalore in the year 1995. The company had doubt that about its success in India as people living here as so much indulged into the religious work and so the success of the brand was under severe spotlight here. Today there are about 370 KFC outlets in India. In India where we eat so much of spices in our food, KFC chickens are wonderful options for those who want to try something different and a food with fewer spices and more nutrients. For the Indian public, KFC has also started the vegetarian products in their menu such as the vegetarian burger, paneer burger, paneer wraps and so on with a motive to pull the vegetarian crowds to its restaurant.