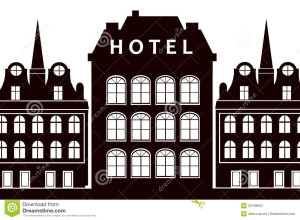 Hotels are for foodies. Really? No! Luxury is also expected from Hotels now and there is no paucity in the lavishness of the grand hotels. Though, they are not afforded by common people, yes, but they do attract everyone and requires a must visit. Hotels are for travelers and tourists. But some people visit places just to experience the hospitality of these hotels. Luxury today has less to do with formality and more to do with customized and personalized service, according to brand executives. Hotel Industry has become huge now-a-days and has been divided into various dimensions. More students are opting for becoming chefs, many going for hotel management courses, culinary arts, patisserie and many more. This is because an inn is something that provides a feel of home even when away from home. Some businessman are so busy that they travel 3 or more countries in a day and which do require homelike comfort and with no doubt these luxury hotels doesn't lack in it.
After all, Food is something everyone loves and luxury and comfort are a bonus to that. Hotels are located at exotic places, while some in the idle of city, while some are being converted from the palaces of ancient times. Some provide perfect scenic beauty, some are in lap of Himalayas, some are in deserts, some provide outstanding grandeur and there are others who are beside the seaside with all the beauty of nature. The idea of Luxury in hospitality is slowly but steadily evolving from a picture of glamour to an inspiration of comfortable class, and luxury hotel brands have taken notice, modifying their offerings to accommodate a wider group of travelers.
In the presence of so many fascinating and irresistible uber-luxurious hotels and restaurants, who don't want to be a part of them and experience them atleast once in life. As of current status, gas prices are rising, home sales have sabotaged and stock prices are more uncertain than great adventure's Kingda Ka roller coaster. The perfect escape? A visit to one of the globe's most lavish hotels. Whether you are travelling within India or outside India and in search of an innovative inn or a posh place, one of these luxurious lodgings is sure to please.
Marriott International : JW Marriott Hotels & resorts, in the namesake of John Marriott, founder, chairman and CEO of Marriott International is a luxury hotel chain. It has more than 50,000 rooms worldwide in the luxury segment, which for Marriott consists of Ritz-Carlton, Ritz-Carlton reserve, JW Marriott, Bulgari and its newest brand, Edition Hotels. All the hotels under this brand have a perfect combination of personal, intimate, individualized and unique lodging experience. it really demands a must visit.!
Starwood Hotels & Resorts Worldwide, Inc. : It is an American hotel and leisure company. Being one of the world's largest Hotel chains, it owns, operates, franchises and manages hotels, resorts, spas, residences and vacation ownership properties under its nine owned brands ranging from Westin, St. Regis, Sheraton, W, The Luxury Collection etc. It owned, managed or franchised 1,162 properties employing over 171,000 people.
Oberoi Hotels & Resorts: The Oberoi Group is a hotel company with its headquarters in Delhi. Oberoi, founded in 1934, owns and operates 30 hotels and three cruisers in five countries under the brand Oberoi Hotels and Resorts and Trident Hilton brands. The hotel is very lively, and its restaurants are deservedly popular. It also boasts spectacular view from its upper floors. It is surely a must visit.
Burj Al Arab Hotel, Dubai: It has stunning architecture, making it one of the most photographed in the world. It is built in between the sea. All rooms are luxurious suites spanning two floors with incredible views. Beyond the unique over-the-top amenities like attached heliport and hovering tennis courts, there is a vast array of futuristic dining and nightlife options. Just so irresistible to visit !
The Plaza, New York City: Though the Big Apple has many legendary hotels, The Plaza is often a top choice for visiting VIPs, especially for its Royal Plaza Suite that boasts the best views of Manhattan. The three- bedroom/bathroom suite is styled in the most affluent of old world charm with a formal dining room, a library, a gymnasium, a grand piano, full kitchen (for personal chefs), butler's pantry, and its serviced by its own private elevator. It is really a Fancy visit.
Taj Hotel, Mumbai: A landmark for every tourist visiting Mumbai, The Taj Mahal Palace and Hotel is also one of the city's oldest hotels. And, surprisingly, it's the least expensive. A superior room costs Rs.21,500 and Grande luxury suite costs an affordable 1.7 lakhs. A must-see!
Well- heeled travelers are increasingly faced with more choices than ever, as the hospitality industry continues to expand rapidly with top notch hotels in the world's most popular destinations for leisure and fun. If you are someone who enjoys creature comforts and standout service when you travel, there are number of hotels to choose from. Some are the highlights are mentioned above.
Be sure to pack your designer luggage for this fun countdown of the world's most expensive and luxurious hotels. Be Ready to pamper yourself with these fancy hotels.
Happy Travel, Happy Luxury
!