The Dominos commercials may show shiny, happy people gorging on slices of pizza, but you're nobody's fool. You know the ugly truth. The dripping cheese that looks so tempting on your television screen is bad news for your heart and waistline. But if you think that means pizzas are to be absolutely cut out of your diet – no matter how much that saddens your inner pizza-lover – think again. What is it that makes any kind of food healthy or unhealthy? The ingredients, of course! So, depending on what ingredients you favour, your pizza has the potential of being a quintessential junk food or a healthy pie. Here's how to make a healthier pizza at home:
Go for a whole-grain crust.
A whole grain crust will ensure that each satisfying slice adds more fibre and protein to your body. Store-bought pre-made whole wheat pizza crusts will make your work child's play. If you're passionate about building your pizza from scratch, simply substitute whole wheat flour for the white flour in your recipe.
Cheese not only tastes amazing on your pizza but is also a good source of calcium. But dollops of melted cheese all over the surface of your pizza can pack in more calories and saturated fat than you might be prepared to bargain for. A smart option is to go big on flavour and low on calories by using a light sprinkling of a combination of part-skim mozzarella, sharp provolone, and naturally lower-fat Parmesan.
They're nutritious and low in calories. Some delicious choices include sun-dried tomatoes, onions, broccoli, spinach, olives, spinach, peppers and mushrooms. There really is no rule. Pizza night is a great way to use up all that's in the fresh zone of the fridge – whatever you've got, toss it on.
Choose your meats smartly.
Processed meats like pepperoni and sausages are high on fat content and have been associated with stomach and colorectal cancers. Does that mean meat-lovers have to lose out? No! Swap processed meat for lean steak, grilled chicken, and shrimp for a protein-rich meal.
Store-bought jarred pizza sauces are usually drowning in sodium and other preservatives. Give them a miss and make your own to instantly improve the health quotient of your recipe. Think fresh tomatoes – that are a good source of lycopene, a powerful carotenoid that is fast earning a reputation for aiding the prevention of various types of cancers. If you are not a fan of red sauce, try pesto. It may be higher on fat content, but most of that is healthy monounsaturated fat from olive oil. Besides, the addition of basil and garlic adds a concentrated punch of cancer-fighting compounds.
Need a flavour boost? Think spice rather than grease. Fresh chillies and red pepper flakes are a good match for more subtle flavours like fresh tomatoes and herbs. Chilliis known to relieve pain and aid blood circulation, while red pepper is an excellent source of vitamins A, C, and K.
Pizza is one of those foods that folks enjoy with friends and family or while watching a movie in the comfort of your living room. The result? Mindless shoveling of slice after slice way beyond satiation. It is thus worth the while to pay attention to your potion size. Before reaching for that third or fourth slice, ask yourself: do you really it?
If you have a big appetite or are super hungry, it may be difficult to downsize your meal. So instead of simply eating fewer slices of pizza, team your pizza up with a light salad.
Now that you have the tricks down, here are two simple recipes to help you make your own healthy pizzas.
Pita-Bread Pizza: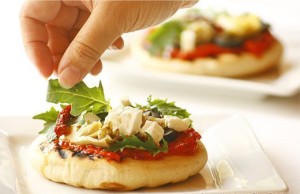 This is an easy recipe for a fun, healthy snack.
Ingredients:
4-6 whole wheat pita rounds
1 cup of pizza sauce
1 cup low-fat mozzarella cheese
toppings of your choice (veggies, lean meats)
Preparation:
Preheat oven to 375 degrees. Spoon pizza sauce over the pita rounds. Top with mozzarella and desired toppings. Place on baking sheet and cook for 7-10 minutes. Serve immediately.

Mediterranean Pizza: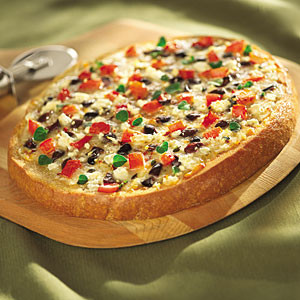 This low fat Mediterranean pizza is nutritious and delicious, and is a great way to use up leftover roast chicken. Add a tossed green salad, and you have your dinner ready.
Ingredients:
A 10-ounce pre-baked whole wheat pizza crust
½ cup tomato sauce, with no added salt
1 garlic clove, finely chopped
1 cup shredded chicken
½ cup sliced olives
1 small jar artichoke hearts, drained and chopped
1 small jar roasted red peppers, chopped
½ tsp. dried oregano
½ tsp. dried basil
1 cup low-fat mozzarella cheese
Preparation:
Preheat oven to 450 degrees. Spread tomato sauce over the crust. Sprinkle toppings on pizza, finishing with cheese. Bake on a pizza sheet for 10 minutes. Serve hot.
So the next time you invite your friends over for a "healthy" dinner, remember that it can include pizza, no matter how bewildered they may be. Gather up, all you pizza lovers! Let's pledge to make healthier pizzas!