Who doesn't love a rainbow? That magical moment when Tlaloc is being generous and yet the sun is peeking from behind the clouds, hop scotching and letting fall its warmth here and there – that exact moment, a jolly young rainbow is born.
Rainbows had always fascinated me as a kid. It had that fairytale aura that I looked for in anything and everything then.
That fascination – well, I incorporated it in my culinary creations and the outcome was more than satisfactory.  The food looked fun, my little cousins loved them and to top it all, they were delicious!!
My first recipe is a rainbow cake –
Rainbow Cake
Time: 1 hour
Serves: 18 slices
Ingredients:
[ 125g butter (softened, plus a little extra for greasing), 225g plain flour, 150g golden caster sugar, 3 fresh eggs, 1 tsp baking powder, pinch of salt, 1 tsp vanilla extract, edible food colouring (red, orange, yellow, green, blue and purple)
For the icing- 1 tsp vanilla extract, 3 x 250g tubs cream cheese, 350g icing sugar ]* 3 for 6 sponges
Directions: Heat the oven to 180C. Grease the pan and line the base with baking paper. Tip all the sponge ingredients (apart from the food colouring) into a mixing bowl, and then beat until smooth.
Weigh the mixture into another bowl, and then weigh exactly half the mixture back into the mixing bowl. Pick 2 colours and stir a little into each mix. Scrape the different batters into the tins, trying to spread and smooth as much as possible. Bake on the same oven shelf for 12 minutes until a skewer poked into the middle comes out clean.
Repeat the same process to make all the coloured layers. Leave them all to cool.
To make the icing, beat the vanilla and cream cheese until smooth. Sift in the icing sugar and gently fold in with a spatula.
Smear a little icing on your plate to stick the first sponge. Start with the red, and then spread with some icing right to the very edge. Repeat, sandwiching on top the orange, yellow, green, blue and finally purple sponges. Spread the remaining icing thickly all over the sides and top of the cake. And voila! Your RAINBOW CAKE is ready!!
The Rainbow Cake is a massive hit in my family and I bake it every time my little sister comes to Kolkata for a quick visit. To quote her, "It is yummilicious!".  Kids are going to love it so bake away! Moreover, who said, us, adults can't have a bit of our colourful fun? Gorge on folks!
The second rainbow-y recipe which I absolutely love to bake is –
Rainbow Cookies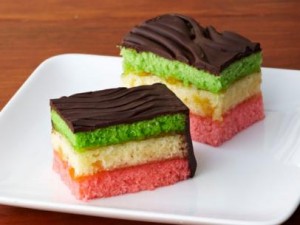 Time: 1 hour
Serves: 48 pieces
Ingredients: 8 ounces almond paste, 1 cup butter (softened), 1 cup white sugar, 4 eggs (egg white and yolk separated), 2 cups all-purpose flour, 6 drops red food coloring, 6 drops green food coloring, 1/4 cup seedless red raspberry jam, 1/4 cup apricot jam, 1 cup semisweet chocolate chips (melted)
Directions: Preheat oven to 175 degrees C.In a large bowl, break apart almond paste with a fork, and cream together with butter, sugar, and egg yolks. Stir in flour to form dough. In a small bowl, beat egg whites until soft peaks form. Fold egg whites into the dough. Divide dough into 3 equal portions. Mix one portion with red food coloring, and one with green food coloring. Spread each portion into one of the prepared baking pans.Bake 10 to 12 minutes in the preheated oven, until lightly browned. Carefully remove from pan and cool completely.Place green layer onto a piece of plastic wrap large enough to wrap all three layers. Spread green layer with raspberry jam, and top with uncolored layer. Spread with apricot jam, and top with pink layer. Transfer layers to a baking sheet, and enclose with plastic wrap. Place a cutting board on top of wrapped layers to compress. Chill in the refrigerator overnight.In the morning remove plastic wrap. Top with melted chocolate chips, and refrigerate for 1 hour. Slice into small squares.
These Rainbow Cookies are great to snack on are one of the tastiest cookies ever. Try 'em!
Rainbow Jello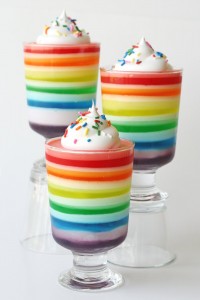 Time: 20 minutes
Serves: 7 cups
Ingredients: 6 packages of Jello (rainbow colours), 3 cups of yogurt or light sour cream, whipped cream ( this is optional but if added, it takes the rainbow jello to a whole different dimension)
Directions: To make each layer of jello, add 1 cup of boiling water to each package of Jello one at a time. Stir briefly and dissolve the Jello. Set half of the Jello aside. Use a whisk and stir ½ cup yogurt or sour cream into the other half of the Jello. Pour the creamy Jello layer into clear clean plastic cups or any other form of utensil you prefer. To the other half of Jello, add 3 tbsp water. Set aside. After the first layer is set, pour in the second layer. Repeat process for all the other layers of Jello. Add a dollop of whipped cream over the Jello (once it is set) at the end. And this is how the awesome Rainbow Jello is created.
The bobbly wobbly Rainbow Jello is a personal favourite. Since it needs mainly two ingredients, it is convenient and is the easiest of the lot to make. And again, it is simply delightful!