So you're strolling around one of the most profound cities in the United Kingdom. Maybe you're on a tour, maybe you're new and just lost. Either way, a time comes when the stomach pangs demand you to do their bidding. Grab a bite to eat. Thus far, you've seen the Big Ben, The London Eye, The Thames River and even the Buckingham Palace, but if you don't sit down to eat, you won't be able to see more. The problem is, it's a new place! You don't know where the good stuff is and settling for the not-so-good stuff isn't worth it if you want to really know the city, is it? Plus, you've got a tight schedule and so much more to discover. Your budget might not support the fancy restaurants either.
Save yourself the trouble. Some of the best food in London isn't found in those fancy hotels; it's found, in the streets. That's right, folks. It's the streets that harbor the good stuff. Admittedly it'll be on paper plates or between napkins, but as long as the food is good, it doesn't really matter, does it?
Street Kitchen:
When and Where: Covent Garden Piazza (WC2), Mon – Fri 11.30am-2.30pm, Finsbury Avenue Square (EC2), Mon – Fri 11.30am – 2.30pm, and The Hatch (nr. Ransome's Dock, SW11), Mon – Fri 12pm – 2pm.
What They Serve: A range of fish, meats and a mix of vegetarian dishes cooked to perfection. They then wrap it up in a takeaway box. Any beef or chicken dish, or anything with potatoes is their speciality.The flavor and portion size are perfectly compatible, ensuring that you have a delicious time.
Churros Garcia:
When and Where: Portobello Road Market (W11), Sat 9am-6pm, Broadway Market (E8), Sat 9am-4pm, and at The Real Food Market (London Southbank, SE1), every Fri, Sat & Sun 10am-8pm.
What They Serve: Delicious crispy, chewy and sweet churros (spanish doughnuts). They've been doing so for over forty years – since the owner's mother ( Encarnacion Garcia Fuenteseca) bought her first churros oven. They've been in the business long enough to be almost perfect!These sugar-coated Spanish doughnuts are generally served with chocolate or cinnamon. They were also finalists in the 2010 Street Food Awards!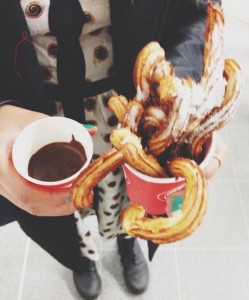 Daddy Donkey:
When and Where: Pitches 100-101, Leather Lane Market, London, EC1 7TE, 7.30am-4pm.
What They Serve: Kick-ass Mexican grill – as they call it. In other words, the biggest burritos you would have ever come across. Their best meal is their breakfast burrito; filled with coriander-lime rice, black beans, sausage, egg, cheese, guacamole and topped with any salsa you like. Hopefully, you'll be able to finish it. Be sure to excuse yourself after a much satisfied burp!
Jamon Jamon:
When and Where: Always at Portobello Road Market (W11), Sat 12pm-6pm. They pop up at eat.st on King's Boulevard (N1), Thurs and Fri 10am-4pm and The Real Food Market (London Southbank, SE1), Fri & Sat 12pm–10pm and Sun 12pm–6pm.
What They Serve: Paella Valenciana (chicken) or Seafood Paella, using local ingredients wherever possible – and always providing excellent quality. There are vegeatarian options too, if you're more of a green eater.The Seafood Paella is irresistible. Made with garlicky saffron rice, decorated with tiger prawns, squid, and green-lip mussels. It's like a  disco and the flavors dance.
Big Apple Hot Dogs:
When and Where: Their "Headquarters" are in Old Street (239 Old St, near the station) but they pop up all over the city, including at Street Feast in Dalston and Portobello. They are also providing little quantities of their handiwork at Edinburgh Fringe.
What They Serve: Artisan hot dogs made with freshly-baked buns and out-of-this-world sausages, expertly smoked by a Polish sausage man. "Inspired by New York. Made in the heart of London". Their Hot dogs are handmade in London and they use only natural castings and quality ingredients. Their dogs are gluten free, so no need to worry about the disgusting bits found in other sausages. They use free range pork and freshly baked bread. The blend of pork and beef in their sausage is flavoured with marjoram, garlic and black pepper.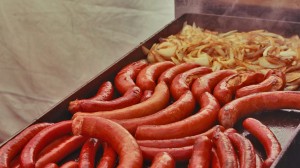 Home Slice:
When and Where: The Sebright Arms (E2), Mon 7pm-11pm, London Fields Primary School (nr. Broadway Market, E8), Sat 11am-5pm and Ridley Road Market Bar (E8), Sun 6pm-11pm.
What They Serve: Despite being made in the back of the van, you wouldn't have tasted a better Pizza anywhere else. The base is amazingly crispy and they have an exciting range of toppings to try. Their franchise began with a home built mobile wood fired oven, and continues to delight your tastebuds. Dishes are seasonal and cooked with expertise. Nothing on their menu is a downer.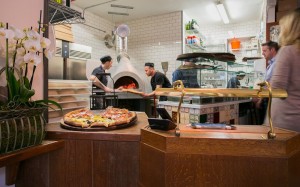 Yum Bun:
When and Where: London Fields Primary School (nr. Broadway Market, E8) every Saturday 10am-4pm, they also occasionally pop up at eat.st on King's Boulevard (N1).
What They Serve: Soft steamed, hand made buns that are filled with a variety of complimenting ingredients like pork belly, cucumber and hoisin sauce. The bread is as soft and fluffy as a cloud.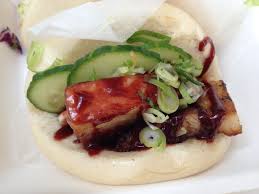 The Dogfather:
When and Where: The cart is located on Northcross Road, East Dulwich, Saturdays from 11am.
What He Serves: He calls them 'Haute Dogs' since he uses 100% Kosher beef hot dogs and a scrumptious combination of sauces to make your dog Haute. The range is available in vegetarian hot dogs too. 'The Mexican Elvis Dog', 'The Snoop Dog' and 'The Slum Dog' are some of the classics you will find at this cart.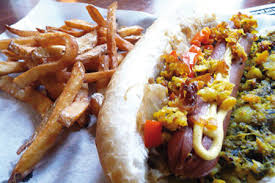 The Honest Carrot:
When and Where: Borough Market (SE1), Thurs 10am-5pm, Fri 10-6pm, Sat 8am-5pm, The Oval Farmers' Market (SE11), Sat 10am-3pm, Alexandra Palace Farmers' Market (N8), Sun 10am-3pm, Brockley Food Market (SE4), Sat 10am-2pm, Venn Street Market (SW4), Sat 10.30am-4pm – plus see their website for monthly pop ups.
What They Serve: Gluten-free yummies and all kinds of animal-friendly food, both vegetarian and vegan. Burgers, pies and roasts – all vegan. It's a difficult task to choose one dish because all of them are perfect and attractively colourful, but if you have to choose, their London Roasts are a good choice – Delicious beetroot balls with potato, carrot, apple, parsnips and spices for a filling snack or healthy meal.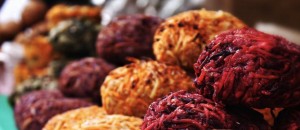 Keeping these wonderful locations in mind, go ahead and stuff your face!