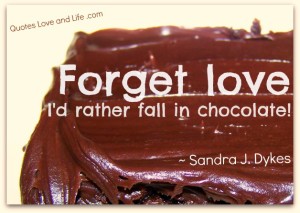 That silky, smooth, velvety, so yum, exotic thing, we can't resist is CHOCOLATE. Just the addition of Chocolate can make anything to everything delicious. It is such a thing that everyone craves and loves. It can lift up your mood and has the goodness of antioxidants. Chocolates are lovable and are a sheer bliss to humanity.
For the love of chocolate, here are some too popular chocolate delights, easy to make at home and are fancied too.
CHOCOLATE CHIP COOKIES
 (Recipe)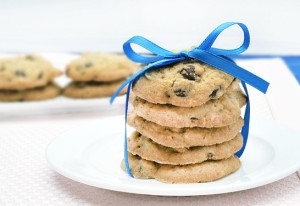 Preparation time: 20 minutes Servings: 25 Cooking time: 15 minutes
Ingredients: 1 and half cup chocolate chips
Four ½ cup flour
2 teaspoons baking soda
2 teaspoons vanilla extract
½ cup white sugar
1 and half cup brown sugar
2 cups butter, softened
2 packages instant vanilla pudding mix
4 cups dark chocolate, chopped.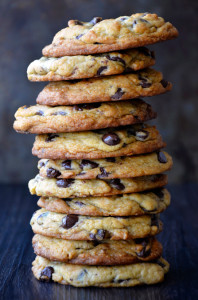 Procedure: Sift together flour and baking soda. Set aside.
In a large bowl, mix butter, brown sugar, white sugar. Beat in the instant pudding mix until blended. Add eggs and vanilla in the creamed mixture. Now, blend in the flour mixture which was kept aside after being sifted. Finally, stir in the chopped dark chocolate, chips and nuts.
Drop cookies by rounded spoonfuls onto ungreased baking sheets or parchment paper.
Put it in the preheated oven at 350 degrees for 10 to 12 minutes for soft or crunchy cookie as per your taste. Edges should be golden brown, it will look nice.
This is a true chocolate lover's cookie and can add optional ingredients like walnuts or almonds or pecans or white chocolate. Large chunks of chocolate chips is what make them extra special. Famish it. Bake it and Eat it all by yourself.
DARK CHOCOLATE SAUCE
 (Recipe)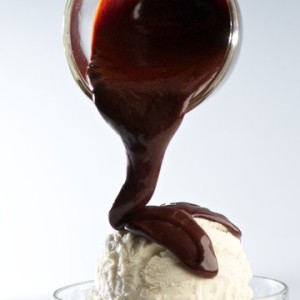 Preparation time: 15 minutes                            Serves: 10
Ingredients: 6 ounces Dark chocolate bar, broken into pieces (77% dark chocolate)
Half cup sugar
Half cup water
½ teaspoon vanilla extract
1 ounce butter
8 tablespoons heavy cream
Procedure: Stir in water and sugar in small pan. Simmer over low heat and stirring occasionally, until sugar dissolves in water and forms a simple syrup.
Transfer the simple syrup on the top of double boiler over a low heat, slowly add pieces of dark chocolate and butter, whisking occasionally until the chocolate is melted.
Slowly add in vanilla and cream until fully blended and smooth.
Keep stirring and when it is smooth. It is ready to serve. Serve it warm.
This glossy dark chocolate sauce has a rich bittersweet chocolate flavor and is perfect treat for dark chocolate lovers. As, having rich cocoa content of dark chocolate, it has antioxidant benefits in good amount. Having velvety smooth texture, it tastes wonderful when served warm dribbled over icecreams.
CHOCOLATE ICE CREAM
(Recipe)

Preparation time: 1hour + freezing time
Ingredients: 1 cup sugar
2 ½ cup milk (with full cream)
2 tablespoon cocoa powder
1 tablespoon custard powder
½ teaspoon vanilla essence
1 cup nuts, cherries or berries to garnish
Procedure: Mix custard, sugar and cocoa in half cup of milk.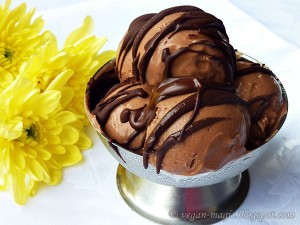 Heat the remaining milk and when it comes to boil, add custard mixture and boil again stirring continuously otherwise lumps are formed.
When it boils, simmer the gas for 30 seconds, shut off the heat and leave it to cool down.
When it reaches room temperature, mix the cream and vanilla essence and transfer onto a container with a tight lid.
Freeze it in refrigerator till almost set, then take out and whip up in a blender and place it back in the same container into the freezer.
The lid should be tightly shut as it prevents the crystals from forming. Blend once more when almost set and place back in freezer. You can adjust the cooling to normal in about two hours after the blending.
Serve it by garnishing nuts and cherries.
Scream, scream Icecream is like perfect treat on a hot day. Chilled icecream when made at home becomes more special and everyone loves it. Especially children. Chill out with the chilling effect of the chocolate icecream!
After all these easy to make recipes at home, I know craving for them is at peak. These are super easy, super awesome, yum and delicious recipes with the loveliness and richness of chocolate and its chillness and warmth . Its a perfect treat for children and your loved ones. No occasion required, just make them, freeze them, bake them whenever you want to. You don't need a reason to put these recipes into practice in your kitchen. They are just all time comfy, cosy, rich and creamy, chocolaty recipes. If its long time you havn't been in your kitchen, then just go Start making and baking it. Put on that apron and use your wit. Be creative and add your stuff too in these recipes. You never know what magnificent taste you come out with. You can even dip the chocolate chip cookies in dark chocolate sauce or you can even drizzle this sauce on the chocolate icecream. In a way, these recipes are connected and enjoyed with one another. For me, cooking is happiness and I get excited and calm at the same time whenever I get time to cook. Cooking is worth it, So make some time out of your busy schedule and start with these Chocolaty desserts. You will love it and people in your life too.
Keep cooking, Baking, Eating and Partying.