For the ultimate in healthy and satisfying fare, there's nothing better than a refreshing salad. Whether you yearn for a cool, crisp lettuce, sweet fruit salad or a savory potato salad, there is something for everyone on the list of salad recipes.
Salad, a popular ready- to eat dish often contains leafy vegetables or fruits, often served with dressings usually served at a chilled or at a moderate
temperature. Salads may sometimes additionally contain grain, meat, tuna or other seafood.
Leafy vegetables are generally served with dressings, as well as with garnishes, and sometimes with meat, pasta, cheese, eggs, fish or whole grains.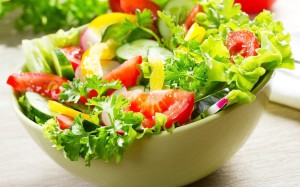 Salads have a distinguishing property that they can be served at any point of the meal. The light salads can be served as appetizer salads, salads which contain meat or sea food can be served as main course salads. The salads containing gelatin, fruits or whipped cream can be served as dessert salads.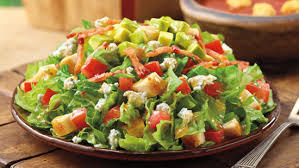 Salads can be healthy, satisfying meals on their own or perfect accompaniments to main dishes. Keep these recipes handy and you'll never get stuck on what to serve as a sensational side dish.
1. Fresh summer vegetable salad-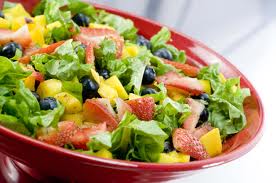 A. 1/4 cup extra virgin olive oil
B. 1 large shallot, finely chopped ( Allium ascalonium)
C. Thin trimmed green beans
D. Fresh corns
E. 1 yellow, red capsicum, diced
F. 2 Lebanese cucumbers, sliced into thin pieces
G. Cherry tomatoes, halved
H. 1 fresh red chilly, sliced
I. Coriander leaves, finely chopped
J. 1 avocado, peeled and diced
To make vinaigrette, grate 1 tbsp of lime into a bowl, then squeeze juice from lime into bowl. Whisk in shallot, then whisk in oil. Add salt to taste.
To prepare salad, in a saucepan boil salted water and then add beans and cook for 1-2 min until crisp. Drain and transfer all the vegetables into a baking tray and refrigerate them. Cut beans into small pieces.
To serve, in a large bowl, add corns, capsicum, beans, cucumber, tomatoes, chilly and half the amount of coriander with vinaigrette to coat. Add salt to taste. Sprinkle avocado and remaining coriander to enjoy the salad.
2. Low fat potato salad-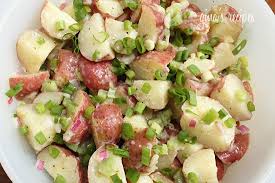 Small potatoes
 1/2 cup chopped red onion
 2 tbsp extra virgin oil
 2 tbsp white wine vinegar or sherry vinegar
 Salt and black-pepper
Boil potatoes until tender, and drain the water. Halve these potatoes, when still hot and sprinkle them with red onion, vinegar, salt and pepper and toss well with oil.
Serve it warm or at room temperature.
3. Arabic salad-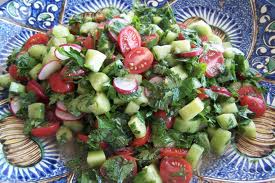 This salad is traditionally flavored with sumac powder, which is a middle eastern spice. The substitution for this powder is lemon  juice with pomegranate powder.
A. 1 cup lettuce, threshed into pieces
B. 1/2 cup cherry tomatoes, halved
C. 1/2 cup cucumber cubes
D. Green olives
E. Black olives
F. Chopped mint leaves
For dressing:
 A. 2 tbsp lemon juice
B. 1/4 tbsp pomegranate powder (anardana)
C. Salt to taste
Combine lettuce, tomatoes, cucumber, green and black olives in a bowl. Now spread the dressing, over the salad. Sprinkle the chopped mint leaves over the salad, to make it look more presentable.
4. Indian spiced roasted potato and chickpea salad-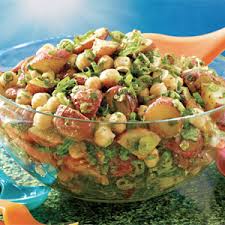 Small potatoes, into small pieces
 2 tbsp olive oil
 Salt and pepper
 Chickpea, rinsed and drained
 Green onions, sliced thinly
Freshly chopped coriander leaves
Vinaigrette:
A. 3 tbsp apple cider vinegar
B. Minced fresh ginger
C. Salt
D. Curry powder
E. Pepper
F. Ground coriander
G. 1/3 cup olive oil
H. 1 small minced, clove garlic
I. Ground cumin
In a bowl, toss together potatoes, oil, salt and pepper. Now arrange them in a single layer in a baking tray which is foiled. Roast them in oven at 220`C luntil golden. Let them cool for some time and then again transfer into a bowl. For vinaigrette, in a small bowl add vinegar, garlic, ginger, cumin, salt, pepper, curry powder and coriander and whisk them in oil.
Now, mix half of the vinaigrette with potatoes in bowl. Add chickpea, onions and coriander leaves. Let the mixture cool. Just before serving, mix in the rest of the vinaigrette.
 5.Thai tuna salad-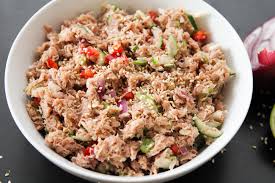 A. 1/4 cup mayonnaise
B. 1/4 cup sour cup or yogurt
C. 1 celery chopped with stalk
D. Salt
E. 1 can water-packed tuna
F. 1 green apple, chopped
G. 2 tbsp Thai green curry paste
H. 2 tbsp parsley
In a bowl, add mayonnaise, yogurt or sour cream, curry paste, celery, green apple, parsley and stir them until they get combined evenly. Open the tuna can, drain water and break it apart with knife or fork. Add the tuna to mayonnaise mixture, till it gets evenly combined with the mixture. Add salt to taste.
This can be served as a sandwich filling or alone as a salad.
Low fat mayonnaise can also be used to cut down calories.