The coolest hangout for today's generation is to sip on a coffee in a costly coffee shop. Every street corner has a coffee shop these days, where they serve the regular cappuccinos and hundreds of other varieties of coffee. It is a relatively new trend in India, but people of Chennai and their neighbors are accustomed to this more than anyone else. New age coffee shops, with their swanky couches and bloated prices, may have introduced the culture of drinking coffee to a new audience, but many youngsters have chosen to keep alive a living tradition, where the filter coffee is not just another drink. In a traditional South Indian restaurant, you will see young and old people sipping on their coffee after every meal. The Madras Coffee is the primary stress buster and the perennial favorite drink for most of the people in South India. You will see a lot of self confessed coffee addicts who have travelled around the world say No other coffee can match the taste of the traditional "filter kaapi". Most people cannot start of their day without drinking "Filter Kaapi" and reading "THE HINDU" newspaper.

The Madras Filter Kaapi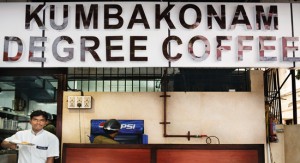 The Madras Filter Kaapi is a part of South Indian tradition. It is the most widely served drink to visitors in the South Indian states of Tamil Nadu, Kerala, Andhra Pradesh and Karnataka. During the British Rule, all the four South Indian states were under the Madras Presidency and all of them have similar roots and traditions which has a stark variation from other parts of the country. The other common names for "Madras Kaapi" are "Kumbakonam Degree Coffee" and "Mysore Filter Coffee". The traditional South Indian Coffee used to be served in aluminum tumblers and until the 1960's it was served with honey or jaggery instead of sugar.

Roots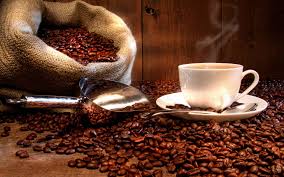 The coffee bean itself is a very foreign substance which has its roots in Ethiopia. How coffee made its way to India has several theories. Though it is said to have reached the shores of India, along with tea, in the 17th century, it was not until the end of the 19th century that coffee and it's 'cultural other', tea, became a phenomenon in India. Coffee, unlike tea was mostly a drink for the upper class society. Even thought "filter kaapi" is very much a South Indian specialty, even North Indians especially those who have settled in South India have taken a liking to this wonder drink.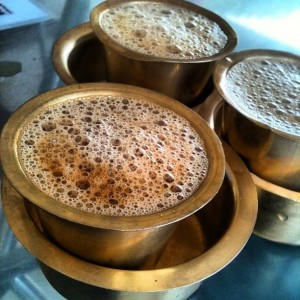 The first person to bring Coffee seeds to India was Baba Budan. Folklore has it that, Baba Budan went on a pilgrimage to the Holy City of Mecca and while returning brought seven coffee seeds as a gift for his people. It is said that, he actually smuggled those coffee seeds from Yemen, the biggest coffee bean producer in the world back in the 17th century. These seeds were planted on the Chandragiri Hills, which from that day came to be known as the Baba Budan Hills.
Indian Coffee Market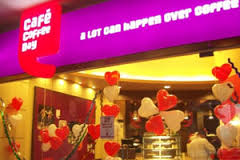 When recently, Starbucks, the world's biggest coffee retail chain decided to open in Chennai, they knew it was one of the biggest battles they would face because of the competition they were likely to face from local rivals like Saravana Bhavan, Kumbakonam Degree Coffee and Café Coffee Day. Chennai is undoubtedly the coffee capital of India. The Indian Coffee Market is an ever growing one, with more number of people taking to coffee every year. According to the Coffee Board of India, over 30,000 metric tons of coffee is consumed per annum in Tamil Nadu with filter coffee cornering 54% of the market and instant coffee 46%. Pan India, over one hundred thousand metric tons of coffee is consumed per annum and this market is growing at 5-6%.
How to make the Traditional Filter Kaapi?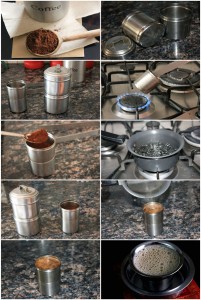 You'll need a traditional percolator which is made of 4 parts. Buy grinded coffee powder, if you are not a person who is patient enough to grind the coffee seeds, though I would recommend you to try doing it occasionally. Use a clean filter, remove the lid and umbrella. Put 2 heaped table spoon of coffee powder per person and press it down with a spoon. Keep the umbrella back and gently pour fresh water and wait until the water percolates down slowly depending on the quantity of powder placed. Six to eight table spoons of coffee powder will take the decoction almost 6-8 hours to collect at the bottom. If you've put a lot of coffee powder, you wouldn't have a chance to put enough water to percolate resulting in very concentrated but less quantity of decoction at the bottom. In such a case, you might have to add more water every time and do it repeatedly three or four times.
Now, to prepare the traditional Madras Filter Kaapi take a tumbler(a steel cup) and pour up to 3/4th level milk and add decoction with constant stirring to make a coffee to suit your liking, mild or strong and add sugar if you wish. You can also use jaggery or honey instead of sugar to get the traditional "kaapi" flavor.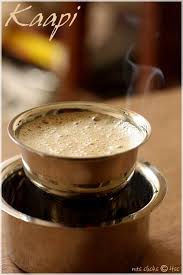 Traditional kaapi is best served hot. Drink it when it is steaming hot and slowly get lost in the aroma and flavor of the most wonderful drink in the world- The Madras filter Kaapi.