We bake our own breads!  Where have you read that claim before? Yes, you got it! Subway. It is a multinational, franchise-based sandwich (primarily) store that appeals to one's appetite. Not only that, it makes the nutritionist in us somersault with joy, as we realize that it's healthy. The amount of veggies that a subway sandwich has is surely good for one's diet. Ever realized how those veggies felt cold even after microwaving the sandwich? Well, they do cut them up in advance, so you don't have to wait for long to get your order. Subway allegedly mixes an element used to make rubbers – azodicarbonamide, in its bread. So, how do you get a fresh subway sandwich? It is time to make a subway sandwich in 9 easy steps. Promise! Wear your cooking-hat and start away.
1. For the loaf of bread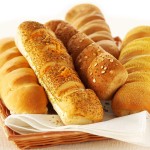 Subway offers a delightful variety of breads to choose from – Parmesan Oregano (recommended flavor) to multigrain (wholesome). Then there's Honey Oat, Italian, Hearty Italian. Which bread would you take? Head out to the Bakery next to your home and demand a French Loaf (maybe sesame flavoured) or a Garlic Loaf. Be creative! Pick something that feels soft and smells heavenly. Well, you can't pick out the size anymore because they come in a foot long size. You'll have to do away with the popular innuendo – 6 or 12 inches? Things we do for the love of bread!
2. Choose your cheese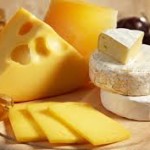 Ideally, a Cheddar Cheese Slice – a tad bit springy and just about salty would go best with a sandwich, but then one is free to experiment.  Mozzarella is recommended only if you are going to microwave afterward, whereas Parmesan or Romano will be a bit hard. Slice your cheese up, place it before you have to ask anyone who moved your cheese!
 3. Go veggies shopping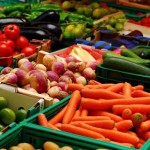 Yes, yes! We have all seen our mums bargain with the subzi-waala . We have also seen them carry tones of veggies from the supermarket like some superwoman. It's time to go shopping! Make a list of the veggies you like. Tomatoes, onions, lettuce or cabbage leaves, cucumber, etc.  Feeling a bit adventurous? You might consider carrots, potatoes or beat roots (not the usual subway veggies!). Get the bottled versions of jalapeno, pickles, olives.  Want to make it colourful? Add bell-peppers – green, red and yellow. So yes, you can add any veggie to your liking but remember that it's a sandwich, so don't go on about adding okra.
4. Cut 'em up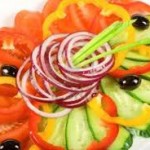 Before we proceed, wash the veggies thoroughly with tap water. The lettuce leaves are to be shredded. The tomatoes, onions, cucumbers are to be sliced. The bell-peppers are to be cut in thin, long strips. The bottled variety of veggies will come diced/sliced. The shape of the veggies matters as much as the taste. It has got to be perfect to the last detail!
5.  Extra dollop of deliciousness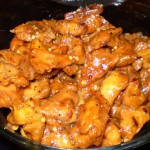 This is a tricky bit, because you have got to know what your taste buds yearn for. Would you like cubes of chicken or cottage cheese?  Whatever be your call, marinate it with schezwan sauce. You may use any one of the spicy sauces –  red chilly, green chilly, pizza sauce. Keep aside for 30 minutes.  Now, sauté the cubes in two tablespoons of olive oil at a high flame for about 2 minutes.  Add a tablespoon of sauce, stir it well for next 3 minutes. Don't mash the soft cubes while you're at it. Let it cool for a while.
6.  Assemble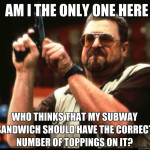 Cut the loaf into half.
Spread a coat of butter.
Spread the cheese slices.
Arrange the shredded and sliced veggies. Add the strips. In that order.
Add the cubes of chicken/paneer. [Shouldn't be hot]
Looks yum, right? Wait! We got work to do! Three more steps before you devour the healthy sandwich you made.
7. Make it "saucy"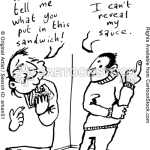 As in, add the salad dressings/sauces. The thick white sauce- mayonnaise would enhance the taste by its creamy texture. Mustard has a tangy flavor which lasts a while, so remember to add just a wee amount of it. Add the Southwest, for a typical sandwich dressing. You might consider sweet onion or honey mustard to add a tinge of sweetness. No one can tell you which sauce to put. Let it be your secret ingredient.
8. Be a Master/Mistress of Spices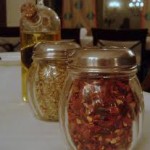 Want to spice your sandwich up? Add chilli flakes, oregano and just a pinch of black pepper powder.  You might consider adding Italian herbs (not recommended) if you are truly in mood of an experiment – no matter the result. Meanwhile, stick to the pepper!
9. Heat it up! Eat it up!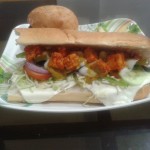 Some people tend to microwave the bread before they assemble the sandwich but it's better to do it after the whole thing is a step away from being gobbled up. This way it won't taste utterly raw or over cooked but just about right. Butter up the outer sides. Microwave it for about 45 seconds. Your other option could be, heat it in a covered pan for 30 seconds. Here is our sandwich! Okay. Fine! Here is YOUR sandwich! Happy eating!