In the last tour de Delhi, we hopped onto some of the binges of Delhi, how the love affair of the nation started with Delhi, the great repertoire of Architectural marvels in Delhi and a touched the tip of the iceberg as to what makes you melt with love, when you hear the word Delhi. Today, we explore more.
The Bedmi and Nagori: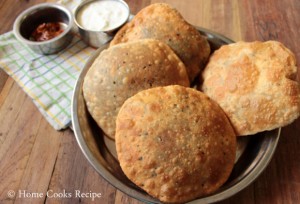 One relatively less known delicacy but nevertheless enjoyed to its zenith by the  few loyal customers, the bedmi is a variety of Khasta Kachori smaller in size and more khasta by all means. This is what one could call the Kachori's  younger cousin. Filled in the epicentre with Semolina, carom seeds and grated peas, this delicacy melts in your mouth. Served along with our beloved aloo ki sabzi and halwa, you might have an oddity treat and might as well try mixing the two side dishes (The halwa and the aloo ki sabzi). This queer combination will make you reminiscent of the sweet and sour soup gone terribly wrong, but it's a taste nevertheless. The Nagori is the youngest of the brood of Kachoris and more closely resembles the papadi that you get at a chaat stall. This also served along with aloo ki sabzi and halwa will give you plentiful of energy (And not to mention a truckload of calories) to roam the rest of Chandni Chowk with me.
The Punjabi Diaspora: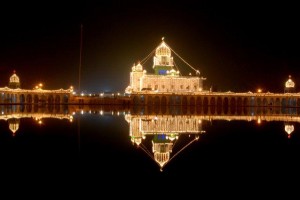 Delhi is borderline Punjab. Geographically and literally. Once you enter Delhi, you'll see an equal number of turbans as you will see bare heads. That because, there was a huge exodus from the Punjab region during Delhi's early industrialization days and also during the Punjab conflict periods. Thus there's a mini Punjab residing in Delhi. And with their amazing good humor and tantalizing cuisines come along the mighty and revered Gurudwaras. Gurudwaras are the worship place for Sikhs. Here Sikhs spend quite a lot of time serving other people as they faithfully believe in the quote " Service to mankind is Service to God." There are a plenty of Gurudwaras in and around Delhi and the best part of visiting them is the tasteful  'Langar'.  Langar is the lunch that is served in Gurudwaras to everyone who visits them. Large langars are organized where people sit on elongated jute mats on the floor and eat out of leaf plates. The langar, anywhere, in any gurudwara is something to be DEFINITELY had if you ever get the lucky chance to visit Delhi. Daal is a must in every Langar. Along with it Halwa, aloo ki sabzi and poori make your lunch hearty and eventful. There are two large Gurudwaras in Delhi to which people flog on from places far and beyond. These are The SeesGanj Sahib and The Bangla Sahib. Both are lakes of tranquillity and you will feel emancipated from all your worries and ill humoured feelings, once you enter the complex. Visit these if you are looking for serenity and a meal full of love and affection.
Kareem's and Khan Chacha:
Chicken = Kareem's.              Kareem's = Chicken.
Chicken = Khan Chacha.     Khan Chacha = Chicken.
                     Kareem's = Chicken = Khan Chacha.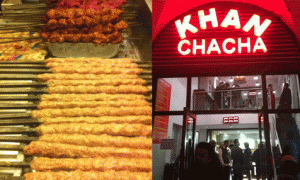 One's trip to Delhi will be wasteful, if he goes to Delhi but does not visit any of the above mentioned place. Both these places have been established in Delhi for the last 100 years or so and have been constantly providing the people of Delhi with an indispensable service ever since. The service of good food. Or more specifically, the service of Great Chicken. Khan Chacha and Kareem's both are known for their Mughal style Chicken which they both offer in Chandni Chowk. The shop is tiny but the crowd of buyers: mammoth. Both of them provide exceptional Tandoori Chicken and Kebabs. Their extraordinary skills lie in providing with dry chicken variety. They specialize in Seekh kebab, Shammi kebab, mutton burra kebab, mutton stew and the rann (goat's leg). These leave you with the exact smoky flavour that should be left after having a tandoori meal and also bestows upon you the feel of the grill.
Connaught Place: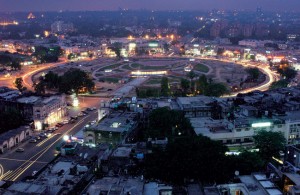 What makes Delhi, Dilli you ask. One of the reasons of Delhi's uniqueness is Connaught Place. Two British Built market places in circular shape around a gigantic park in between. Sounds confusing? Well, it is. But in earnest Connaught Place is one stop destination for all the top notch brands anywhere in the world. Until one hasn't a shop in Connaught Place, he/she is too amateur to go global. A beautiful set of buildings all dressed up in white just like a catholic wife-to-be in circular shape mark the inner circle and the outer circle. A market place to take a stroll ith your friends or go bridal shopping; A day to enjoy Delhi in one glance and a hurried shopping session; everything happens at Connaught Place.
'THE' Palika Bazaar: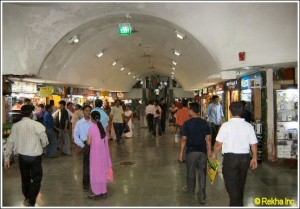 Ever heard of an underground market place? Palika is one. No, it is not underground as in illegal, it is underground as in, it is literally 400 bunch of shops UNDER-the –GROUND. Remember how the Connought Place is circled around a gigantic park? Well this is a market place under that gigantic park. Palika is every women's dream destination. Because you get the best of fashion labels at throw away prices. Loads of accessories, clothing, body tattoo shops throng the Palika. Men, don't be disappointed. There's something for you too, down there. Palika has men's fashion outlets too, but more amazingly it has an entire bunch of shops that sell cheap China built Electronics gadgetry. So, next time you want a pen camera or a big grizzly transforming car, you can always go to the underground market.
So, we made a tiny bit of progress in learning about Delhi. But don't get tired yet, there's more of Delhi to come.. Stay tuned.