A very long time ago when the heart of our nation was not famous for its countless rapes, an absent Government and Mufflerman; there was actually a city and a world inside that city that everybody loved. What made Delhi earn the jealousy of other metropolitan cities in the country, what is it that made Delhi stand shoulder to shoulder with Mumbai, the economic capital of India. Why is it that, people who have ever stayed in Delhi leave it with a heavy heart and tell everyone else that they can't understand the emotions attached with the city if they have never ever lived in the city. Let's find out!
The Beginning of the Real Delhi: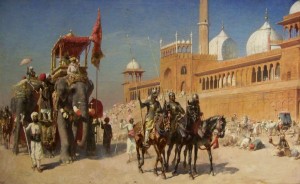 Now, the love for Delhi started long back when the Mughals transferred the Capital of India from Agra to Delhi. This is when the real on-ground transformations started taking place in Delhi. Before this move, people were as oblivious of Delhi as they were of any village in India. Firstly, with the onset of Mughals came along great Architectural Feats. For example Delhi boasts of the largest Brick Minaret in the world the Qutub Minar (well, it was built by Qutubbudin Aibek), it flaunts one of the largest mausoleums in India – The Jama Masjid, It carries reticence with its Old Fort. Also the Red Fort that instills in us a feeling of patriotism whenever we see it on our TV sets. All these Architectural marvels brought a Mughal charm to this city of ours and elevated it above its neighboring cities.
Dilli and the finger licking tales: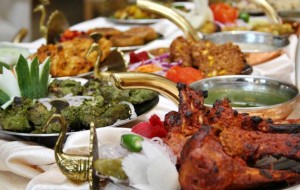 Along with the great architectural skill set of the Mughals arrived in Delhi their eternally pristine culinary taste. Their food was not just food, but Art on Stove. The Tandoori murg, The kadhai paneer, the Nihari,the  Paya, the Kachri Qeema, the Delhi-mein-world-famous-Mughlai Chicken, their biryani style and countless others set the tongues of the native Delhiites wagging. Not only did their cuisine establish itself in Delhi, it even grew there. More and more dishes were invented as an amalgamation of Delhi and Mughlai cuisines. This was a great culinary juxtaposition just waiting to happen. Seemed like this match was made in heaven. So, the Mughlai cuisine added one more feather to Delhi's hat.
Asli Delhi, Purani Dilli:
Now, the heart of the Heart of the Nation. The Chandni Chowk and Chawri Bazaar area. For those new to the maps of  Delhi, these areas lie in the center of Delhi and still boast of historic architecture. These areas are famous for their super cramped streets, the always bustling crowd and nagging shopkeepers always trying to sell you substandard products. By the names in the list, all these seem to be pretty depressing by the levels of the national capital. But once you visit the place it seems just like your extended neighbourhood. It won't seem as a market place to you, but a big great family  living in harmony yet tearing each other's hair out. But there is a lot to watch out for in the Purani Dilli area. Since it is a crowded marketplace, pickpockets are always on the prowl. Also some shopkeepers tend to get too close for comfort levels in order to get their products sold. But every coin has two sides and prefer to see the loved one here please. Purani Dilli broken up and explained in pieces in the next points, because it ain't so small that it can be contained in one measly point.
The Paranthewaali gali: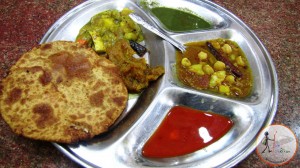 Now, now, now. Every once in a while a moment comes in every person's life that can't be expressed even if you keep squealing with delight for a fortnight. For a foodie that moment would come when he enters the paraanthe waale gali. The lane where our Bollywood Star Akshay Kumar slaved and toiled for many years. The paraanthe waali gali is an even narrower lane than what already was a cramped main road of Chandni Chowk. There are a multitudes of shops there only selling paranthas. But mind you, these are not ordinary paranthas, these are paranthas made of Rabri, Paranthas made of bitter gourd and paranthas made of lady finger and all the odd vegetables and sweets you can ever garner. And these are not made on a pan or a stove, these aranthas are deep fried just like samosas and tikkis are. Your whole perception of paranthas changes after entering this foodie paradise. This narrow lane adds another dimension to your notion of parantha, by doing something with it that was unimaginable before this.
The Japanese Samosa: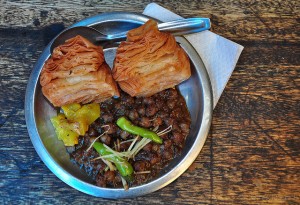 Well, to be honest, this is just sold in one shop in the entire Chandni chowk. But I swear to God, that you won't have eaten anything like this before this. This samosa's shape is more or less like regular samosas but the corn flour covering on the outside is striped. Thus the Japanese samosa is not wholly covered but partially revealing. The inner filling forms the crux of the whole dish. It is not spicy or filled with mashed potatoes for that matter. It is filled with a sweet mixture like that of a halwa. Thus changing the whole thought process around the samosa. By just keeping the name and shape intact, this exquisite dish retain the name value and the ingenuous sweet filling inside and the striped contours give it a modern twist. And thus, the Japanese Sammosa, The tour of the real Delhi has just begun. However, even the most brilliant of writers and esteemed authors would fail in describing the exact charisma and fascination of the city. Such complexly woven is the feel of it. I am just a young scribe who is trying to portray to you an image that tells what exactly Delhi is, if you have have never been there or miss the hell out of that angelic city of yours. To be continued…