Everyone need more than air-conditioning or a dip in the pool to battle the hot summer weather of May, June and July. So cool off and chill out with cool summer drinks. Summer is the best suited time to have cocktails. Summer is the perfect time for friends to gather and share a few drinks. So brake out the tropicals, the frappes, the coolers and chill out. Cool drink refreshes your mind, soul, heart and body so never forget to take cold drinks during summer.
AAM PANNA–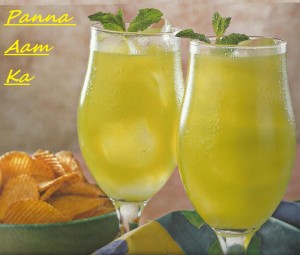 It is the traditional North western Indian summer cooler drink. Aam Panna reduces the occurrence of heat strokes. It is not only a good refreshment but also a great rejuvenating drink as it restores the Sodium which was lost due to dehydration. It is rich in antioxidant which helps to remove the toxins from the body and purify blood. Here is a simple recipe for how to make aam panna.
Ingredients-
3 medium size green raw mangoes
1 cup Sugar
1 tablespoon roasted cumin powder
Black salt to taste
Salt to taste
2 cup water
1 tablespoon Mint leaves
Ice crushed
Recipe– Place the mangoes along with water in a sauce-pan and boil them. Simmer for 10 minutes. Then remove from gas. Alternately you can pressure cook the mangoes with water till they become soft. When they get cool, peel the mangoes and get the pulp with the help of a spoon. Grind mango pulp with water to a smooth paste. Take the pulpy mixture in a pan, add sugar and let it cook on gas till the sugar get dissolved completely. Stir continuously. Remove from gas and add roasted black salt, cumin powder and salt. Let this mixture cool down in proper time. To make the drink, take a glass and pour 1 -2 tablespoons of the mango mixture and pour it in chilled water. Now add finely crushed ice. Garnish with mint leaves and serve immediately.
MANGO MILKSHAKE-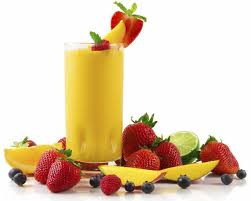 Mango has a plenty of benefits that are good for our health and can fight against diseases such as cancer. It helps in digestion as it is rich in fiber. It is a rich source of vitamin A, hence it also boosts the immune system and lowers the risk of heart disease and stroke. Mango shake contains good amount of proteins and irons, therefore it is very beneficial for anemic patients. Vitamin D and calcium present in mango milkshake helps in strengthening the bones. The recipe for making mango shake is as follows-
Ingredients–
1 cup milk,Ice cubes, 3 small ripe mangoes, 1/4-1/2 tablespoon cardamom powder (start less and increase as per taste), 2 tablespoon sugar.
Recipe- Peel the mangoes and then add their pulp to a blender. Add the milk and cardamom powder to it. Start with the minimum, since some may find the flavor of cardamom too overpowering. Blend it well along with ice cubes until they get mixed. Taste and add sugar if needed and give it another whirl if added. Pour into glasses with ice-cream on the top and enjoy.
MANGO MARGARITA –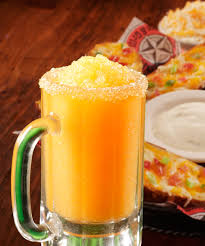 Ingredients-
Mangoes peeled and cut into small pieces, Ice cubes as required, salt as required, lemon juice 3 tablespoons, and 1 cup mango squash.
Recipe- Put the pieces of mangoes in a blender and blend for a minute. Add mango squash, two table spoons lemon juice, ice cubes and blend it again for three minutes.Apply the remaining lemon juice at the rims of the glasses and dip the rims in the plates containing salt and then remove. Pour the margarita in the glasses and serve.
MANGO LIME COOLER–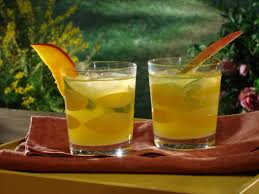 Ingredients-
1 tablespoon honey, ½ cup low fat milk, 1 ripe mango, peeled and cut into chunks, 1 tablespoon lime juice, Ice cubes, ½ cup plain fat free yogurt.
Recipe- Put all the ingredients except the ice cubes in the blender, then cover and blend the mixture on high speed around 15 seconds. Add crushed ice and then continue blending for 15 seconds. Now kick back and enjoy the perfect summer drink.
MANGO MOJITO-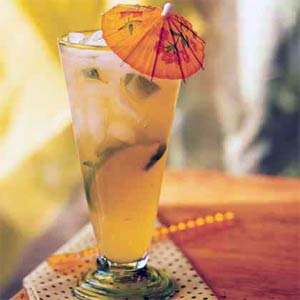 A mango mojito features muddled mint leaves mixed with mango rum.
Ingredients-
1 lime wedge, 4 mint leaves, fresh mango (pureed), 90ml soda, ice cubes, 22ml light rum.
Recipe- Muddle the mint leaves and lime juice until they are fragrant by pressing a muddler into the bottom of a cocktail shaker. Then pour the rum and the mango puree into the shaker. Fill the shaker 2/3 full of ice cubes. Shake the drink until the ingredients are well mixed and chilled. Place ice cubes in a fashioned glass. Strain the drink from the cocktail shaker over the ice cubes. Top the drink with club soda and garnish it with a slice of mango.
MANGO COLADA-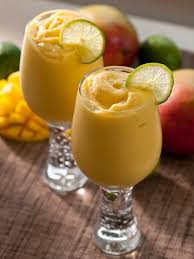 Ingredients-
1 cup ripe mango cubes, 1/3 cup light rum, 1/3 cup cream of coconut, 1/2 cup pineapple juice, 2 tablespoons fresh lime juice, ice cubes.
Recipe- Place all the ingredient shown above in a blender and then blend until it becomes smooth and thick. Add ice cubes. Pour into tall glass and enjoy your drink.