The first time I had lamb was last year during Durga Puja (October-ish ) at Food Station, College Street, Kolkata. It was 'Roasted Lamb cooked in Oyster Sauce' as far as I remember and it was heavenly. I would have licked my plate clean if only I were at home and not in a restaurant. From then on, I have had lamb a number of times, either at home or in a fancy restaurant, each time craving for more.
Lamb is delicious but it is quite expensive. So, if you are cooking at home, opt for the cheaper cuts (for example – neck fillet, boneless loin or shoulder).
"New-season lamb shoulder, cooked pink, is the perfect platform for a mixture of fresh and cooked herbs."
-Yotam Ottolenghi
3 lovely lamb recipes for you to try out :
Dukkah Lamb Cutlets with Eggplant Dip and Salad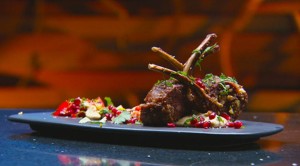 Ingredients – 1 ½ tbsp coriander seeds (toasted), 1 ½ tbsp cumin seeds (toasted), 1 ½ tbsp pine nuts (toasted), 1 ½ tbsp Brazil nuts (toasted), 2 tbsp pistachio nuts (toasted), 1 tbsp olive oil (plus extra to drizzle), 400g lamb rack (cut into double cutlets), 1 tbsp honey, 1 eggplant, 1 tbsp tahini, 1 ½ garlic clove (crushed),  ½ lemon (juiced), 1 pomegranate (seeded), 12 cherry tomatoes (quartered), 2 tbsp thinly sliced mint, 2 tbsp thinly sliced coriander, salt (to taste)
Method – Preheat oven to 180C.To make dukkah, pound spices in a mortar and pestle until finely ground, then add nuts and coarsely grind. Heat oil in a frying pan over high heat. Sear lamb for 1-2 minutes until browned. Remove lamb from heat, rub with honey and then coat with dukkah (reserving 1 tablespoon for garnish). Place lamb in a roasting pan and cook in oven for 15 minutes until cooked to medium. Set aside to rest. Meanwhile, char eggplant on a gas stove-top. Peel and place in a blender with tahini, garlic, lemon juice and salt to taste, processing until smooth. To make salad, combine pomegranate seeds (reserving 1 tablespoon for garnish), tomatoes, mint, and coriander in a bowl, drizzle with olive oil and toss to combine. Season with salt. Serve cutlets with dip and salad on the side. Sprinkle with reserved dukkah and pomegranate seeds.
Lamb, Walnut and Pineapple Braise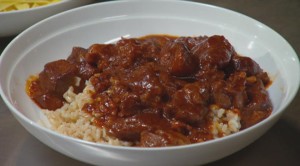 Ingredients – 2tbsp plain flour, 1.2kg lamb forequarter (trimmed, cut into 3 cm cubes), 60ml olive oil, 3 garlic cloves (finely chopped), 1 cm knob garlic (finely grated), 2 tsp curry powder, 140 g tomato paste, 80ml soy sauce, 2 tbsp red wine vinegar, 2 tbsp brown sugar, 500ml pineapple juice, 75g walnuts (toasted), salt and pepper (to taste), buttered  egg noodles or steamed brown rice (to serve)
Method – Preheat oven to 180C. Place flour into a large zip-lock bag. Add lamb and shake in bag to coat in flour. Heat 2 tbsp oil in a large heavy-based frying pan over high heat. Cook lamb for about 5 minutes until brown. Transfer lamb to a bowl and set aside. Meanwhile, combine remaining 1 tbsp oil with garlic in a bowl. Place a heavy-based saucepan over medium heat. Cook garlic mixture for 30 seconds until fragrant, then add curry powder, tomato paste, soy sauce, vinegar and brown sugar, and stir to combine. Stir in pineapple juice. Bring to the boil and then add meat to pan. Cover the surface with a cartouche made out of baking paper, then cover with a lid, and place in a oven for about 2 hours until meat is tender. Stir in walnuts and season to taste. Serve with braised buttered egg noodles or steamed brown rice.
Roasted Leg of Lamb with Garlic, rosemary and Anchovy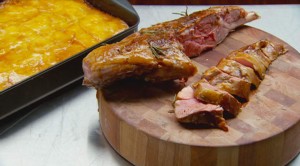 Ingredients – 1. 5kg lamb leg, 50 ml grape seed oil, 400 g skim milk, 6 garlic cloves (halved), 12 anchovy fillets in olive oil (drained, halved lengthwise), 4 rosemary sprigs, splash white wine, ½ tsp Dijon mustard, 500 g chicken stock, salt (to taste), Roast potatoes (to serve)
Method – Preheat oven to 90 C. Heat oil in a flame proof roasting pan over high heat until smoking. Season lamb with salt, then sear until completely golden brown. Place a roasting rack underneath the lamb set inside the pan. Meanwhile, bring 100g milk to simmer in a saucepan over medium heat. Add garlic and allow to simmer for 1 minute. Drain through a fine sieve, retaining the garlic and discarding the milk. Repeat process 3 times using the remaining milk. Cut blanched garlic into slivers. Using a sharp knife, cut small slits in the surface of the lamb at regular intervals. If necessary, use a small spoon to enlarge holes. Fill holes with an anchovy slice, a garlic sliver and a few rosemary leaves. Place lamb in oven for 1.5 -2 hours or until internal temperature reaches 57C. Remove lamb from oven, wrap in foil, and set aside to rest for at least 30 minutes. Meanwhile, place roasting pan over medium heat. Add a splash of white wine to deglaze, whisk in mustard and stock, then reduce to a saucy consistency. Pour into a warm jug. To serve, remove foil, and place lamb on a chopping board. Cut meat from the top, downwards, until the knife meets bone, to desired thickness, all the way along the top of the leg. Run the knife horizontally across the meat, just above the bone, separating the slices. Turn over and repeat on the other side. Arrange lamb on a platter and serve with roast potatoes and sauce.
Recipe and Image Courtesy – tenplay.com.au/channel-ten/masterchef/recipes