Holidays are over and we have entered a new calender year. Lets keep the spirits high even after the party is over and keep learning and preparing good recipes just to sink in the feeling that though holidays are over good times are not over yet . I always love the month of January as we always make new year resolution and are charged up to fulfill the long lost targets that we set cautiously but do not meet the deadlines. We have loads of festivals, weddings , birthday parties to attend and we love the food and foggy weather. Not only that, we plan holidays with family generally during that time or may be its a time off from work to simply relax and have awesome home cooked food.We often put up our orders to Mums , wives, or the cook but why don't we change the format a little a cook for those who always spare their time in kitchen busy to feed monsters like us and still not complaining.This article is dedicated to those few people who cook for us and feed us 365 days . We often neglect their space,  their holidays and even their Sundays keeping ourselves too comfortable to come out of that comfort zone. Its totally not fair and we must show a little gesture by cooking for them and making them smile. So are you ready to be a good Samaritan ??? If yes, then note down the heavenly recipes and bring in a smile to someone's face.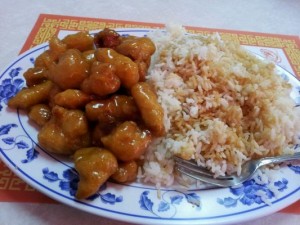 Orange Chicken with Steamed Rice !!!
Ingredients : 500 g boneless chicken cut into small pieces, 2 tablespoon corn starch , 2 eggs beaten well, 1 cup refined flour seasoned with black pepper , salt , red chilly powder, and garlic powder, 1 tablespoon garlic finely chopped, 1/2 tablespoon ginger chopped, 1 cup diced bell peppers, 1 teaspoon chilly flakes, 1 teaspoon dark soy sauce, 1 teaspoon vinegar, 1 teaspoon brown sugar, 1 cup orange juice,1 tablespoon orange zest,1 teaspoon olive oil, salt to taste, Vegetable oil for shallow frying chicken pieces. 200 g soaked rice for steaming.
Servings : 4
Method : Firstly we need to season the chicken and coat it well . For that Take a large zip lock bag and add 1 tablespoon corn starch in it. Dry the chicken pieces by dabbing it against a cloth and put it in the zip lock bag. Shake it well it the chicken pieces get evenly coated with corn starch. Now dip each piece in beaten egg and again coat it well with refined flour seasoned mixture . Keep the chicken separately for 10- minutes and then shallow fry in a pan  . Now heat a pan and add orange juice with a cup of water. Then add salt , brown sugar, vinegar, ginger, garlic, olive oil, dark soy sauce ,chilly flakes and orange zest. Bring to a boil and then add chicken pieces to it and cook for 5 more minutes. Make a solution of corn starch and pour it over the chicken gravy and stir it for another 2 minutes. Steam cook the rice and serve it with hot orange chicken . You will be a good Samaritan for the one you are cooking for.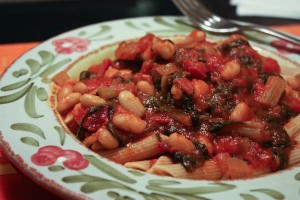 Bean and pasta in red sauce :
Ingredients : 1 1/2 cups of uncooked macaroni, 1 can baked beans, 1/2 cup fresh corns or  frozen sweet corn kernels, 1/2 large red bell pepper sliced, 1/2 large capsicum sliced, 1/2 yellow bell pepper sliced, 3 large tomatoes, 1 large onion sliced, 1 1/2 teaspoon red chilly powder, 2 cubes of processed cheese grated, 1/2 cup tomato ketchup, few garlic cloves finely chopped, 2 table spoon mixed dry herbs, salt to taste, 3 tablespoon olive oil for cooking.
Servings : 4
Method : Heat one teaspoon oil in a pan and sauté the onions and bell peppers for 2 to 3 minutes. Divide this mix into 2 equal portions and keep it aside. Just boil the corn kernels for 4 to 5 minutes and set aside. Boil the pasta and tomatoes together in a separate pot and after few minutes just remove the tomatoes and cool it for sometime (its called blanching) . Let the macaroni cook . Once done drain the pasta add few drops of oil and set aside. Once the tomatoes are cool enough peel of the skin from the tomatoes and finely chop it for the pasta preparation. Preheat the oven at 180 degree centigrade for 8 to 10 minutes. Now heat 2 teaspoon of oil and sauté garlic for 1 minute and add one portion of onion and bell pepper mixture. Stir in red chilly powder and sauté for few seconds only. Add blanched and chopped tomatoes , salt to taste and cook for 2 to 3 minutes. Add the boiled corn and baked beans , cook for one minute .Mix the pasta , tomatoes and grated cheese, simmer it for couple of minutes. To get desired consistency add little bit of water and adjust the salt amount for perfect taste.  Now place this cooked dish on a greased baking dish sprinkle remaining sautéed onion and bell pepper mixture and a bit of grated cheese bake it for 10 minutes till golden brown and serve it hot. A perfect winter recipe is ready .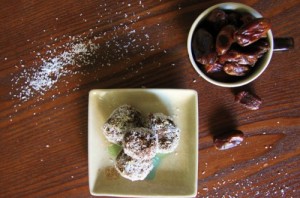 Date Fudge :
A healthy and yet tasty dessert . It takes little time to prepare this dish but the innovation will win hearts as perfect meals do not complete without perfect desserts.
Ingredients : 100 g of dates de-seeded and sliced in long strips, 6 Marie biscuits crushed very finely with hands only, 3 tablespoon of dry coconut powder, 1 tablespoon butter.
Servings : 5 (serving size being 2)
Method : Heat the butter in a pan . Add the sliced dates into the pan and sauté it for 3 to 4 minutes in slow flame. Stir in 1 tablespoon coconut powder in it and sauté for another 10 to 12 seconds. Divide the mixture in 10 equal parts after mixing it with crushed Marie biscuits while its still hot.shape each part into a ball and then slightly press it to flatten it. Roll each piece on remaining coconut powder separately and refrigerate it for few minutes. Serve it on a bowl .