A fine sunless Sunday mid-morning. You wake up groggily staring at the clock ticking its way close to 12. Then you see the dark clouds drawing near. A few deep grave rumble here and there. Soft water pellets land on your windowsill which gradually change into fat drops. You rush to close all the windows in your house lest it floods in.
You watch the world bath in its glory…the trees swaying their boisterous branches, dancing away…the leaves singing  "srabon er dharar moto… "
Inevitably it's a romantic weather.
A romantic weather demands some easy to cook food…so that you can spend your time slouching under your blanket with a book in hand, while the food can be cooked in a jiffy.
So, what's the best way to satisfy your tummy this monsoon?
Well, since it is monsoon, it's Khichdi Time!
Khichdi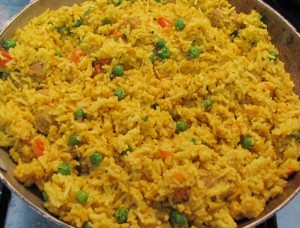 Time- 10 minutes
Serves- 3
Ingredients- ½ cup basmati rice, ½ cup moong dal/spilt and dehusked green gram, 1.5 tbsp ghee, ¼ tsp turmeric powder, 1 tsp cumin seeds, peas, rock salt or regular salt as required
Directions- Rinse both the rice and dal together for a couple of times in water. Heat the ghee in a pressure cooker. Crackle the cumin, then add the turmeric powder and stir. Add the rice and moong dal. Saute for a minute. Add 4 to 4.5 cups water. Add peas. Season with salt. Stir and then pressure cook the khichdi for 5-6 whistles.
The 5 fries (bhaja)
Fried Potato, Fried cauliflower, Beguni (Fried Eggplant), Peyazi (Onion Fritters) and Ilish mach bhaja (Fried)
Since you know how to fry your fish, and the potato and cauliflower are fried the same way as the eggplant and onion, I'll just jot down two recipes here.
Beguni (Fried Eggplant)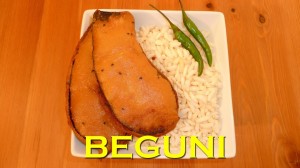 Time- 10 minutes
Serves- 10
Ingredients- 2 eggplant, Salt to taste, 1 teaspoon sugar, 2 cups besan flour, 1/2 teaspoon red chili powder, A pinch of turmeric powder, A pinch of hing (aesofetida), 2 cups oil
Directions- Cut eggplant into longitudinal thin slices. Add salt to taste. Set aside.Make a batter of 2 cups besan. Start to add water little at a time to make a smooth and thick batter. Add salt, red chili powder, pinch of turmeric powder, pinch of hing.Heat oil in a deep fryer. Coat the eggplant in batter. The oil should be hot. Slowly release the coated eggplant in oil. Fry till each side is golden brown. Place it on a towel to let the excess oil be soaked.
Peyazi (Onion Fritters)
Time- 10 minutes
Serves- 4
Ingredients- 2 to 3 medium sized onions, 2 cups gram flour or besan, ½ tsp red chilli powder, ½ tsp garam masala powder, ¼ tsp turmeric powder/haldi (optional), ¾ tsp ajwain or carom seeds, a pinch of asafoetida/hing, Oil, water as required, salt as required
Directions- Peel the onions. Rinse and slice them thinly. Add the chilli powder, garam masala powder, asafoetida, salt and chick pea flour to the sliced onions. Add water and mix it to a thick and smooth consistency. Now heat the oil in a deep frying pan. Take a teaspoonful of the onion batter and add it in the oil. On a medium heat fry the onion fritters till golden brown.
Labra (Mixed Vegetables)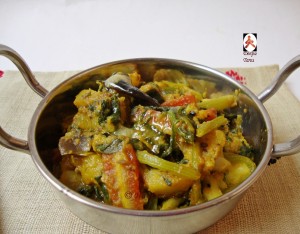 Time- 15 minutes
Serves- 2-3
Ingredients- 100 gm eggplant, 100 gm Pumpkin, 100 gm Sweet potatoes, 1 Raw bananas, 2 Potatoes, 3 Tbsp Mustard oil, 1 Tbsp Corainder Seeds, 1/2 tsp Cumin Seeds, 1/2 tsp Fennel Seeds, 5 Red Chilies, 1 inch Ginger, 1/4 tsp Turmeric powder, 1 tsp Sugar, 1 Tbsp Ghee, mixed seeds(1/4 tsp Mustard Seeds,1/4 tsp Cumin Seeds, 1/4 tsp Fenugreek Seeds, 1/4 tsp Bleck Cumin Seeds, 1/4 tsp Fennel Seeds)
Directions- Cut the vegetables into medium size pieces. Powder the corainder, cumin and fennel seeds, and red chillis finely. Heat oil, add the crushed ginger and fry lightly. Add the mixed spices called ' panch phoran' and stir fry for a minute. Add vegetables, fry well, cover and cook for 10-15 minutes. Add turmeric powder, salt, and one cup of water. Simmer the flame and cook until vegetables are done. Add the powdered spices, sugar and stir well. Cook for another few minutes adding ghee.
Tomato Chutney
(to be served with some Fried Papad, optional)
Time- 10 minutes
Seves- 5
Ingredients- 500 g tomato, chopped, 4 cm piece ginger (peeled and chopped), 250g brown sugar, 150ml red wine vinegar, 5 cardamom seeds, ½ tsp paprika
Directions- Tip all the ingredients into a large heavy-based pan and bring to a gentle simmer, stirring frequently. Bring to a gentle boil so that the mixture turns dark, jammy and shiny.
Payesh ( a rice dessert)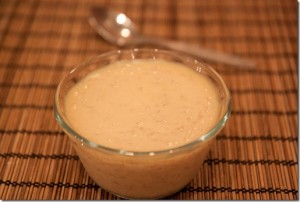 Time- 30 minutes
Seves- 2
Ingredients- 1cup basmati rice, 10 almonds sliced, 1 tbsp raisins, 2 tsp melted ghee, 3 green cardamoms, 2 litres milk, 1 cup jaggery grated jiggery, 1 tbsp sugar
Directions- Clean and wash the rice. Blanch the almonds and slice. Wash the raisins.Heat a tablespoon of ghee. Add the rice. Stir it for a little bit till it becomes opaque. Take it off the heat.Boil milk. Lower the heat up and continue to boil stirring constantly for fifteen minutes.Mix in the rice and continue to stir fry till the rice is soft. Continue to stir fry till the milk has reduced to half.Mix in jaggery. Mix in sugar. Mix in the cardamoms, almond slices and raisins (if using) and stir well. Serve hot or cold.
Recipe Courtesy – vegrecipesofindia.com, allrecipes.com
Image Courtesy – hamareerasai.com, seriouseats.com, bongcook.com, thesecondlunch.com