The Monsoon brings with it the chilly winds and pleating rain. The beautiful weather, accompanied with just the right food, can make your day perfect. Here's a list of the stuff you can hog, without having to worry about your health, and how it can be made!
Hot Soups:
Vegetable soups are a great option to indulge in the rainy season. Warm nutrition-packed veggie soups will not just help you stay away from cold and flu, but also help you stay healthy and hydrated.
Vegetable soups are also the easiest thing to cook, among other soups.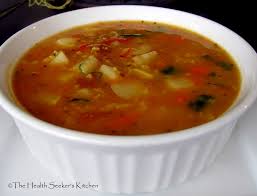 Ingredients:
1 tablespoon of olive oil
1 onion, diced
3 cloves of garlic, minced
2 potatoes, diced
2 carrots, diced
1 cup of green beans, cut into smaller pieces
2 cups of spinach*
1 can of diced tomatoes
2 tablespoons of tomato passata
4 cups of chicken stock
Salt and pepper
Sour cream (optional)
There are no hard and fast rules.Quantities of vegetables can be adjusted according to your taste and requirement and you are allowed to use any vegetables that you have on hand.
Method:
1. In a big saucepan on low to medium heat, add oil and saute the onion for a couple of minutes
2. Add garlic, saute for a further minute
3. Put heat up to medium and add all the vegetables to the saucepan, saute for five minutes
4. Add diced tomatoes and passata, stir through for a minute
5. Add chicken stock and bring it to the boil
6. Turn down the heat and let it simmer on low to medium heat for 25-30 minutes – add salt and pepper to taste
7. Serve with crusty bread and a dollop of sour cream (optional)
Tea:
Have tea, especially herbal ones- this will keep bouts of influenza away. Herbal teas are also good for digestion. Now there are two methods you can use. One of them is to buy herbal tea bags, in which case, all you have to do is dip them in hot water and add milk and sugar as per instructions.
Ginger tea, however, is another easy alternative.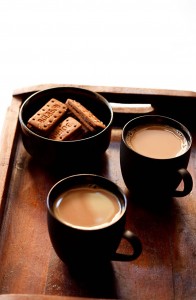 Ingredients
4 cups water
3-4 black tea bags or 3-4 tsp black tea leaves
2 inch ginger for a strong taste or 1 inch ginger for a milder taste, peeled & either crushed or grated.
3-4 cardamom, crushed or powdered in a mortar-pestle(optional)
½ to ¾ cup regular milk or cashew milk or soy milk – add more if you want a milky tea
8 tsp unrefined organic cane sugar or add more for more sweetness
Instructions
In a saucepan or kettle, add the water, crushed ginger and crushed cardamom with the peel.
boil this water-ginger-cardamom mixture for a good 6-7 minutes, till the color of the water changes to a mild yellowish hue. the ginger releases its juices and flavors in the water and thus the color of the water changes.
add sugar and simmer for a more of 1-2 minutes.
now add the tea leaves or tea bags and simmer for 2-3 minutes till the water gets a deep hue of red.
add milk. simmer the tea for 2-3 minutes if using regular milk or soy milk.
if using cashew milk or almond milk, then just stir the cashew milk with tea and remove from pan as otherwise heating further would cause the cashew or almond milk to become slimy and separate.
strain the tea through a strainer right into the cups.
serve the hot ginger tea or chai or adrak chai with indian snacks like pakoras or samosas. you could also serve the ginger tea with biscuits or cookies.
Pakoras:
Mouth watering pakoras are yet another dish that are a must have during the rainy season. A cup of hot tea and a plate of pakoras are an unbeatable combination. You can choose from various kinds of pakoras ike onion pakora, spinach pakora, potato pakora, paneer pakora, green chili pakora and it goes on. Here's how you can make Onion Pakoras.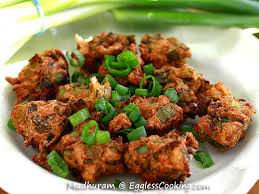 Ingredients
2 to 3 medium sized onions
2 cups gram flour or besan
½ tsp red chilli powder
½ tsp garam masala powder
¼ tsp turmeric powder/haldi (optional)
¾ tsp ajwain or carom seeds
A pinch of asafoetida/hing
Oil for shallow frying or deep frying – sunflower oil or any neutral flavored oil
water as required
salt as required
Instructions
Peel the onions.
Rinse and slice them thinly.
Add the chilli powder, garam masala powder, asafoetida, salt and chick pea flour to the sliced onions.
Add water and mix it to a thick and smooth consistency.
Add little water in the beginning as the onions will release water later and so the batter becomes too watery.
The pakoras won't turn out good if the batter becomes watery.
You can add more besan if you feel the batter is not thick and smooth. You can always adjust the content of besan and water by adding it more if you feel you have not got the right consistency.
Now heat the oil in a deep frying pan. Take a teaspoonful of the onion batter and add it in the oil. On a medium heat fry the onion pakoras till golden brown.
Serve onion pakoras hot with tomato sauce, green chutney and bread or pav.
So go ahead and make your taste buds dance this monsoon!
.