Kolkata. The City of Joy.
Kolkata. The land of literature and poetry.
Kolkata. The land of 'tok-jhal-mishti'.
Kolkata. The city of history and heritage.
Kolkata. The Cultural Capital of India.
Kolkata. The city of street food.
Food as we know goes hand in hand with culture. Street food- the very culture of which began in Kolkata and it holds great importance in the city. Unlike other cities where there are particular areas where you can expect to find chaat-walla, gol-guppa walla and nimbu-pani wale bhaiya, in Kolkata you will find road-side vendors at every nook and crack of the city selling some or the other snack. Once you have lived in Kolkata and if you move out, more than your family you will miss the food- this is a popular belief. I was born and brought up in this city and I have explored all the possible street food items that are available here, being the foodie that I am. So here is a list of the 16 most delicious and mouth-watering street food items found in the City of Joy which sure will leave all of you wanting for more.
1. The all-time favourite: Puchka and Churmur.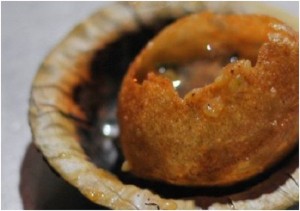 This is one of the most iconic street food items and it is an all-time favourite. As we know it, puchka belongs to the Gol-guppa or the Paani puri family, which are the other variations found in other parts of the country. But puchka, as called in Kolkata is thought to be the King of all variations. It contains numerous spices and comes in lot of variations like- 'Doi puchka or dahi puchka' which has curd. This is one of the specialities of Kolkata. The spiced mashed potato along with the tamarind or 'misthti jol' (Sweet water) in the crunchy puri is sure to make you drool.
2. Jhalmuri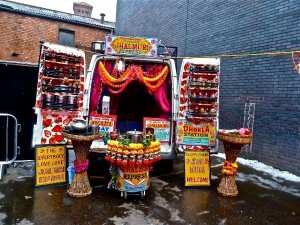 This is another speciality of Kolkata. This is so famous that it has made a mark for it across continents. It consists of puffed rice, spices, chanachur or bhujia, chopped onions, chilly and nuts. It might also have coriander, tomatoes and a coconut slice. This is a food item which can be modified according to the customer's choice. Jhalmuri is served in old newspaper cones, something which has been an old tradition now.
3. Roll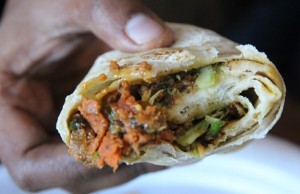 The rolls found in Kolkata are definitely the most delicious ones you will ever eat. The Kathi roll is again a speciality of this city. Basically a parantha is filled with the stuffing of one's choice (for example Aloo, paneer, tandoori chicken, egg, etc.) and it rolled up, which the customer is supposed to hold in the hand and eat. Rolls are a favourite of the students or office-workers because it is not only tasty, it is also filling and affordable.
4. Samosa or Shinghara
Usually it is an evening snack, enjoyed with a cup of hot tea. It is a triangular shaped baked of fried pastry and it has a stuffing of mashed potatoes and is served with mishti chutney. They may have variations where the stuffing comprises of paneer, minced mutton, keema, etc.
5. Telebhaja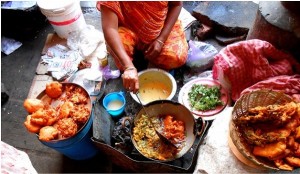 Quintessentially Bengali, telebhaja means fried items. In every corner of the street you will find small road-side stalls selling fried items such as 'Beguni, aloo'r chop, pyaaji, phuluri, etc. They are excessively oily but they taste heavenly. This is one item every Calcuttan definitely misses when they leave.
6. Ghoogni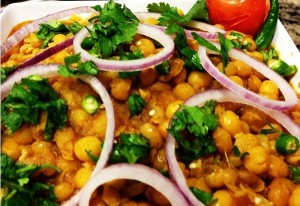 This is a typical Bengali dish and it comprises of Yellow dried peas, onions, chilly, coriander, tomatoes, and seasoned with spices. One may also add sliced carrots and coconut. It is mixed with the peas and served hot in a dry leaves bowl. Some Bengalis also enjoy ghoogni with puffed rice.
7. Chowmein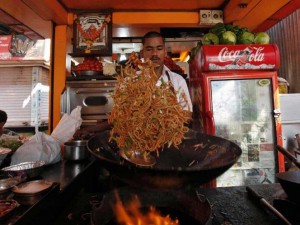 You might be wondering how this dish is street food? Well in Kolkata it is. You will find street-side stalls where hot and spicy chow is pan fried or stir fried with added vegetables or egg or chicken and served in plastic plates. You have to try it and then you will never want to have chow in a restaurant again.
8. Jalebi or Jilipi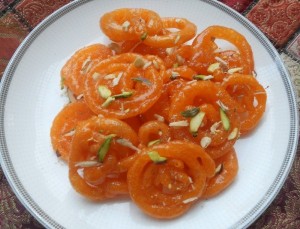 Jilipi as Bengalis love to call it, it a unique type of sweet. One can never say what it exactly taste like because it is crispy, chewing, and soft all the same time. Kolkata has a special variation of jalebi called the 'Channa'r jilipi' which is made of channa or thick, fresh cottage curd cheese.
9. Fish Cutlet or fish fingers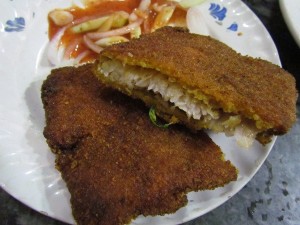 As we all know it, Bengalis love fish. Fish and even chicken cutlets once again can be found in and around every street corner and is enjoyed by all. These are really tasty snacks which are mouth-watering and very inexpensive.
10. Cha, Chaai in Earthen cups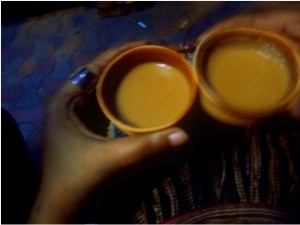 Chai is available everywhere in the country. Then what makes Kolkata's chai so special? The USP of the tea served here is that it is served in 'Bhaanr' or earthen cups. Every Calcuttan who has had chai in earthen cups will know that it adds a characteristically different flavour to the tea. The road-side vendors do add spices if the customer demands.
These are the list of 10 street-food items which are delicious and will totally satisfy your taste buds. So all the foodies out there, next time plan a trip to Kolkata and trust me you will not be disappointed!