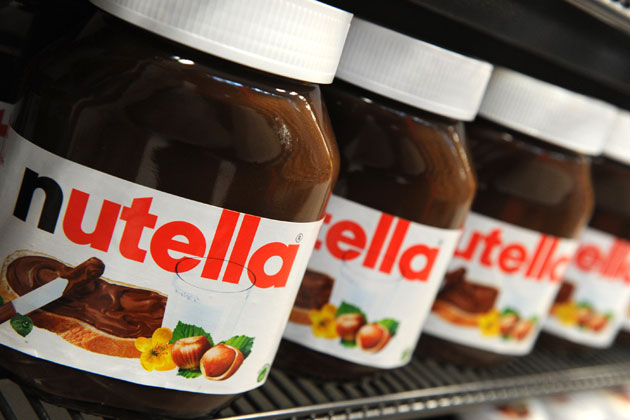 Have you heard about Nutella Chocolate? Freaky Question. I Know! Nutella, the hazelnut chocolate spread, is deliciously, awesomely, supertasty, lovely, chocolaty, creamy, fancy, uber, yum, nutty thing. You just need a spoon and there you go. Eat it and keep eating it and spreading it on breads, cookies or cakes or on anything you want. And the fascinating thing, you know 5 February,2014 is celebrated as Nutella Day. Nutella lovers must have beautiful memories with nutella from their childhood to even now,  from oozing crepes to breakfast on vacations to free spooning sessions on the couch, nutells has prominent place in almost everyone's lives. And now, the nutty chocolaty spread is turning 50. So let's just celebrate its half century and know more about this awesome spread.
Nutella is the brand name of a hazelnut chocolate spread, which is manufactured by the Italian company Ferrero and was introduced in the market in 1964. Made by young confectioner , who had a vision of an affordable luxury made of a small amount of cocoa and lots of hazelnuts, His name was Pietro Ferrero. What's in Nutella? If count on the ingredients and the nutrition, here's what goes in Nutella? Well, in numbers if I say, 97 hazelnuts goes in each 750 grams jar. The other ingredients being, sugar, skimmed milk powder, palm oil(non-hydrogenated), low-fat cocoa, whey powder, vanillin, emulsifier. The nutritional information per 100 gram of nutella spread is 544 kcal, sugar 56.7g, fat 31.6g, protein 6g. It is produced on huge scale in 11 factories located in Italy, france, Poland, Russia, Germany, Mexico, Canada, Turkey, Brazil, Australia. Well, the ingredient hazelnut, is good for health of your heart, making it fairly nutritious food to occasionally include into your healthy eating plan. Nutella is beneficial for you, though you do get very small amount of key nutrients from nutella like saturated fat and sugar. Occasional intake of saturated fat is good for heart in maintaining cholesterol levels and do not harm your health. But you should limit your consumption and have in moderation as excess is always bad.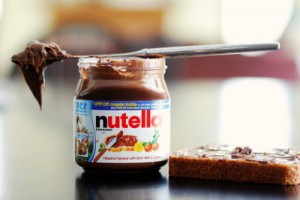 Gone are the days , you were caught with a a spoon in the nutella jar, now we have some super awesome tips and tricks to put this spread into versatile uses and as an ingredient in various sweet pick ons. Just go through and give variety to your breakfast.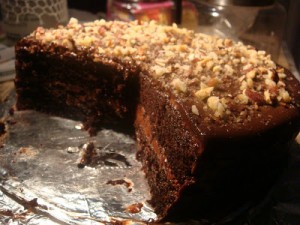 NUTELLA CAKE RECIPE:
Serving: 6-8                                                                                                      Preparation Time: 20-25 minutes
Ingredients: 100 gram nutella
4 eggs
100 gram butter
200 gram castor sugar
200 gram self-raising flour
½ tsp baking powder
1 tsp cocoa powder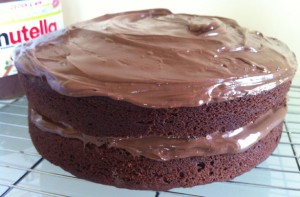 Method: Preheat the oven at 220 degrees Celsius and grease the baking dish with oil or lina 9 inch cake tin with greaseproof paper.
Well, First In a large mixing bowl, whisk all the ingredients together with a hand blender or electric blender. Once mixed and blended well, pour the batter into the cake tin making sure that you have got the even amount in it.
Bake it for 20-25 minutes until spongy soft to touch.
You can bake two cakes if you want a two layer cake. Now, take it out of the oven and let it cool down on a rack. When the two cakes are warm, not hot enough, decide which layer of cake is going to be a base and spread it with thick layering of nutella.
Now, Pop the other cake onto the nutella layer and press it firmly, sandiwiching them together. Spread more nutella layer on the top of cake and decorate it with strawberries or cherries or Cadbury shots or gems or use any other creativity of your own.
If you're a big nutella lover, you will enjoy this recipe all the more. As, this is a rich chocolate cake with a thick nutella topping, this is perfect treat for nutella and chocolate lover. This delicious, mouth watering delicacy can be served with a dollop of vanilla icecream or thick cream and enjoy it.
Also, some more lovely recipes are here to make with nutella;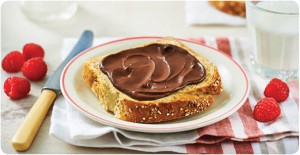 Spread it on a toast or bread or waffles with peanut butter and nutella on it . Quite a basic recipe but is loved the most.
You can slice the banana lengthwise and put nutella on it. Also, you can slice up apples thinly in circle pieces and put nutella on slices and sandwich them. Even, you can dip strawberries in nutella and eat them. Putting nutella on fruits make them all the more sweeter and gives an exotic taste, enjoyed by all.
Make a nutella shake with milk and blender. You can drink your nutella if you don't like licking it from spoon and bored from spreading it.
You can frost banana cupcakes or any other cupcakes by nutella and vanilla swirl buttercream. Just looks and tastes yum.
Make a nutella covered bacons and enjoy them.
Put nutella on your icecream cups or cones and enjoy the deliciousness, richness and the iciness.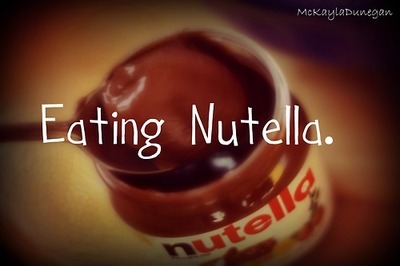 Nutella goes with anything to everything and makes things sweeter. Just perfect to satisfy your sweet tooth with the hazelnut delicacy. Enjoyit and keep eating till it gets over. Then, bring it more and eat it more and repeat.
Keep licking it. Keep spreading it. Because; Happy Eating is Happy Life.