Sauces are the splendor and glory of French cooking.
-Julia Child
I remember ordering an egg roll at Bedwin, a well known roll shop here in Kolkata. (To those who love their rolls, kindly don't take offence) They served the egg roll with potato and onion filling and no ketchup or sauce of any kind. A healthy roll. Well, for me, that's not a roll – it's chapatti with potato and egg. I mean, where's the sauce?
A roll without sauce is not a roll. Period.
A sauce, whoever insignificant it may seem, adds flavor, moisture and visual appeal to a dish. Nowadays, most of the sauces are store bought, like Soy Sauce, Tomato Sauce, Worcestershire Sauce and the like. But by watching Masterchef, the one thing I have learnt is that there's nothing like a fresh home-made sauce. The taste of a store bought one is nowhere near its zing.
Anyhow, here are a few easy-peasy sauce recipes for you to try out (some even take less than 15 minutes to make) –
Barbeque Sauce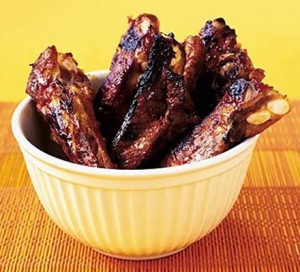 Time- 30 minutes
Makes- 450 ml
Ingredients- 1 tbsp olive oil, 1 onion (finely chopped), 400g can chopped tomatoes, 3 garlic cloves (finely chopped), 85g brown sugar, 3 tbsp malt vinegar, 2 tbsp Worcestershire sauce, 1 tbsp tomato purée
Directions- Heat oil in a saucepan and add the onion. Cook over a gentle heat 4-5 minutes, until softened. Add remaining ingredients, season and mix. Bring to the boil, then reduce heat and simmer for 20-30 minutes, until thickened. For a smooth sauce, simply whizz the mixture in a food processor or with a hand blender for a few seconds.
White Sauce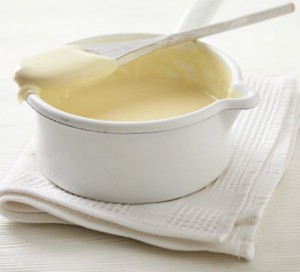 Time- 15 minutes
Makes- 500 ml
Ingredients- 500ml whole milk, 1 onion (halved), 1 bay leaf, 2 cloves, 50g butter, 50g plain flour
Directions- Gently bring the milk to the boil in a small saucepan with the onion, studded with the bay and cloves (step 1, above). Turn off the heat and leave to infuse for 20 minutes.Melt the butter in another saucepan, and add the flour. Stir continuously until a paste forms (step 2) – this is called a roux. Continue cooking for 2 minutes.Remove the onion, bay and cloves from the milk with a slotted spoon and discard. Add the infused milk to the roux gradually, stirring as you go, until you get a smooth sauce (step 3). Cook for 5-10 minutes, stirring continuously, until the sauce has thickened. Season well.
Tomato Sauce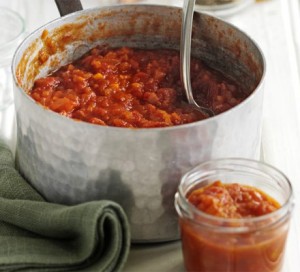 Time- 50 minutes
Serves- 8
Ingredients- 4tbsp olive oil, 2 onion (finely chopped), 2 carrots (finely chopped), 2 celery sticks (finely chopped), 2 garlic cloves (crushed), 2 bay leaves, 1 tsp sugar, 4 x 400g cans chopped tomatoes
Directions- Heat the oil in a pan and add the vegetables and bay leaf. Stir in the sugar with some salt. Gently cook for 10-15 minutes until the vegetables are tender. Stir in the tomatoes and 150ml water. Simmer very gently for 30 minutes until the sauce has reduced by two-thirds and is very thick. Stir occasionally, particularly towards the end of the cooking time, so that the sauce doesn't catch on the bottom. If you like your sauce a little thinner, then add a splash of water. Serve half with pasta and chill or freeze other half in 1-2 batches for later use.
Pesto Sauce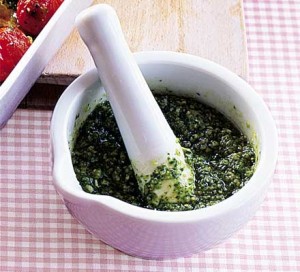 Time- 10 minutes
Makes- 250 ml
Ingredients- 50g pine nuts, large bunch of basil, 50g parmesan (or vegetarian alternative), 150ml olive oil (plus extra for storing), 2 garlic cloves
Directions- Heat a small frying pan over a low heat. Cook the pine nuts until golden, shaking occasionally. Put into a food processor with the remaining ingredients and process until smooth, then season.Pour the pesto into a jar and cover with a little extra oil, then seal and store in the fridge. It will keep in a fridge for up to two weeks.
Bread Sauce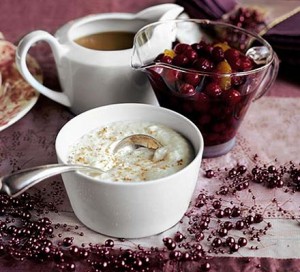 Time- 25 minutes
Ingredients – 600ml milk, 50g butter, 1 onion (chopped), 6 cloves, 6 peppercorns, 2 garlic cloves, 1 bay leaf, 3 thyme sprigs, 100g white breadcrumbs, 4 tbsp single cream or mascarpone, pinch nutmeg (freshly grated)
Directions- Simmer the milk, butter, onion, cloves, peppercorns, garlic and herbs in a pan for 20 minutes. Strain and return the liquid to the pan. Add the breadcrumbs and simmer for 3-4 minutes. Stir in the cream or mascarpone. Add nutmeg, season and serve. Can be made up to 3 days in advance and heated up on the hob or microwave on Medium for 3 minutes.
Caramel Sauce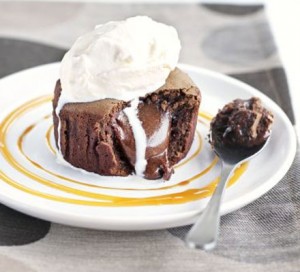 Time- 10 minutes
Servess- 10
Ingredients- 250g caster sugar, 142ml pot double cream, 50g butter
Directions- Tip the sugar into a heavy-based frying pan, stir in 4 tbsp water, then place over a medium heat until the sugar has dissolved. Turn up the heat and bubble for 4-5 minutes until you have caramel. Take off the heat, and then carefully stir in the cream and butter. Leave the sauce to cool, and then tip into a bottle.
Butterscotch Sauce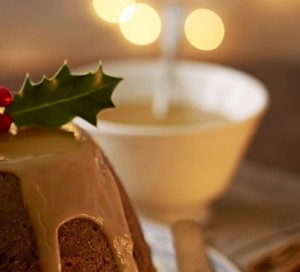 Time- 10 minutes
Serves- 8
Ingredients- 100g caster sugar, 25g butter, 300ml pot double cream
Directions- Dissolve the caster sugar with 3 tbsp water over a low heat. Bring to the boil but don't stir at all. When the sugar is a dark golden caramel, whisk in butter. Remove from the heat and stir in double cream.