Summer is here and so is the sickening heat. So, you need to start planning your summer cooking. I promise this will prove to be a boon later. You need a smart menu to get your way through. Jot down family meals which are simple, less time consuming, healthy and definitely not fussy.
Remember to drink loads of water throughout the day. This will help you get rehydrated and keep headaches at bay. The fitter you are the better. Since in summer it is quite hot most of the time, when you are shopping, shop at one go so you won't have to keep going back. Always make a list before shopping. Be guided by your head, not your stomach. Learn to keep a well-stocked store cupboard and replace things as you use them. Store food in fridge and freezer – this way, you can make several meals in case of an emergency.
My Summer Collection –
Cheesy Scrambled Egg Croissants (Quick and simple yet incredibly mouth – watering)
[Good source of Calcium; Suitable for vegetarians; Not suitable for freezing]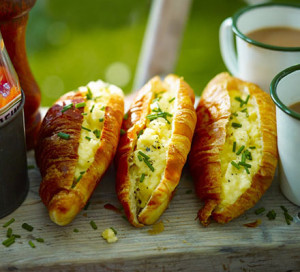 Time: 7 minutes
Serves: 4
Ingredients: 8 large eggs, 100g grated cheddar, a splash of milk, chives, 4 large croissants, salt, pepper
Method: in a bowl whisk the eggs, cheddar, milk and some seasoning. Pour into a saucepan and heat gently, stirring continuously, until softly scrambled. Stir in a small bunch snipped chives, then split open 4 croissants and put the scrambled eggs inside.
Spicy Crab Courgette Flowers (Courgette flowers are generally in season in summer. This is a must-have dish)
[Gluten free; Not suitable for freezing]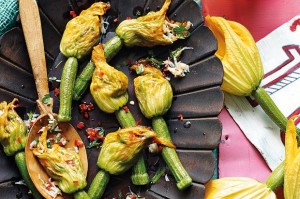 Time: 20 minutes
Serves: 5 (makes 10 flowers)
Ingredients: 100g fresh white crab meat, 1 red chilli (finely chopped), 1 tsp white wine vinegar, 1 tsp freshly chopped flat-leaf parsley, 10 baby courgettes with flowers, 1 tbsp olive oil
Method: Mix together the crabmeat, chilli, white wine vinegar, parsley and some seasoning. Carefully fill the courgette flowers with this mixture. Twist the top of each flower to make sure that no filling comes out when cooking. Don't overfill them. Once you have stuffed all the flowers, heat the oil in a frying pan over medium heat and add the courgettes. Cook on all sides for about 6-7 minutes. Serve immediately.
Bang Bang Chicken with Sichuan Salad (A hit among friends and family)
[Good source of Folate; Not suitable for freezing]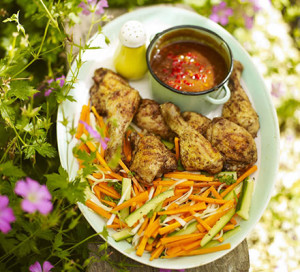 Time:  1 hour 5 minutes
Serves: 4
Ingredients:
For the salad – 1 tsp Sichuan peppercorns, 1 large cucumber (peeled, deseeded and cut into matchsticks), 1 bunch spring onion (shredded), 1 tbsp sesame oil, juice ½ lime, handful chopped coriander
For the chicken – 1 kg pack chicken drumsticks or thighs, 1 tbsp olive oil, 1 tsp Chinese five-spice
For the sauce – 140 kg chunky peanut butter, 100ml low-sodium soy sauce, 1 tbsp rice vinegar, 1 tbsp toasted sesame oil, 2 tbsp granulated sugar, 2 red chillies (deseeded and finely chopped)
Method: Toast the peppercorns in a small frying pan until they begin to darken. Remove and cool, then crush with a large pinch of salt using a pestle and mortar. Mix in a bowl with the cucumber. Set Aside. Put the chicken in a bowl and rub in the oil and five- spice, leaving to marinate for an hour or use straight away. Cook on the barbeque, turning regularly, for about 35 to 40 minutes until the juices run clear. Whisk together all the ingredients for the sauce until smooth, adding water if needed. Drain the cucumber and mix through the carrots, spring onions, sesame oil, lime juice and coriander. Serve everything on a big platter.
Spinach with Raisins and Pine Nuts  (easy to make and very healthy. You can use other nuts as well.)
[Suitable for vegetarians; Low fat; Gluten free; Not suitable for freezing]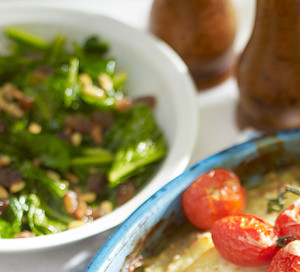 Time: 15 minutes
Serves: 6
Ingredients: 2 tbsp olive oil, 2 rounded tbsp pine nuts, 2 rounded tbsp raisins, 500g baby spinach leaves, 2 tsp balsamic vinegar
Method: heat the oil in a large pan, add the pine nuts and fry until golden. Add the raisins and fry briefly, then add the spinach leaves and turn in the pan over a fairly high heat until the leaves are just wilted. Sprinkle in the balsamic and seasoning, warm through and serve straight away.
Tomato Tart (A Mediterranean-inspired elegant summer tomato tart. Dig in!)
[Suitable for vegetarians; not suitable for freezing]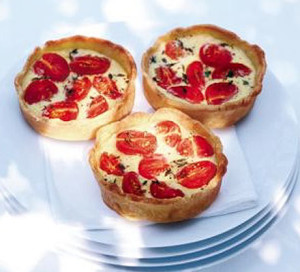 Time: 1 hour 20 minutes
Serves: 4
Ingredients: 3 whole garlic bulbs, 2 tbsp olive oil, 375g block all-butter puff pastry, 1 ½ tbsp honey Dijon mustard, 325g cherry tomatoes (halved), 1 egg (beaten), 150g pack soft goat's cheese, handful basil leaves
Method: Heat oven to 180C . Slice the tops off the garlic bulbs and sit on a sheet of foil. Drizzle over 1 tbsp of the oil, season and wrap into a parcel. Roast for 50 minutes or until soft, then leave to cool (this can be done the day before). Use a sharp knife to cut the pastry into quarters. Roll out each piece and cut into 14cm- diameter circle. Use a saucer as a guide if you don't have a cutter. Pop the circles on a baking tray and score a 1 cm border around the edge of each, being careful not to cut all the way through. Avoiding the border, prick the pastry all over with a fork and then chill. Increase oven to 200C. When the garlic is cool enough to handle, squeeze the flesh from the bulbs into a bowl. Add the mustard, remaining oil and some seasoning, and use a fork to mash to a paste. Spread this over the pastry, leaving the border clear, then top with the tomato halves, skin inside down, and season well. Brush the edges of the pastry with egg, crumble over the goat's cheese and bake for 25 – 30 minutes until the pastry is golden and crisp, and the tomatoes are starting to shrivel. Remove from the tray and allow to cool to room temperature. Scatter over the basil before serving.
Recipe and Image Courtesy – bbcgoodfood.com