When you want a sumptuous breakfast, that too under 150 bucks, where do you go?
You go to Blue Sky Café.
With burgers and grilled sandwiches priced in the range of 55 to 100, and mouth watering omelets, and yummy milkshakes with just the right amount of sugar – there seriously ain't much to think about, is there?
I breakfasted there on 10th of this month; had a Mushroom Chicken Cheese Omelet with some toast and shot all the cheese down (tried) with a glass of Hot Lemon. The food was well-prepared and simply delicious.
I seriously need to thank Rachaita (college buddy) for taking me to all these awesome food places. The last time we were internship hunting, we ended up having Chilly Pork (around Rs 200) at Chung Wah, a splendid restaurant in Chandni Chowk (mind you, if you do not know where it is, ASK! Not that people were of much help in our case; we ended up walking for more than 40 minutes trying to locate the place.)
And how can I proceed without sharing a home-made recipe of the divine Chilly Pork?
Chilly Pork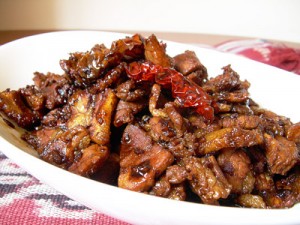 Time: 40 minutes
Serves: 4
Ingredients: 800g pork fillet (cut into thin slices), 1tbsp soy sauce, 2 tbsp mirin, 2 tbsp hoisin sauce, 2 tbsp sesame oil , 1 tsp dried chilli flakes, 3 tbsp sunflower or vegetable oil, 4 garlic cloves crushed with the flat of a knife, 3 red chillies (cut in half lengthways, de-seeded), 6 spring onion bulb (halved), 1 tbsp soy sauce, 2 tbsp granulated sugar, 2 tbsp roasted peanuts, 350g jasmine rice (steamed)
Directions: Mix together the soy sauce, mirin, hoisin sauce, sesame oil and chilli flakes in a shallow dish. Coat the pork in the marinade and chill in the fridge for 15 minutes. Heat a wok over high heat and add one tbsp of oil. Add half the pork and stir-fry for 1-2 minutes. Remove pork from wok and stir-fry the remaining pork for 1-2 minutes. Remove the pork from the wok. Heat the remaining tblsp of oil in the wok and add the garlic, chillies, one tbsp of water and the onions. Stir-fry for 1-2 minutes. Cover with a lid and cook for another 1-2 minutes. Add soy sauce and sugar and return the pork to the wok. Cook for a final minute. Garnish with roasted peanuts and serve with steamed rice.
The other day, on our way to browse books in College Street, we stopped at Dilkhush, which is situated exactly opposite to the famous sari shop, Adi Mohini Mohon Kanjilal. And Google to the rescue, the specialties are: Mutton Breast Cutlet and Dimer Devil (Devilled Eggs). As expected, we had both. The total bill came down to a mere 113 bucks. Well, about the food – the crunch, the aroma, the taste – purely nectarous. So, I'll just keep my mouth shut and allow your taste buds to do all the talking.
Mutton Breast Cutlet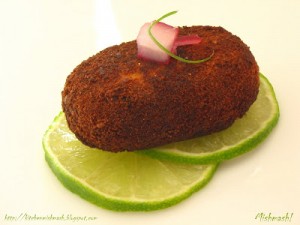 Time: 20 minutes
Serves: 4
Ingredients:
For Marinating- 8 pieces mutton ribs or chops, 2 tsp ginger paste, 2 tsp garlic paste, 1 tbsp of mint leaf paste or coriander paste, 1/2 tsp of coriander powder, 1/2 tsp of cumin seed powder, 1 tbsp of golden fried jullienes of onion, 1/4 tsp garam masala (powder of equal quantity of cardamon, clove, cinnamon sticks), 2 tsp of lemon juice
For the batter: All purpose flour, 2 eggs whites, bread crumbs, pinch of baking powder, oil
Directions:
To prepare the meat- Take the mutton chops/mutton ribs and flatten the meat using a wooden hammer or any heavy kitchen tool. the flesh on the bone should be scrapped. In the marination bowl add all the marination ingredients and mix well with yogurt or lime juice. Add the mutton chops and smear the marination on it. Refrigerate it overnight. Add the Baking powder with the flour and sieve it.
To fry- Take the Mutton chops and dip it in egg white. Dust it with flour and then coat it with bread crumbs. Take a heavy bottom flat frying pan. Add Oil and let it heat up. Slowly add the Mutton chops and fry till golden brown. Serve it hot with cold coriander chutney
Devilled Eggs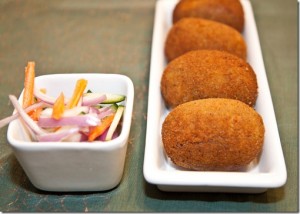 Time: 30 minutes
Serves: 2
Ingredients: 3 eggs, 1 medium potato, 1 medium onion, carrot or beet, Other vegetables as per availability, ginger and garlic, green chilies, hing (asafoetida), jeera (Cumin), garam masala powder, bread crumbs, maida
Directions: Boil 2 eggs and 1 potato for 15 minute.  Cover the eggs with at least an inch of water. Cut onion, chilies, beans and grate the carrot/beet. Drain hot water, pour cold water (makes peeling off easier) and crack the egg shells. Cut the boiled eggs length wise and pop out the egg yolk in a separate container. Add peeled off potato and the vegetable mixture to the container. Add salt, pepper to taste. Mash them well. Heat a frying pan; put some cooking oil and then the onion pieces. Add the mashed potato-yolk-vegetable mixture. Fill the egg halves with the mixture. In a separate bowl, break an egg carefully and add a spoon of Besan. Add salt, pepper to taste and blend it well. On a pan, pour some bread crumbs. Heat a frying pan and add oil. Follow the sequence – roll the stuffed egg half in egg besan mixture, then in bread crumbs and then lower carefully on the heated oil. Fry well. Do this for each stuffed egg half.
Kolkata is filled with such similar pocket-friendly food places and each is better than the other. For us, college-goers, it sure IS the place to be!