"Rain, rain, go away! Come again another day. " ~
It's raining outside and you can hear the raindrops going pitter patter against the window glass. You strain your ears to hear the splashing of the rain against the sidewalk. It is at that exact moment you realize that the Monsoon season has truly arrived.
With the advent of the rains, you can hardly go out to eat as you are bound to get thoroughly drenched in the process. So what to do to satisfy your inconsolable tummy which seems to have a mind of its own? Or in case some unexpected guests drop in at your home? Not to worry! Here is a list of two yummilicious food items along with their recipes that you can make on your own and that too while sitting in the comfort of your home sweet home. We know that it is pleasure personified to gorge on some tasty snacks along with a hot cup of tea or coffee in your hand on a rainy day. So, there you go. Read on as we help you accomplish that goal!
(1) ALOO CHAAT:
This is a tasty snack loved by one and all. Diced potatoes (Aloo) are cooked in oil and deep-fried until they are crisp and golden-brown. Then they are garnished with all your favourite things and ready for you to nibble on! But hey! Wait a moment now. Do we spot drooling?
Hint: Use toothpicks instead of usual spoons or forks to get that perfect ambiance of your favourite street food stall.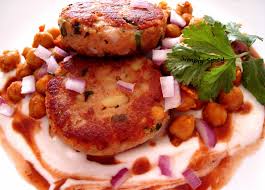 Ingredients:
3 Peeled Medium-sized Aloo (potatoes)
1/2 tsp Red Chilli Powder
1 tsp Roasted Cumin Powder
1 tsp Chaat Masala
Tamarind Chutney
Mint Chutney
Chopped Coriander Leaves
Optional garnish – Chopped onion, Tomato julienne, fresh Pomegranate seeds and oil for frying.
Preparation:
•Dice Aloo (potatoes) into fairly large 3/4 to 1 inch cubes.
•Heat the oil in a wok and deep fry the potatoes till golden brown and cooked through. Drain on paper.
•In a bowl, place the fried potatoes and toss with red Chilli powder, Cumin powder and Chaat Masala.
•Add mint chutney and/or tamarind chutney according to taste and toss to coat evenly.
•Serve sizzling hot with toothpicks in individual bowls garnished with coriander leaves.
•You can also additionally garnish the Aloo Chaat with chopped Onions, Tomato julienne or fresh Pomegranate seeds.
Preparation Time: 20-25 minutes
Serves 2/3
(2) VEGETABLE SAMOSA:
This is a special North-Indian snack which is extremely easy to make and delicious to eat as well. A fried crispy covering with the stuffing of your choice inside leaves you craving for yet more. It is roughly triangular in shape usually but the size can vary from place to place.
Hint: Potato acts as the binding agent here. So, be sure to be liberal with that while stuffing!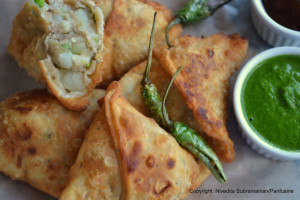 Ingredients For Cover:
3-4 cup all purpose flour (Maida)
Water to Knead dough
2 tbsp oil
Little salt
1/4th tsp Ajwain seeds (optional)
Ingredients For Stuffing:
3-4 Potatoes (boiled, peeled and mashed)
1/2 cup Green Peas (boiled)
1-2 Green Chilies (finely chopped)
1/2 tsp Ginger (crushed)
1 tbsp coriander finely chopped
Few chopped Cashews (optional)
Few Raisins (optional)
1/2 tsp Garam Masala powder
Salt to taste
Red chili powder to taste
1/2 tsp Dry Mango powder( Amchur) (optional)
Preparation:
For Cover:
•Mix all the ingredients together in a big bowl except for the water.
•Then, start adding a little water at a time.
•Pat and knead well for several times until a soft pliable dough is made.
•Cover it with a moist Muslin cloth and keep aside for 15 minutes so that the dough becomes firm.
For Stuffing:
•In a bowl, add mashed potatoes and all the dry masala (salt, chili powder, mango powder, Garam masala) and green chilies and ginger. Mix well.
•Add the green peas, cashews and raisins into the mixture.
•Add coriander and keep aside for a while.
To Proceed:
•Take small rolls of dough and roll it into a 4″-5″ diameter circle.
•Cut it into two parts like a semi-circle.
•Now, take one semi circle and fold it like a cone. Use a little water while doing so.
•Place a spoon of filling inside the cone and seal the third side firmly using a drop of water.
•Heat oil in a deep vessel and deep fry till golden brown (medium flame).
•Serve the steaming hot samosas with tamarind chutney.
Preparation Time: 40-45 minutes
Serves 2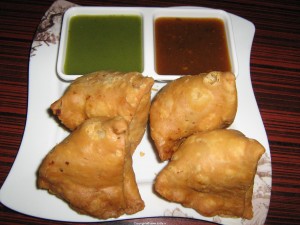 So, what are you waiting for? Come on. Go into the kitchen and get started! Cook these easy to make and irresistible snacks and satisfy those hunger pangs. These lip-smacking items serve to be an instant hit among all your guests as well. We assure you that you won't be disappointed as these snacks will only add to your happiness on what would have been an otherwise dull and dreary rainy day.
Happy nibbling!