Don't you people got bored with the same khichdi and daal all the time in your lunch and dinner? Have some change and make your appetite more interesting and delicious..!! Go on and try some desserts, sweets, ice-creams. What can be more yummy and delicious than Rasgulla..! Rasgulla, the name itself can make you salivate.  The most historical and yummy Bengali dish is famous all over the country and also spread its taste over neighbouring countries like Nepal, Bhutan, Pakistan and Bangladesh. It is a white spongy variant also popularly known as Rossogolla in Bengal.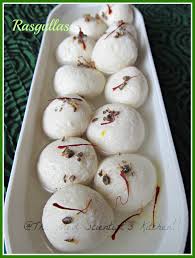 It is a syrupy dessert based on cheese (chhena) is popular in the whole nation mainly in West Bengal and Orissa. It is typically served on various occasions and parties. They are white sweet yummy balls which is spongy and rubbery in nature.
Sri Nobin Chandra Das, who is remembered as the father of Rossogolla succeeded in inventing this National Sweet of India in 1868. He is responsible for modifying this recipe of white variant spongy dish all over the nation. He popularised this sweet dish among various sweet-makers and finally canned rasgullas were prepared to gain this popularity outside Kolkata.
This sweet dish not only popular among parties or dinner instead in Puri this is most widely used as an offering to the Goddess Lakshmi as a tradition. There people believed that Jagannath tried to pacify Lakshmi with these rasgullas and that's why she is offered this as a 'Bhog'. Due to this tradition scholars perceived this offering as the origin of this dish.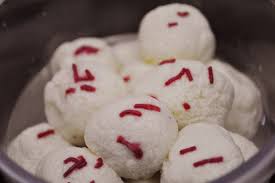 This Bengali sweet doesn't exist as a single rather several variants exist. Starting with Notun Gurer Rasgulla, which are the most famous seasonal variants with the addition of Fresh Jaggery in it. Then comes Kamola Bhog, which is rich in orange flavour.  Originally the rasgullas used to be creamish in colour and less spongy. In Orissa it is very common to embed a piece of cashew or raisin which increases its taste. Conventional Rossogolla, Cream Chop, Sponge Rossogolla, Rajbhog, khasta are another variants that are available in different shapes and sizes. They are generally served to the guest at room temperature but sometimes they are also served them chilled. This is not enough instead hot rasgullas are also famous among Indian household.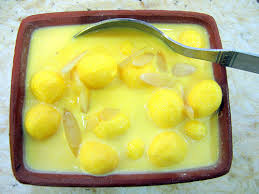 Manufacturers of Rasgullas do not generally disclose the recipe of this sweet dish and it seems that its preparation might be difficult. But it is not so. It has an easy and convenient way. Its preparation initially needs the preparation of Chhena balls and syrup.
Ingredients: Flour (2 tspn), milk (1 litre), sugar (200gm), Lemon juice, Water.
Preparation of Chhena balls:
Initially boil full cream milk and allow it to cool down.
For separating chhena and water add lemon juice to it.
After separation, bundle up the content of milk in muslin cloth and keep it for 6-8 hours so that extra water is drained out.
Now add flour to the Chhena and prepare fine dough.
From that dough make small balls.
Preparation of Syrup:
Boil water and add sugar to it.
After sugar is dissolved then add ½ cup of milk.
Some un-dissolved particle would float which needs to be separated from it to obtain clear syrup.
Add Chhena balls to it and boil it along with the addition of water to it in a span of 15 minutes.
Rossogollas is ready and it needs to be cooled now.
How much delicious this sweet dish is depends mainly on its serving size. The size of rasgullas varies greatly but usually small size of 3.5 oz is preferable. The serving size will directly affect nutritional value of this sweet.
Generally a person believes that sweet dish is responsible for various diseases and they tend to avoid sweets. All the wishes of them are marred. But it is just their perceptions and in reality it is highly nutritious dish after taking your lunch or dinner. This delicious sweet consists of 186 calories (153 calories for carbohydrates, 17 calories for fats and 16 for proteins).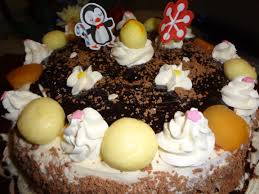 In ancient times Rasgullas are served normally at room temperature but now days demands changed and it has led them to be served chilled. They are also served with Ice cream as a dessert to make ice cream rasgullas. In restaurant to add more cream to this dessert it is served with blueberry sauce. It is entitled as Oriya dessert. Sondesh is similar as rasgulla and is another Chhena dish prepared in Bengal. The Chhena balls prepared is also used in Rasmalai which is popular throughout India. In this sweetened milk is mixed instead of syrup. In Creamy chop chhena is sandwiched in the middle of the clotted cream. This dish is served in various occasions such as marriages, parties and it shows the symbol of your high dignity. This is also served as a welcome dish on various festive occasions.
Go on and try it..!!