RASGULLA-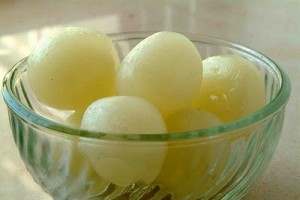 Rasgulla is a dessert which is made primarily from a type of cottage cheese known as chhena, dough and sugar syrup. It's native sweet of Indian state of Orissa, although various types of rasgulla can now be found throughout India. Rasgullas are typically served at social occasions or festivals.
Ingredients-
3 tablespoon Lemon juice, 2 cups sugar, 1 liter milk, I pinch ilaichi powder, ice cubes, nuts, water.
Recipe- Heat the milk, when it start boiling, simmer the flame, add the lemon juice and stir properly. Heat further until when the water clearly separates. Put off the flame. Add some Ice cubes and mix well, ice cubes are added to stop the curdling at that instant. It prevents the chenna to become hard and helps for its soft texture. Take a metal strainer lined with a cheese cloth and then pour the curdled milk in it. Wash it well in the running water under the tap so as to remove the lemon smell and sourness. Then squeeze the excess water gently and hang it for 30 minutes. Squeeze the excess water now. After 1/2 an hour, take out the paneer in a bowl. It will be now more like a crumble look wise. Now knead this for 7-10 minutes gently to make it like a soft and smooth dough. Make smooth small balls of equal size. Apparently take the sugar, elaichi powder and water in a pressure cooker and boil it. After the sugar gets dissolved completely and the syrup boils, add the balls made carefully one by one. Cover the pressure cooker and cook it until you get one whistle in low flame. After a whistle, simmer more and keep it for another 5 minutes. Put off the flame and let the pressure gets released by itself then open the lid to see the rasgullas, by now it would have doubled in size. Cool down and refrigerate and serve them chilled.
SANDESH-BENGALI MITHAI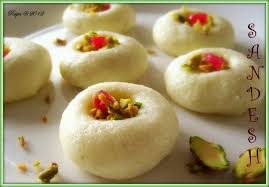 It is a very popular traditional Bengali Mithai which is made from fresh chenna. It's absolutely delicious and the best part about making this sweet at home is that you can choose the type of flavour you want and as well as sweetness levels.
Ingredients-
1 cup of warm milk, a small pinch of cardamom powder, 1 cup of chenna, 2.5 tablespoon sugar, a pinch of salt, a few strands of saffron.
Recipe- Firstly, soak the saffron strands in the warm milk. Once chenna is prepared, knead it to a smooth-ish consistency and then add sugar, cardamom powder and salt to it. It is once again kneaded lightly with your fingertips until the mixture is well combined. Now, transfer this to a pan and cook on low heat to remove the rawness of chenna. The mixture will start to let out some moisture and will turn mushy and soft. You keep stirring it until it starts to leave the sides of the pan. On overcooking, the chenna turns dry so stop when the mixture gets moist and comes together as a lump. Now Transfer this to a bowl and add the saffron plus milk. When the mixture is warm, shape it into small balls and flatten lightly. You can use moulds at this stage too.  You can add some saffron strands on the shaped sandesh to get a milder kesar flavour. Your sweet is ready and you can serve it immediately.
GULAB JAMUN-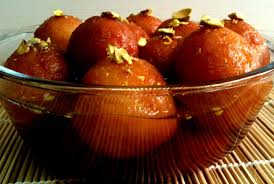 It is one of the easiest sweet recipes which we can make for any occasions like Diwali or birthdays, anniversaries or any celebration.
Ingredients-
1/2 cup Sugar, 1 cup khoya, 3 tablespoon Maida, 1/8 tablespoon sodium bicarbonate, 2 cardamom, and 2drops rose essence, oil or ghee as per the need, 1/2 cup water.
Recipe- Bring khoya to room temperature if it is frozen. Then Crumble it with your hands and measure it. Take maida, khoya and cooking soda in a mixing bowl and mix them well. Add water slowly and make a smooth dough without any cracks. No need to knead hard, just gather with your hands such that it forms a smooth dough without lumps. Keep it aside for 5 min and make balls of equal size. The balls should be smooth from outside, but do not roll so tightly by applying so much pressure. Just roll softly but until smooth. Meanwhile prepare the sugar syrup with sugar, water, powdered elaichi and saffron, then bring it to boil for 8 minutes to 10 minutes in medium flame. In the meantime, you can fry the rolled jamuns. Make the oil hot, not smoking hot, but hot enough to fry the jamuns. Keep it in low flame and add the jamuns and then keep rolling the jamuns gently with the use of the ladle inside the oil so that it gets cooked and fried to deep golden brown in colour. Fry only few at a time, do not dump the jamuns so many in oil. Drain them in the kitchen towel and immediately add it to hot syrup. Let it get soaked well. Add essence lastly if you require.