Red is the colour of passion. One sees red when they're angry and one picks up a red heart to show that they love someone. Love and hatred, two sides of the same coin, can be expressed by a single colour – red. So when it's someone's birthday and you want to show your love for them by baking, why go with the classic chocolate cake? Maybe it's time to get a little more creative. Show your love with the colour red. Bake a red-velvet cake!
Even though it sounds like a complicated thing to make, a red velvet cake is perhaps one of the easiest cakes to make apart from the classic chocolate or vanilla cake . A red velvet cake is basically a light chocolate cake with red colouring in it. A red velvet cakes speaks out and shows that it's a special occasion cake because if you bake regularly, then you need a special recipe to mark a special occasion. A red and fluffy cake is perhaps one of the easiest and also one of the prettiest way to mark a special occasion. However, there are no rules against baking and indulging in this cake without a special occasion. The melt-in-the-mouth buttercream frosting used in this recipe is one of the most amazing comfort food that you can ask for.
so to celebrate or to indulge with style, here's what you will need:
ingredients :
1 cup all purpose flour
1 cup sugar
¾ cup vegetable oil
2 large eggs
¼ cup milk
1 teaspoon cocoa powder
1 teaspoon baking powder
¼ teaspoon baking soda
1 teaspoon red food colour
Once you have everything, mix the flour, sugar, cocoa powder, baking soda, baking powder and the food colour in a bowl.
In a separate bowl, mix the eggs, milk and the oil.
Once done, mix both of them together.
If the batter is too thick, add some warm milk.
Make sure the batter is not too dark in colour because the cake gets darker after it's baked.
Grease and flour a pan and bake the cake at 350°F for 30-35 minutes or until wooden pick inserted comes out clean and dry.
Let the cake cool for around ten minutes before taking it out of the pan. While it's cooling, pour yourself a drink and sip at it, Nigella Lawson style. Or you can catch up on wrapping up those gifts or putting up finishing touches to the birthday decorations. If you're not doing any of these, you could make the frosting for the cake. The perfect frosting for a red velvet cake, in my opinion, is butter-cream frosting.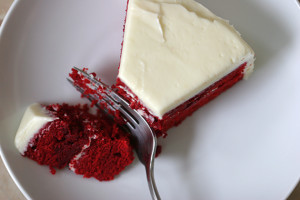 To make the butter-cream frosting, you will need:
100 gm butter
1 cup icing sugar
2 tablespoons all purpose flour
1 cup cold milk
(if the butter is unsalted, you will also need a pinch of salt)
Soften the butter by either leaving it out for a while or by heating it up in the microwave for ten seconds.
Add the salt, if you're using unsalted butter.
Add the icing sugar and beat until it's light and fluffy.
Mix the flour in the cold milk. Heat it on a low flame while stirring constantly. If the mixture is not being stirred constantly, it will form lumps.
Once the mixture is thick and cooked, let it cool. Cover it while it is getting cooled so that it does not form a crust.
Once it has cooled, add it to the butter and sugar and beat. This mixture will provide the extra volume and fluffiness without the extra butter.
Before applying the frosting on the cake, make sure that the cake is cold or else the frosting will melt off. Dip a knife in warm water and use it to smooth-en the surface of the cake.
Cover the cake with the frosting. If you're making a layered cake, apply some frosting between the layers as well. Sprinkle some brown sugar or nuts for decorations. Pop it in the fridge for an hour to make sure the frosting sets well. Take it out, put it on a plate and you're ready to celebrate!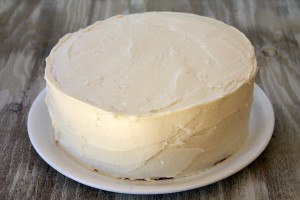 When you come to think of it, a red velvet cake is just a chocolate cake which is red in colour. But when you present it to someone you love, it says a lot more than a chocolate cake. Unless that person is a chocoholic, in which case, you should just go with the chocolate cake because the warm brown of chocolates is what will really please that person. Otherwise, nothing can express your love more that a red velvet cake simply because it is the universally known colour for love, for passion. It also brings a little variety and adds a little difference to the regular cakes which are either brown or white. It is also the perfect cake for kids because for a little child, it is fascinating to be able to eat something red and delicious because, let's face it, most of the kids out there don't really like tomatoes.
Everyone loves a little colour in their lives and perhaps the colour you're looking for this time is red. Try it out and let us know if it worked for you!
Bon appetit!