Cooking is a story. Baking is another. It is chemistry. You need a great amount of skill, concentration and experience to excel at it. But, wait! You wanted to bake a cake for your mother's birthday and the first lines of my article are kinda letting you down!? Well, in that case, you need not worry. Why fear when I'm here!Woo – ah-haha!!! (Yikes, got a bit carried away!)
Anyways, in this article I will let you in the perfect red velvet cake with vanilla butter cream frosting recipe.So that you can bake a cake for your mom on Mother's Day and see the surprised look on her face or impress your friends and family with your baking skills or just bake a 9- inch cake and eat it all by yourself! Just for the love of cakes! 😀
I would definitely do the last thing!! Cakes, yum!! J
This red velvet cake recipe is easy, super – moist, melts in your mouth with that signature light chocolat-y red velvet taste.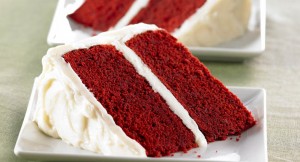 Red Velvet Cake
Ingredients
2 cups all purpose flour
1 teaspoon of baking soda
1 teaspoon of baking powder
2 tablespoons of unsweetened, cocoa powder
2 cups of sugar
1 teaspoon of salt
2 eggs
1 cup buttermilk
1 cup of vegetable oil
2 teaspoons of vanilla extract
1 teaspoon of white distilled vinegar
1-2 oz. red food colouring
½ cup of prepared plain hot coffee( DO NOT skip this step.Don't worry, you can't taste the coffee but it just takes the cake a totally different level!)
Instructions
Preheat oven to 325 degrees.
In a medium bowl, whisk together flour, baking soda, baking powder, cocoa powder, and salt. Set it aside.
In a large bowl, combine the sugar and vegetable oil.
Mix in the eggs, buttermilk, vanilla extract and red food colouring until properly mixed.
Stir in the coffee and white vinegar.
Combine the wet ingredients with the dry ingredients a little at time, mixing after each addition, just until combined.
Generously grease and flour two round, 9-inch cake pans with shortening/butter and flour.
Pour the batter evenly into each pan.
Bake in the middle rack for 30-40 minutes, or until a toothpick comes out clean. Do not over bake as cake will continue to cook as it cools.
Let cool on a cooling rack until the pans are warm to touch.
Slide a knife or offset spatula around the inside of the pans to loosen the cake from the pan.
Remove the cakes from the pans and let them cool.
Frost the cake with vanilla butter cream frosting when the cakes have cooled completely.( You may have to refrigerate the cakes before stacking and frosting as they are very moist.)
If you are using a microwave oven then:
1)      Heat the vegetable oil and the eggs for a minute or two and then add it to the wet ingredients.
2)      After the batter is made, bake the cake on HIGH for 4 minutes or 5 at the maximum.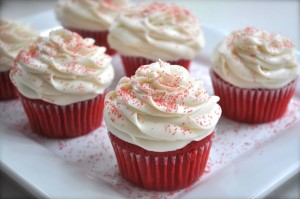 Vanilla Butter Cream Frosting
Time: 10 minutes
Makes enough filling and frosting for one 9-inch layer cake, or two dozen cupcakes
Ingredients
8 tablespoons ( 1 stick) of unsalted butter, softened
4 cups of confectioners' sugar
6 tablespoons of cream or milk, plus a little more if needed
2 teaspoons vanilla extract
Instructions
Use a fork or electric mixer to cream the butter. Gradually work in the sugar, alternating with the cream and beating well after each addition.
Stir in the vanilla.If the frosting is too thick to spread, add a little more cream, one teaspoon at a time.If it is too thin ( unlikely, but possible, especially after the addition of lemon or orange juice for variation) refrigerate ; it will thicken as the butter hardens.
You can reduce the amount of sugar being used in case you want it to be a little less on calories. Also, to avoid the melting of the frosting you can refrigerate the cake for an hour or so , or overnight depending on your level of paranoia *hehe ;)* or how long you have to travel.
So prepare this masterpiece of a cake and get ready for it to be devoured!!