With the sun scorching from the high beating all of us down with its immense power we all are in an urgent need to have something which would quench our thirst as well as is healthy and easy to make. "Cool" is the new hot thing in this summer and we all are willing to get a sip in to these "cool" things.
So here are some of the easy-to-make fruit drinks which are just a few simple steps away:
Lemonade
Our very own nimbu-paani is probably the most loved and easiest-to-make summer drinks. All you need is –
Requirements
2-3 lemons
5-6 teaspoonful of sugar
Salt as per taste
How to Prepare: Take proportionate water in a glass and squeeze the lemons to get the all of its citrus juice. Mix this well enough with sugar and salt. Filter it. Keep in freezer for few minutes. Serve chilled.
Benefits: The Lemon is rich in Vitamin C which is an important component in our body. Addition of salt and sugar respectively provides for the gradual loss of sodium and glucose from the body because of sweating in summers.
Slushy orange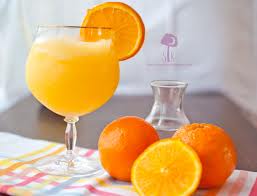 When the vibrant orange is combined with the goodness of milk let us see what wonder it creates-
Requirements
1 can concentrated frozen orange juice
½ or 1/3 cup of milk
½ or 1/3 cup of water
½ cup sugar
½ teaspoon vanilla extract
How to prepare: The vanilla extract and the concentrated orange juice is an easy buy from the market. All you need is to collect the above mentioned items together in a blender. Blend until smooth. Keep in freezer for some time. Pour in a glass and garnish it with a small piece of finely cut orange (optional). Serve.
Benefits: Consumption of orange in anyway is considered to be good for your health as it not only refreshes your mind and help building in strong immune system, it also acts as a strong skin rejuvenator.
Honey lime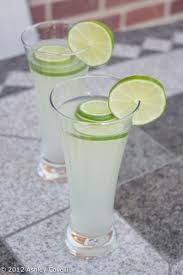 When the great sweetness of honey is coming together with lime juice no wonder it would surely result in the creation of a cool refreshing drink-
Requirements
1 cup lime juice
4 cups water
3 teaspoonful honey
3 cup sugar
How to prepare: In a pitcher combine all the ingredients and stir well until sugar is dissolved. Chill in refrigerator. Serve as it is or with fresh mint leaves garnished (optional).
Benefits: Honey is known for its medicinal properties and is preferred to be an all-time beneficial item for your health. With honey lime drink, give your immune system a boost along with a refreshing feeling this summer.
Green coconut sherbet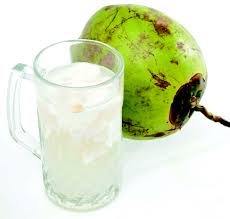 The Green coconuts or daab are found in abundance in the southern peninsula of India and in the state of West Bengal. While usually Bengal and Southern India (even in parts of Mumbai) sip the daab water as it is to beat the heat and the humid weather, daab sherbet is also a preferred drink across the entire Indian continent-
Requirements
1 big sized green coconut
½ portion tender flesh of the coconut
Sugar approx. 25 grams
3-4 Ice cubes
How to prepare: Mix well the coconut water with sugar and ice cubes, manually or in a mixer. Then mix the tender flesh in it; mixing after cutting the flesh into round circles will give it a good look making it more presentable (optional). Serve chilled.
Benefits: The coconut water is being said to be of immense quality beneficial to our health. It cools down body during summers and the tender flesh is all about nutrition along with its natural taste.
Mango Twist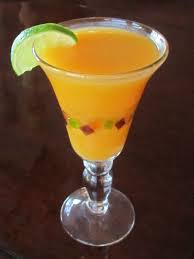 Enjoy a great yet easy-to-make drink with the king of fruits, Mango-
Requirements
2 teaspoonful sugar syrup
Few ice cubes
1 lemon ring (for garnishing/decoration)
Soda
Real or Tropicana mango juice
How to prepare: Mix well the soda and the mango juice first. Add sugar syrup and ice cubes as per proportion. Garnish with lemon ring. Serve chilled.
Benefits: Stuffed with carbohydrates mango minty is sure to give your energy system a boost along with a refreshing feeling.
So here you go with 5 easy-to-make refreshing drinks to beat the summer heat. These drinks are being constituted with the complete nutrition of fruits. In addition water is being needed in the preparation of almost all the above mentioned drinks which is an important component required by our body in summers. With gradual loss of glucose through sweat our body is in constant need of it during the summer days. The refreshing drinks are filled with nutritive value of fruits, can easily be prepared at home and minimum time investment is required. The garnishing of these drinks with lemon ring or mint leaves adds up to the already existed good looks.
Therefore go on and try your hands in preparing some of the above mentioned drinks, and sooth yourself with their cooling effects.