Rice is a part of the Bengali's 'Mach Dal Bhat' and most of us have had it for a better part of our life – Rice for dinner. Rice for lunch. For some, rice for breakfast too. It is the staple food of Bengal. And it goes well with a myriad of delicious sides.
Rice can be cooked in various ways. It can be steamed, boiled, spiced up, etc. it can be simply stirred with jeera to make 'Jeera Rice' or made into a pulau, a biriyani or porridge; you can even make a risotto (this I learnt from MasterChef Australia). It can be used in soups, in sushi, stuffed in vegetables or wrapped in grape leaves.
Rice provides more than one – fifth of the calories consumed by humans all around the world. So, why not learn how to cook 'em?
Jeera Rice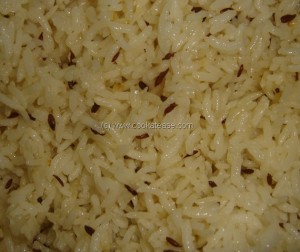 Time: 30 minutes
Serves: 4
Ingredients: 1 1/2 cups Basmati rice, 2 tsp Cumin seeds, 1 ½ tsp Ghee, 1 bay leaf, 1 black cardamom, 1 2 inch cinnamon stick, salt
Directions: Wash rice thoroughly and soak in water for half an hour. Drain. Heat the ghee in a pan. Add cumin seeds, bay leaf, cardamom and cinnamon. When cumin seeds crackle, add the rice. Add salt to taste. Stir till ghee coats every grain of rice and it looks glossy. Add three cups of water. Bring to a boil. Stir once. Reduce heat to minimum and cover the pan with a lid. Leave a little gap, otherwise water will boil over. Rice will be done when holes appear on the surface and water has been completely absorbed. Fork the rice out onto a serving dish. This will separate each grain. Serve hot with any curry.
Vegetable Pulao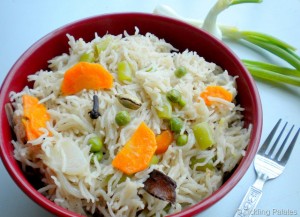 Time: 30 minutes
Serves: 4
Ingredients: 2 cups long grained or basmati rice soaked for 30 minutes, 2 or 2.5 cups of chopped mixed veggies (cauliflower, carrots, green peas, potatoes, broccoli, corn kernels, baby corn, french beans ), 1 large onion (sliced), 1 tsp ginger-garlic paste, 1 green chili (chopped), 1 medium size tomato (chopped), 4.5 cups water or vegetable stock, 2 to 3 tbsp oil or ghee, salt, whole spices (1 tsp cumin, 1 bay leaf 2-3 cloves, 2 green cardamoms , 1 black cardamom, 1 pinch of mace, 1 small star anise, 1 inch cinnamon)
Directions: In a deep pot, heat oil and fry all the whole spices till the oil becomes fragrant. Add the onions and brown them. Add the ginger-garlic paste and saute for a minute. Add the tomatoes & green chilies and saute for 2-3 minutes on a low flame. Add all the veggies and saute again for 2-3 minutes on a low flame. Drain the rice and saute for 2-3 minutes on a low flame, so that the rice gets well coated with the oil. Pour water and stir. Season with some salt. Cover tightly and let the rice cook on a low flame, till the water is absorbed and the rice is well cooked. Fluff and let the rice stand for 5 minutes. Serve the vegetable pulao hot with some side salad, sliced onion & lemon wedges.
Hyderabadi Vegetable Biriyani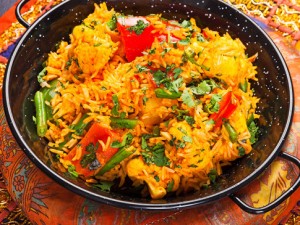 Time: 45 minutes
Serves: Served 4
Ingredients:
For the Rice: 1 and half cup basmati rice, 2 green cardamoms, 2 black cardamoms, 2 cloves, 1 cinnamon, 1 bay leaf, , 2 mace strands (javitri), 3 cups water, salt
For the Vegetable Gravy: ½ medium sized cauliflower (florets removed), 1 medium sized carrot (diced), 1 medium sized potato  (cubed), 1 cup of chopped french beans, ½ cup frozen fresh peas, 1 and half onion (finely sliced), 1 green chili, slit, 2 tbsp ginger (julienned), 1 tbsp chopped garlic, 1 tsp caraway seeds, 2 green cardamom, 2 black cardamoms, 2 cloves, 1 cinnamon, 1 bay leaf, 2 mace strands, 100 gm whisked yogurt, ¼ tsp turmeric powder, ½ tsp red chili powder or cayenne pepper, 2 tbsp cashew nuts, 1 tbsp sultanas or raisins, 2 tbsp almonds (blanched, peeled and sliced), 3 tbsp ghee, salt
For the assembling (herbs and spices): ½ cup chopped coriander, ½ cup mint leaves, 100 gm whisked yogurt, a few saffron strands, 1 tbsp milk
Directions:Pick and clean the rice in running water. Soak the rice in water for 30 minutes. Now microwave or pressure cook the rice. Cook the rice till its ¾th done. In a pressure cooker or a microwave cooker, add the pre-soaked rice, add all the spices mentioned above and salt. Cook till the rice is almost done. Fluff the rice and keep it separate. Heat the ghee in a handi. Add cardamom, mace, clove, cinnamon and bay leaf. Fry them till they crackle. Add the onions. Fry them till golden brown. Add the green chilli, ginger and garlic. Fry for a minute. Add the turmeric and red chili powder. Stir. Add the vegetables and stir for a minute. Add the curd. Stir and then add ¾ cup water. Add salt. Stir the mixture well.
If using a pressure cooker for cooking the vegetables, then cover the cooker with a lid and pressure cook for 2 minutes. If not using a pressure cooker, then bring the entire vegetable mixture to a boil. Then simmer until the vegetables are cooked. Add the dry fruits (almonds, raisins and cashew nuts) to the vegetable gravy.
Warm the milk. Add saffron to it. Let this saffron-milk mixture cool. Add the curd to this mixture and mix well. In the same handi with the cooked vegetables, sprinkle half each of saffron-flavored curd, mint and coriander leaves. Now spread half of the rice. Sprinkle the remaining saffron-flavored curd/yoghurt, mint and coriander leaves. Spread the remaining rice. Sprinkle rose water. Place a moist cloth on top. Cover with a lid. Then seal with wheat flour dough or keep a heavy weight on the lid. Place the sealed handi on the gas stove at low fire. Cook for 20-25 minutes more.
If using an oven, preheat the oven to 190 degree C and bake the biryani for 15-20 minutes. Assemble the vegetable biryani as mentioned above in an oven proof utensil and then bake it.