If you are a student of the University of Delhi and that too North Campus, then you must have thanked your stars making your life worth living by blessing you with innumerable cafes in Hudson Lane. Move towards GTB Nagar metro station's gate number 3 from Patel Chest and you will find yourself on a street that is never tired. There are people going crazy for photocpies and then, move a bit forward and voila! BYD or Big Yellow Door stares at you with watery eyes asking you to come inside and feel the epicurean heaven. However, if you move a bit more onward, you will come across the father, mother and whole family of cafes-Rico's. This place has been sent to the students of DU by God himself. Be it the amazing ambience, the gripping books, great staff or most importantly, amazing food; you just cannot sayy no to Rico's. You do not need a reason to fall in love with this place. You automatically will. For all the foodies and non-foodies too, Rico's is a great option for birthday celebration and much more. If you have not been to Rico's yet, I would highly recommend you to ditch your next meal and go, hog at this wonderful cafe. You will not be left dissatisfied. Before you go, there are a few things that you must know that you must try. Some of those things are:
1. Classic Mojito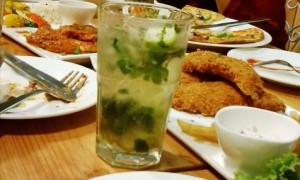 Classic mojito is a drink that finds its origin in Cuba. Mojito is also said to be the favourite drink of the author, Ernst Hemingway. The drink is an absolute bliss and provides great soothing effect in the scorching heat of Delhi. The best part of the classic mojito that is served at Rico's is its presentation! The huge pitcher in which it is served is bound to make any adult feel like an over-excited child from inside. The pitcher can easily serve 6-8 glasses, which makes it a great value for money drink as it costs a meagre Rs. 200. The refreshing taste of mint and lime is just what one needs after attending torturous lectures back to back in the worst summers ever possible. This drink beats all the other drinks in the menu and make it an all time favourite for most of the people.
2. Vegetarian Enchilada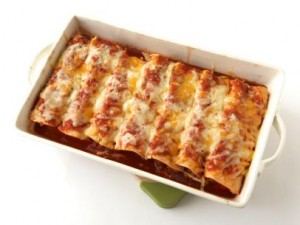 The menu at Rico's gives a brief description of vegetarian enchilada as "baked tortillas rolled around a filling and covered with chili pepper sauce". That is sufficient to give you a clear glimpse of what an enchilada would be like. What it does not inform is the immensity of its fabulous taste and its aptness in filling one's hungry stomach. Vegetarian enchilada is a dish that is not too heavy and not too light. It is perfect for the pangs of hunger when you are not able to identify whether you really are so hungry or not. The filling is rich and tempting. The baked cheese over it just makes it all the more interesting and delicious in flavour. It has a perfect blend of crisp and gooey, which speaks volumes about the chef(s) at Rico's. For those who feel that vegetarian food is just about fruits and leaves, this is a response that totally is in-the-face!
3. Nachos Grande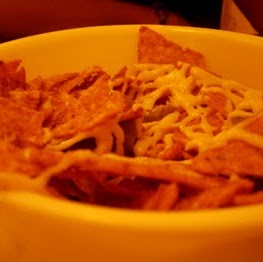 Nachos are chips that are made out of corn. Nachos Grande is a dish that has nachos which are loaded with various dips and sauces like salsa, sour cream, mustard and hummus. These sauces double, tripple or in fact, quadruple the already amzing taste of nachos. That feeling that you get when you dig into that dish with your fingers and have created a mess due to those lip smacking dips and sauces generously poured over the crispies, is just out of the world. Nachos Grande is a dish that serves as a brilliant side dish. You can add chicken to it for just Rs. 40 extra and make this dish from the Extra Innings section,more sinful. Nachos grande are great for munching and provide a brilliant alternative to the otherwise unhealthy fries.
4. Spicy Arrabiata Pasta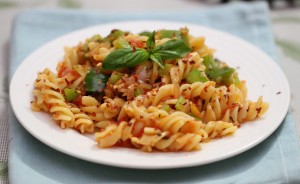 This is that variant of pasta which never gets old or boring. It is a clasic recipe that never fails. The brilliant spicy and tangy tomato based sauce, infused with garlic, gives the pasta a rich taste. The texture of the pasta at Rico's is absolutely correct, not too gooey, not too hard. The consistency of the sauce is one that you would rarely find in most of the cafes. The spice is never over done and is thus, a great option even for those who cannot handle their chili. Spicy arrabiata pasta tastes brilliant when had with a glass of chilled, classic mojito. The sweetness of mojito and tangy flavour of pasta gel up in an awesome way, making the foodie inside you crave for more and more.