Light as air,crispy and paper thin,the marks of the spiral style of spreading the batter on the hot tava,stuffed with well spiced and flavoured potatoes topped off with coconut seasoning,now that is a Dosa that the Sagar Ratna restaurant in Defence Colony,Delhi, serves you with.We all have seen long queues in front of restaurants and eateries that offer Mughlai,Continental,Italian,Chinese,Thai or simply amazing North Indian food,yet Sagar Ratna restaurant will be the first of its kind to have a really long queue out side its gates for something as simple as sambhar rice,idlis vadas and dosas in a place like Delhi,that has no shortage of absolutely fantastic and flamboyant other cuisines of n number of different origins.The majority being eaters of typical Rajma Chawal and Chhole Bhature seem to be hell bent for getting a seat in this restaurant ,so as to savor the ultra light and simple food straight from the south.Mind you ,when i say that the food is simple i do not imply that it lacks in any manner in taste and flavour.The richness of the food here is the most undeniable facet.
The neatness maintained here is absolutely remarkable.A spic and span place with glistening plates and glasses,polite waiters efficiently taking orders,the air a mix of coconut and incense ,the ambiance has its own tranquil yet lively quality.
With a vast menu that covers an amazing variety of vegetarian south Indian dishes,it becomes a task to select particular dishes that you would order.The types of Uttapam and dosas itself are numerous to such an extent that you may no longer be able to stick to the tag of "monotony" when it comes to South Indian cuisines.Types of rices available,be it lemon rice,coconut rice etc to name a few,also add to the peacock feathers of this restaurant.The vadas though not as varied as the other dishes definitely have a taste and crispiness that is unmatched for.
Coming to the "must order" dishes,the South Indian platter tops the list.Though you can also get your fair share of dosa treat,this platter includes Uttapam that is topped with crispy tomatoes ,onions and capsicums(the toppings can also be changed) in a slightly sour tasting batter as an alternative to dosa,a portion of lemon rice that are set to tingle your tastebuds with their tangy flavour,, topped with mustard seeds and cashew nuts peanuts,the crispy reddish brown vadas,soft spongy idlis,a serving of tangerine and yellow coloured aromatic sambhar,servings of the different varieties of chutneys to accentuate the taste and yes for the people with a major sweet tooth, here comes Payasam ,Suji and badam ka halwa.Not to forget,the absolutely satiating butter milk.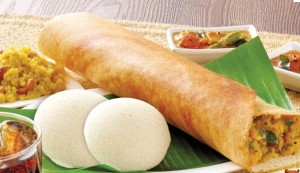 Proceeding with the list of "must order",opting for any dosa mentioned in the menu does quite the trick.Each type of dosa has its own unique flavour and appeal ,hence it is really a tough call to rank them.One could nevertheless rank them in accordance with the fact that how filling each is.The rava masala dosa is a common favorite .A commendable job of taste enhancement is done by the chutneys here.
The Four feet never ending family dosa is yet another addition to the spectacular menu .Just in case we have a gargantuan pang of hunger,this dosa will do just the trick for you and your family/friends.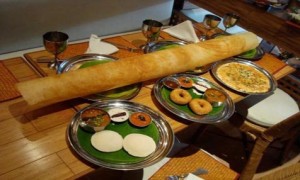 The filter coffee is yet another must try.The coffee is perfectly brewed and the aroma is addictive.Guess Cafe Coffee Day and Starbucks have an Indian competitor!
The Halwas and payasam available are amazing treats at the end of any meal.Serving deserts that are the right kind of sweet,maintain a praiseworthy balance of flavours.With each bite you can taste the tinge of saffron and sugar mixing softly over your tongue.
With numerous other branches over the entire city ,Sagar Ratna restaurant in Defence colony is a four star on zomato.The best amongst all its chains of restaurants,it has the most amicable staff ,a quick and neat service,and a lively atmosphere.The simplicity of the food that envelopes within itself the complexity of flavours amalgamated by chefs in the most professional and sophisticated a fashion,makes the food absolutely unmatched for,when it comes to overall dining standards.Redefining South Indian cuisines and the general approach towards them,Sagar Ratna offers a variety of dishes that are clearly a fusion of the west and aspects of our nation as well.Not only this,but they also offer North Indian dishes as an inclusion to the South Indian Thali with their scrumptious puris and rasam,which they efficiently recreate on each plate,the flavours distinct yet likable.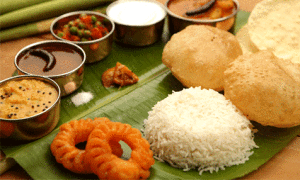 A versatile restaurant,with a flexible approach to its customers,the name and fame of Sagar ratna is well deserved.Ideal for a simple yet classy dine in,or a casual ,relaxed breakfast and lunch,this place definitely steals the show.
A vast ,all encompassing south Indian menu,extremely likable service and atmosphere,versatile,fusion based dishes,perfection in flavour and remarkable balance of spices,now that is the true mark of a good restaurant.So jump in for dosas and idlis galore!Its really worth a try!BON APPETITE!