Salads are a great dinner option. They are not only filling and often easily prepared, but with the right ingredients, they can potentially pack in a whole lot of health benefits. But while urban Indian restaurant-goers are fast developing a taste for Caesar salad and Coleslaw, salads at home still mean a side-dish comprising a few cucumbers, onions, and tomatoes – chopped, diced, or sliced. The result: A boring basic garden salad and a complete lack of interest in the culinary potential of salads. But think again. Great-tasting, interesting salads need not be the exclusive domain of fancy restaurants. All you need do is get creative with the ingredients. A little thought can take you a long way. Here are a few simple recipes to help you get started.
Apple and Lettuce Salad with Melon Dressing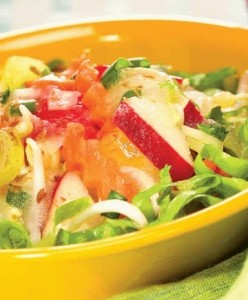 Consuming fresh fruits and vegetables is one of the best ways to replenish our body's water and electrolyte needs. This recipe calls for a wide assortment of fruits and vegetables tossed together in a refreshing musk melon dressing. Enjoy a plateful of good health and pure taste.
Ingredients:
½ cup muskmelon purée
½ tsp. roasted cumin seeds, crushed
3 tbsp. chopped coriander
1 cup torn lettuce
½ cup shredded cabbage
¼ cup thickly grated carrot
¼ cup capsicum (red and yellow) cubes
½ cup chopped apples
½ tsp. lemon juice
½ cup bean sprouts
2 tbsp. chopped grapes
1 tbsp. chopped spring onion greens
Salt to taste
Freshly ground pepper to taste
Method of preparation:
Blend together the muskmelon purée, crushed roasted cumin seeds, and chopped coriander into a dressing. Add salt and pepper. Keep aside.
Next, soak the lettuce, cabbage, carrots, and capsicum in ice-cold water for 30 minutes. This will make them crisp. Drain, wrap in a muslin cloth and refrigerate till ready to use.
Toss the apples in lemon juice and refrigerate till ready to use.
Combine the lettuce, cabbage, carrots, capsicum, apples, bean sprouts, grapes, spring onion greens in a bowl. Add salt (optional) and mix gently.
Before serving, add the dressing and toss well. Serve immediately.
Been Sprout and Capsicum Salad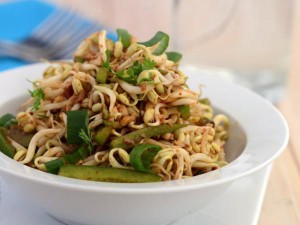 This recipe combines the goodness of bean sprouts with a spicy, tasty dressing. Bean sprouts are a great source of calcium and vitamin C, while capsicum is a potent source for vitamin C.
Ingredients:
1 ½ cups bean sprouts
½ cup thinly sliced capsicum
1 ½ tsp. oil
1 tsp. crushed garlic
2 tsp. vinegar
1 tsp. soy sauce
½ tsp. sugar
½ tsp. chilli powder
1 ½ tbsp. roasted and coarsely crushed peanuts
Salt to taste
Method of preparation:
For the spicy dressing, heat the oil in a small non-stick pan, add the garlic, and sauté on a medium flame for 15 seconds. Remove from the flame and keep aside to cool slightly. Add the vinegar, soy sauce, sugar, chilli powder, and peanuts; and mix well. Keep aside.
Combine the bean sprouts, capsicum, spicy dressing, and salt in a bowl and toss well. Refrigerate for 30 minutes. Serve chilled.
Egg-cellent Asparagus Salad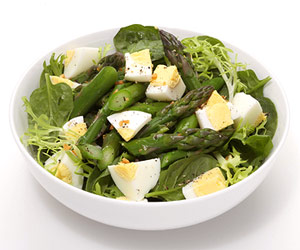 This is a power recipe that packs in the goodness of your daily egg and greens into one simple, great-tasting meal.
8 asparagus spears
2 tsp. olive oil
1 garlic clove
2 cups mixed greens
1 hard boiled egg
1 tbsp. vinegar
Salt to taste
Pepper to taste
Methods of preparation:
Cut 8 asparagus spears into 2-inch pieces; saute with 2 tsp. olive oil and 1 minced garlic clove.
Top 2 cups greens with cooked asparagus, 1 chopped hard-boiled egg, and 1 tbsp. vinegar.
Add salt and pepper to taste.
Grilled Chicken Salad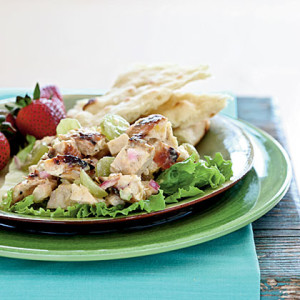 Hard-core chicken fan? Love a desi zest? Then this is just the recipe for you! This recipe calls for an Indian tandoori-style yogurt marinade for the chicken. Then it's grilled, chopped, and stirred together with tangy dressing. The flavours are to die for. What's more? It won't sit heavy on your waistline either.
Ingredients:
1 ½ cups low-fat yogurt
1 tbsp. canola oil
1 tbsp. grated peeled fresh ginger
3 garlic cloves, minced
¾ tsp. salt, divided
½ tsp. red pepper, ground
4 bone-in chicken breast halves, skinned
Cooking spray
1 cup seedless green grapes
½ cup chopped red onion
½ cup mango chutney
1 cup finely chopped celery
1 tbsp. canola mayonnaise
3 tbsp. fresh lemon juice
Methods of preparation:
Mix the yogurt, canola oil, ginger, cloves. Stir in ¼ tsp. salt and pepper. Place the mixture in a heavy-duty zip-top plastic bag. Add chicken to bag; seal. Marinate in refrigerator for 2 hours, turning occasionally.
Prepare grill to medium-high heat.
Remove chicken from bag; discard marinade. Place chicken breast side down on grill rack coated with cooking spray; grill for about 10 minutes. Turn chicken over; grill for 20 minutes. Remove chicken from grill; let stand 10 minutes. Remove meat from bones; discard bones. Coarsely chop chicken and place in a medium bowl. Sprinkle chicken with remaining 1/2 teaspoon salt.
Add the remaining ingredients to the chicken; toss gently to combine. Chill for 30 minutes before serving.
Now that you have the recipes down, go try them out, and create a few of your own. Go take that healthy, tasty walk down salad lane!