Who doesn't want to stay healthy these days?I sure want to!,but when it comes to staying fit and healthy people always think about dieting and exercising.Well exercising is something anyone can tolerate but what about dieting?Its nearly impossible for a foodie to diet.When it comes to diet it is always assumed that one must consume healthy food i.e to avoid oily and fatty substance,which definitely covers up all the food premises.Now on this situation the question is what to eat?the food should be healthy,as well as stomach filling,not to forget if the food is not appealing one may lose the appetite.Considering all the factors what comes first in your mind,no idea?then let me remind you of salads.Salad is one and only thing one can consume without any regrets and still have the stomach satisfaction.Salads are something one consumes not only to diet but even curb excess hunger,detox the body.This is a best way to take the intake of vitamins and minerals as it has abundance of good stuff.
Our body needs nutrients in a small amount to function properly and it is absolutely provided by the salad.When you cook a meal,most of the minerals and vitamins required for the body are destroyed due to various cooking methods.So to ensure that your body gets all the nutrients you need you should consume raw vegetables and fruits at least 2-3 times everyday.If you are keeping in mind to diet then you better remember that salad can be a blessing as well as a curse,it all depends on the type of dressing that you use.Dressings can derail your weight loss when poured with high calorie over the salads.Dressings like Here are few easy,simple,delicious and healthy salads with their advantages to make it very clear to you how and which salads you should consume.You better try these too as they are very different from what you consume everyday.
Green Bounty: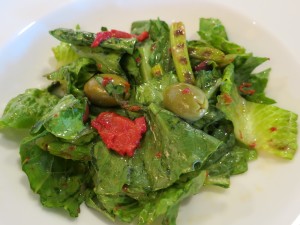 Ingredients:
Iceberg lettuce
Romaine lettuce
Asparagus
Orange segments
Flaxseeds
Mushrooms
Dressing:
USP:
This salad consists of abundance of antioxidants.It even has Omega-3 which is very important for a healthy heart.It proves very helpful to cure cold and gives a great vision.
Grilled Chicken Salad: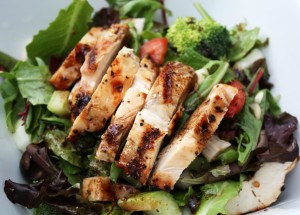 Ingredients:
Grilled chicken
goat cheese cubes
rocket leaves
roasted pine nuts
Dressing:
Balsamic vinegar
Salt and pepper
USP:
As we have used chicken,the salad is very rich in protein as chicken has a large amount of protein.Protein helps in growth and repair of hair.It is not only good for hair but also for skin as it rejuvenates it.It is also very rich in vitamin C and iron which are good as anti-aging agents.
Rainbow Salad: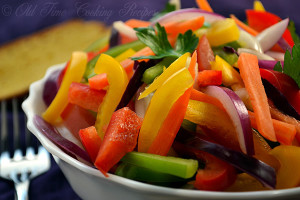 Ingredients:
Red bell pepper
Yellow bell pepper
Romaine lettuce
Broccoli
Avocado
Boiled corn
Dressing:
Crushed basil
Hung curd
Salt and Pepper
USP:
There are different colors like a rainbow hence it is called a rainbow salad.This salad consists a lot of anti-oxidants,which is very necessary to boost the immunity of the body.The vision becomes more sharp and it is also good for digestion as it relives from constipation.
Green Apple Salad: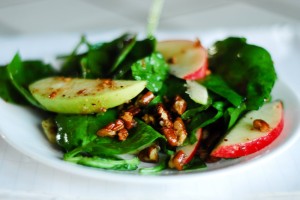 Ingredients:
Green apple
Spinach
Romaine lettuce
Roasted almonds
Walnuts
Dressing:
Salt
Pepper
Olive oil
Lime
USP:
Its an excellent source of carotenoids which is very good for eyesight.Iron which is a great source of energy and strength is consumable.As we all know that Omega-3 which is good for heart as well as brain is easily available in this salad.Not to forget the skin,it needs vitamin C for glow and you can have it in abundance in this salad.
Feta Salad: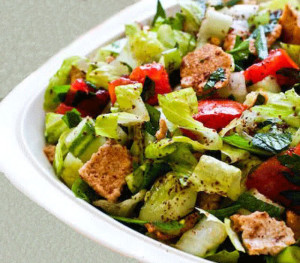 Ingredients:
Feta cheese
Lettuce
Cucumber
Tomato
Roasted croutons
Olives
Dressing:
Olive oil
Salt and pepper
Herbs
USP:
It consists of an anti-oxidant known as lycopene and folate,very improtant for the heart.It helps to protect the heart from the risk of strokes.It also helps to protect from cardiovascular diseases.It is also a good source of magnesium which helps to maintain the diabetes and reduces insulin resistance.
Beetroot Salad: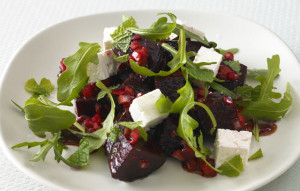 Ingredients:
Boiled beetroot
Rocket leaves
Feta cheese
Hazelnuts
Roasted Walnuts
Dressing:
Salt and pepper
Lime
Herbs
USP:
Iron,like mentioned before is great for stamina and strength of a body.Vitamin E is good for body regulation and calcium for bones as we all know.Omega-3 as discussed above is very good for the health of the heart,wards off  cardiac diseases,cancer and hyper tensions.
Couscous Salad: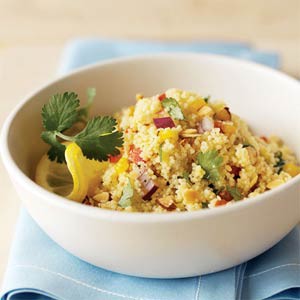 Ingredients:
Boiled couscous
Boiled american corn kernels
Finely chopped carrots
Finely chopped celery
Boiled Potato
Roasted pine nuts
Dressing:
Balsamic vinegar
Salt and Pepper
USP:
It is very rich in healthy fats which protect the heart whereas the antioxidants improve the memory and the advantages discussed above.
Below are few dressing which you should use when you are fixing a salad as they are more healthy than the other dressings people use:
Tabasco
Mustard
Herbs and Peppers
Vinaigrette
Balsamic Vinegar
Hung curd Ranch dressing